If you want to learn how to play chess, starting as a beginner and hopefully becoming professional as you progress, you can play chess online and learn simultaneously.
There are so many websites and training online which you can choose from, like this article where I shared the best chess apps to learn and play chess.
I don't want you to go on a rabbit hole to search for the best chess training online – but instead, I'm going to give you a step by step on how you can learn how to play chess online using an application.
This is the same application I'm using, and it's quite convenient to learn chess online.
So, here are the steps on how you can learn chess online.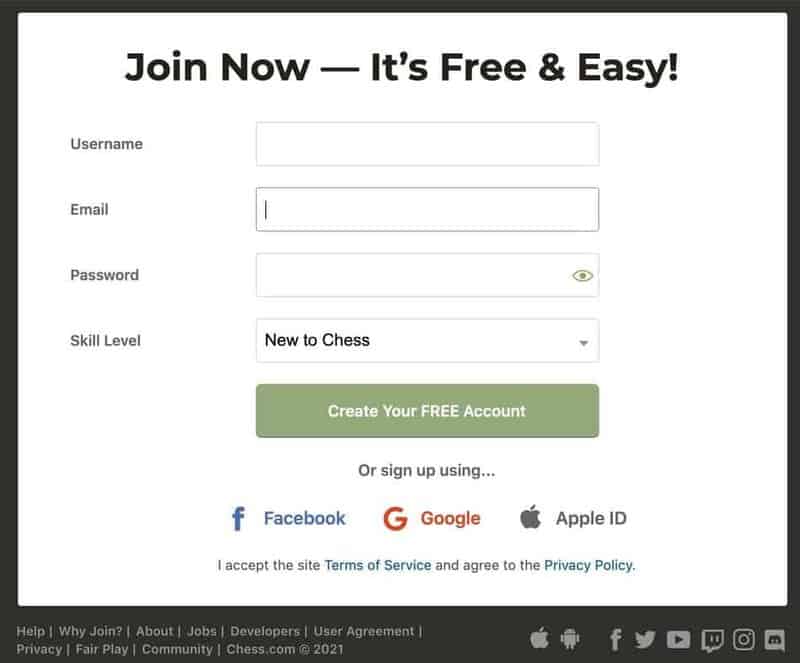 1. Create a Free Account
The first step is to create a free account on the chess.com website and complete the signup form using the chess.com free trial link. (affiliate link)
Pay close attention to the "Skill level" – you have five options 1. New to chess 2. Beginner 3. Intermediate 4. Advanced 5. Expert.
By choosing the correct skill level, you will be rated as such, and you'll know what lessons you need to take to improve your game.
Once you are done with the first step, click create your free account!
Note: You also have the option to sign up using your Facebook account, Google, or Apple ID account.
I prefer to sign up using the first step I mentioned above.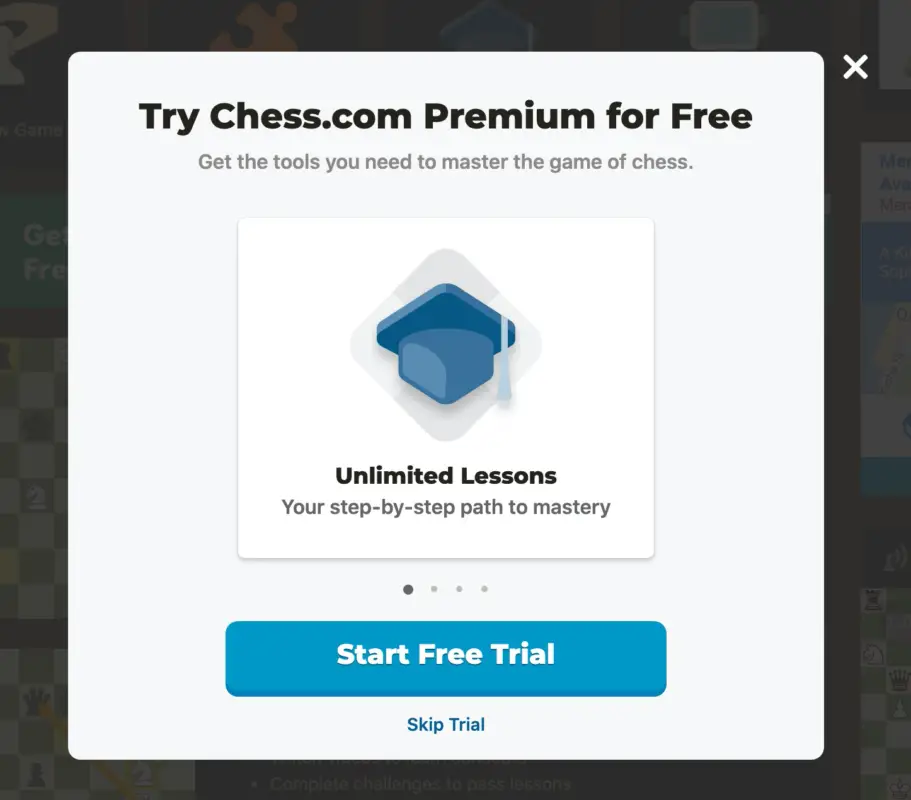 2. Skip the trial (Recommended)
This next step is optional, but if you are serious about learning chess and you are willing to spend most of your time going through different lessons to speed up your learning process, then you should skip the trial and select a premium membership. 
If you are a premium member, you are set, and you just need to go through the lessons and ongoing updates for new lessons from beginner to mastery at your own pace.
Our Top Pick
Our Top Choice
Best Chess Set Ever, Tournament Chess Set with 20" x 20" Foldable Silicone Board and Weighted Staunton Pieces, Packs and Travels Easy, Classic Heavyweight Edition
Play chess anywhere, anytime with The Best Chess Set Ever; This modern, tournament-style chess set includes a silicone board, weighted pieces, a strategy guide and compact storage
The 20" x 20" double-sided silicone board rolls up and folds up for easy travel; It's spill-proof, stain-resistant and easy to clean, making it a great choice for adults, kids and outdoor use
3. Start the Free trial for 1 week
This is where you need to make serious learning time since you know that you have to go through all the lessons and mastery to use the free trial that was given to you. 
If you choose this path, I will show you in the next steps the essential lessons you need to learn before the trial ends.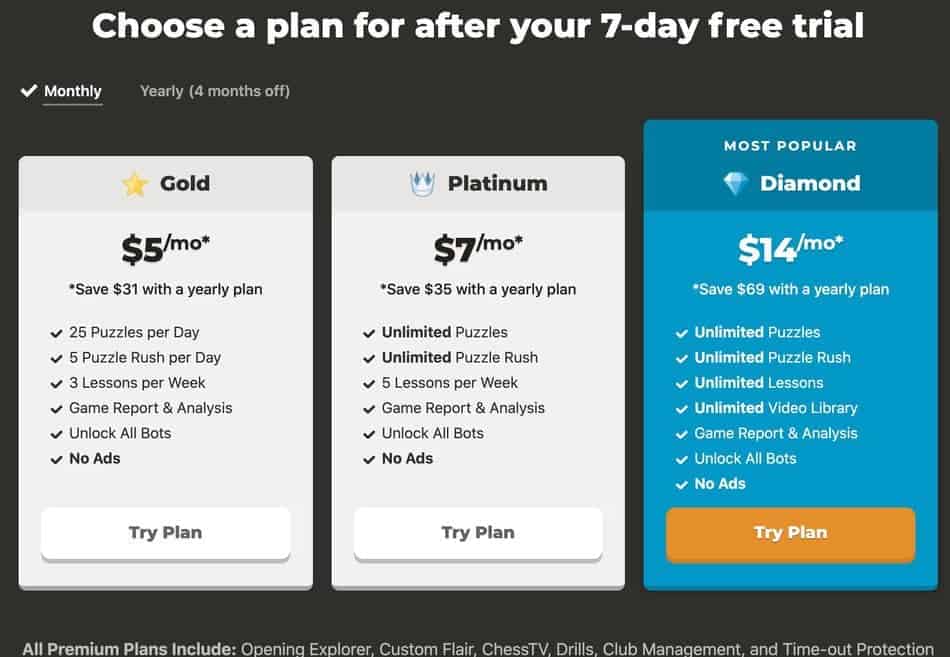 4. Choose your plan during free trial
In this section, choose your preferred plan where you are going to decide how many puzzles, lessons, game analysis, and video lessons that you want to receive.
Since I want to have the video lessons, which is important, I chose the "Diamond plan" for a monthly subscription where I can just cancel anytime I want.
Or if you want to pay yearly, you will get 4 months off, then click "try plan" and enter your account details!
Note: All the paid plans, whatever you choose, will remove all ads while playing and learning.
Once your set, I will show you my preferred lessons to learn first when you are under the free trial version of chess.com!

5. Go to the learn tab
Now that you are in the chess.com dashboard, I will start by clicking the "Learn" tab, and more options will appear…
Choose the "Lesson" tab, and more options will show up for you! 
You will see the "All lessons" option and then go to the next step!

6. Choose the endgames lessons
Now that you are under the lessons section and the free trial of the chess.com platform, I would suggest you start now and learn the endgames lessons.
You will have different lessons related to endgames that are being explained and taught by Grandmasters! 
As I said before, if you do have enough time, I suggest you go through all the endgames lessons; otherwise, I will share with you in the next step what I prefer to learn during the free trial!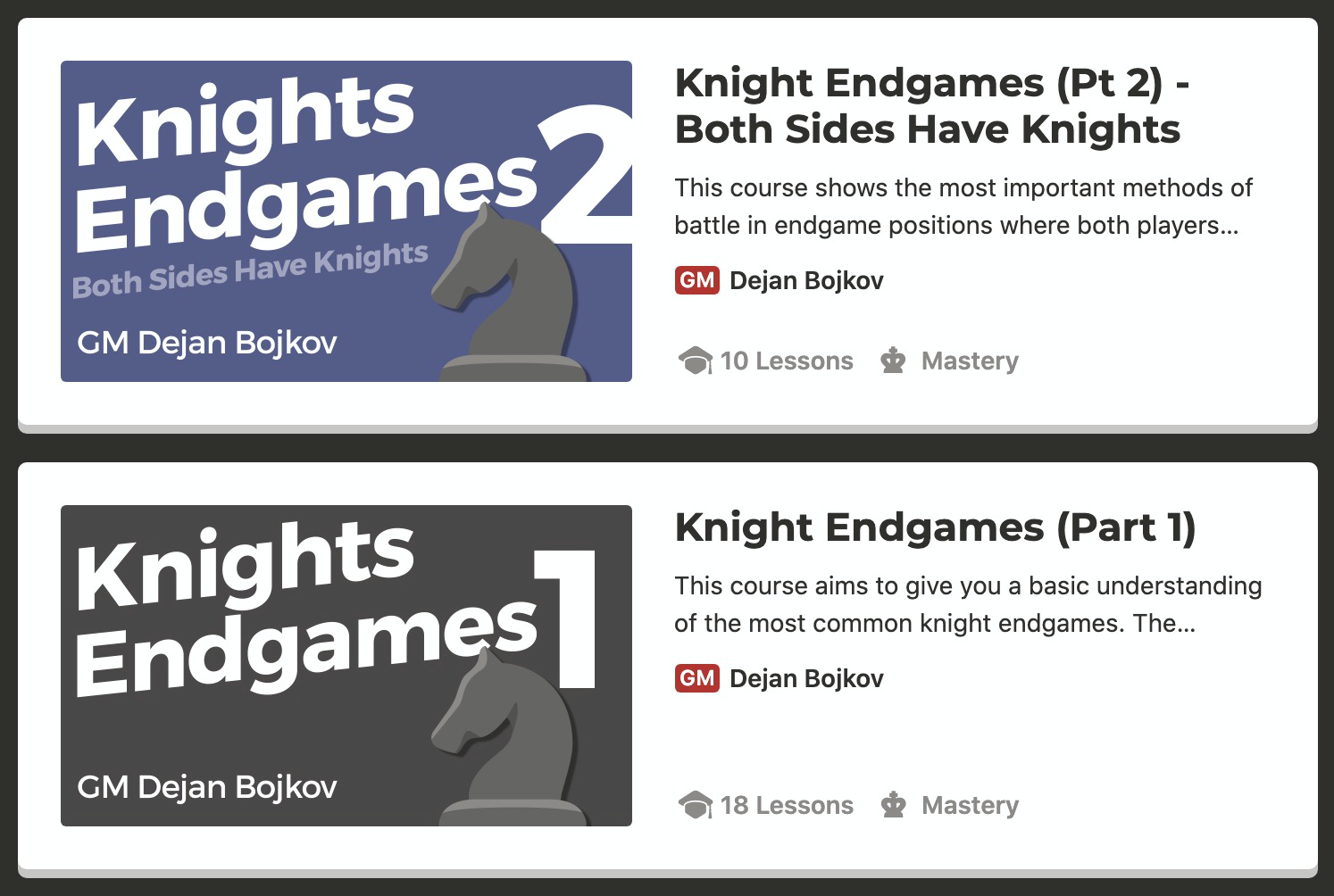 7. Study the Knight Endgames Part 1 and Part 2
These lessons were developed for chess players with ratings of 1000 up to 2400 level in difficulty regardless of your rating. You will learn a lot of new tactics and correct strategies from Grandmasters in these lessons!
To give you an idea of what to expect, you will study how to win pawn promotion and checkmate threats with Knight and Pawn lessons. This is available in part 1 lesson.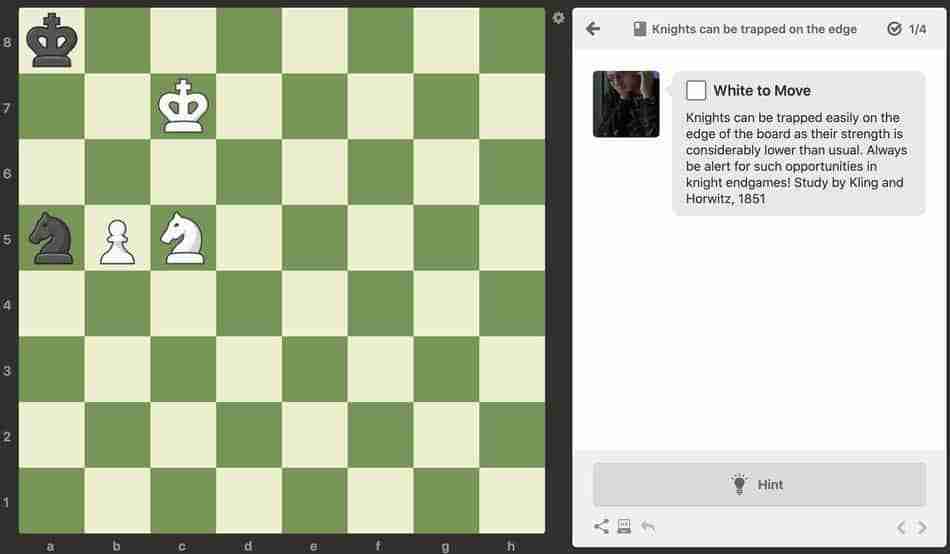 While in lesson 2, you will learn about deflection using the Knight, Zugzwang ideas, or even Two Pawns versus and many more.
These are all going to be interactive lessons where you can continue the studies using your mobile phone using the best chess apps.
This is going to be exciting for you as you can immediately improve your game after going through these Knight Endgames lessons alone!

8. Study Pawn play in the Endgame
My second recommendation on playing chess and learning online is to study the Pawn play in Endgame. I do have a very weak pawn play, and I end up losing with a stronger chess player who knows how to play the endgame with pawns very well.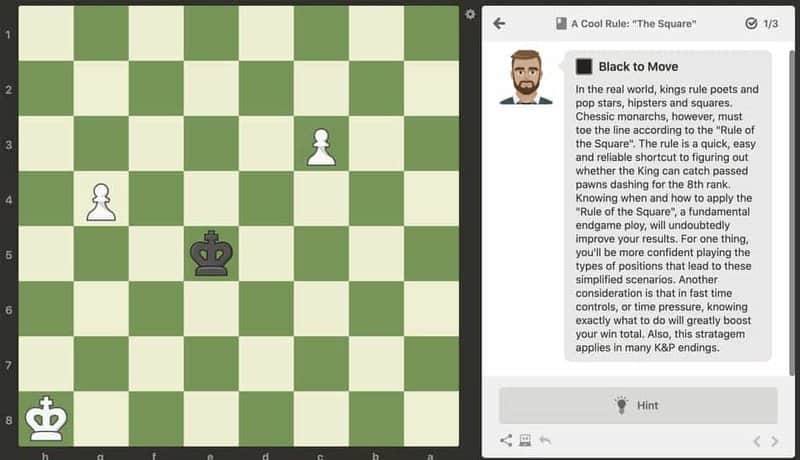 In this endgame lesson, you will learn about "Rule of the Square" this is where you can reliably gauge whether you can catch a pawn dashing to the opposite side of the board to get promoted!
That is a fantastic tactic to learn and improve your pawn play during the endgame. If that did not intrigue you, how about learning "how to develop X-ray vision"…
Yes, you can learn that inside the chess.com platform, and once you've solved this problem, you will, of course, try this out in your next game! 🙂
The last endgame lesson I want you to take advantage of during your chess.com free trial is the Capablanca's Endgame Masterpieces!

9. Study Capablanca's Endgame Masterpieces
If you are not familiar with J.R. Capablanca, he is considered one of the most dominant chess players of all time. He has advanced endgame tactics during his time and his book the Chess Fundamentals is one of the best books that you should have at your disposal.
In this section, you will learn the following:
Converting an extra pawn
Converting a positional advantage
The mating net
Capa's Knight
Breaking through
Capa's Bishop
Defender
A Beautiful Finish
Unity
The Art of the Endgame
The mating net lesson is an excellent starting lesson to increase your tactical mating knowledge. I love to start learning with mating, especially in the endgame, because that is our primary goal in chess, right?
This is an excellent lesson in chess, where you can solve problems like having material disadvantage but finding ways to win.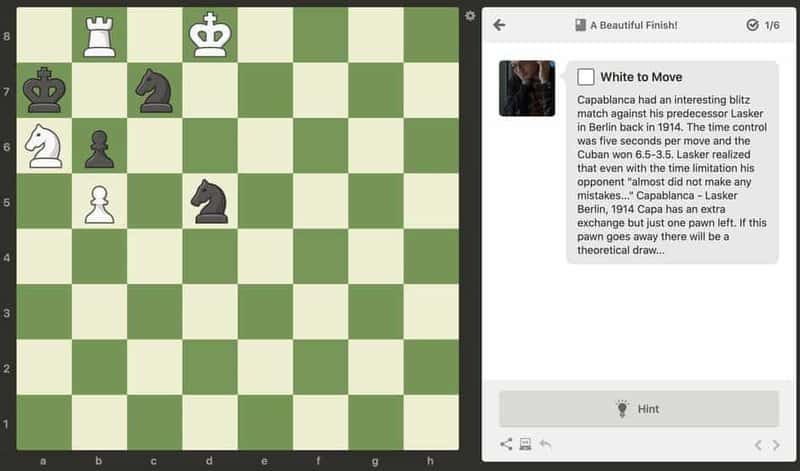 The next lesson under Capablanca's Endgame Masterpieces is to study the "A beautiful finish," where you will see an amazing endgame played by Capablanca against Lasker.
I wanted to try this once I get the chance, but the theory and tactic behind this move are mindblowing for me.
JR Capablanca is genuinely one of the greatest players to play the game!
Wrapping Up
If you read the article, I suggested studying the endgames when you are under free trial for 1 week. It's because I follow and advocate World Chess Champion José Raúl Capablanca's endgame quote…
"To improve your game, you must study the endgame before everything else, for whereas the endings can be studied and mastered by themselves, the middle game and the opening must be studied in relation to the endgame."
I believe this is an excellent start for anyone who really wants to become good at chess and wants to learn how to play chess online.
This is the method I would suggest, sign up for chess.com and go through the endgames lessons on their platform.
To speed up your learnings, maybe after you decide to cancel the free trial, I suggest you check out the Chess Fundamentals book by JR Capablanca himself or this Chess Fundamentals eBook, which is available on our site!
I hope you were able to get an idea of how you can learn and play chess online with the chess.com platform! Enjoy learning chess online!
Gary Flores
Gary is a chess enthusiast and has three children who also enjoy learning the game. He is a co-author of the
"Chess Fundamentals" book's ChessDelights Edition
. He founded ChessDelights.com in order to brush up on his understanding of this tactic and strategy game. He also enjoys encouraging those who are learning, re-learning, or instructing their children in the game of chess.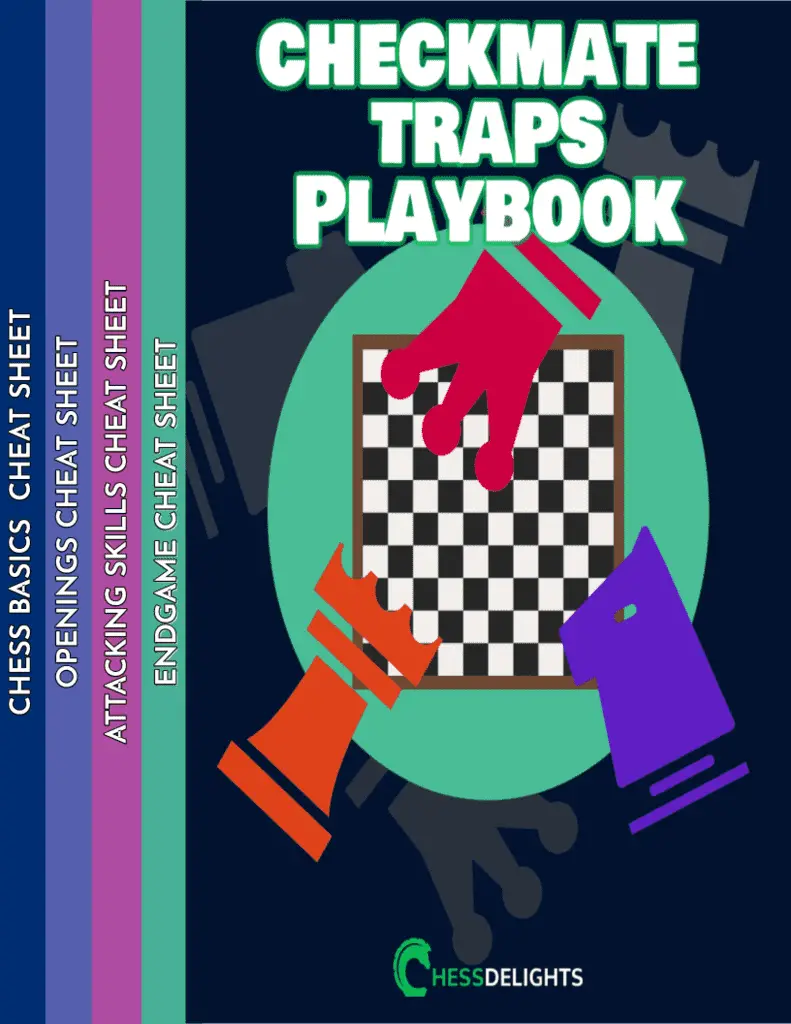 "Discover The Solution On How To Improve Your Game Faster" (Even If You're Just Starting Out And You Don't Know Where To Find The Answer!)
Also Get Your FREE "Chess Cheat Sheets + Checkmate Traps Playbook Bundle" to help you SPEED UP Your Learning and more!
Click Here To Get Started