I've always been looking for an online platform where I could get free chess lessons, and to be honest, it's really frustrating when you sign up and then can't find what you're looking for.
I did sign up to a lot of chess platforms, and I only found Chess.com to be user-friendly and have lots of value. I don't really mind if the platform is slow or lags from time to time; it happens to all platforms and I'm just not really that affected by it.
You just need to pay attention to what the grandmasters teach inside the platform and try to implement what they say. You'll have access to all of the lessons, and even the lowest tier is enough to help you improve in every way.
If you're a beginner or someone who just wants to have a fresh start in learning chess lessons, then this article is for you…
Have you ever wanted to learn lessons from grandmasters?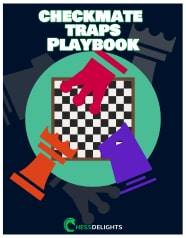 Download Your Free Checkmate Traps
Whether you're a beginner or an experienced player, this PDF will provide you with valuable insights and techniques to improve your gameplay.
What if you could learn chess lessons from grandmasters, and it's all online? Because of the internet, nowadays we have access to all the information we need.
And it's amazing that we can now learn chess online and grandmasters are available to teach you lessons inside Chess.com.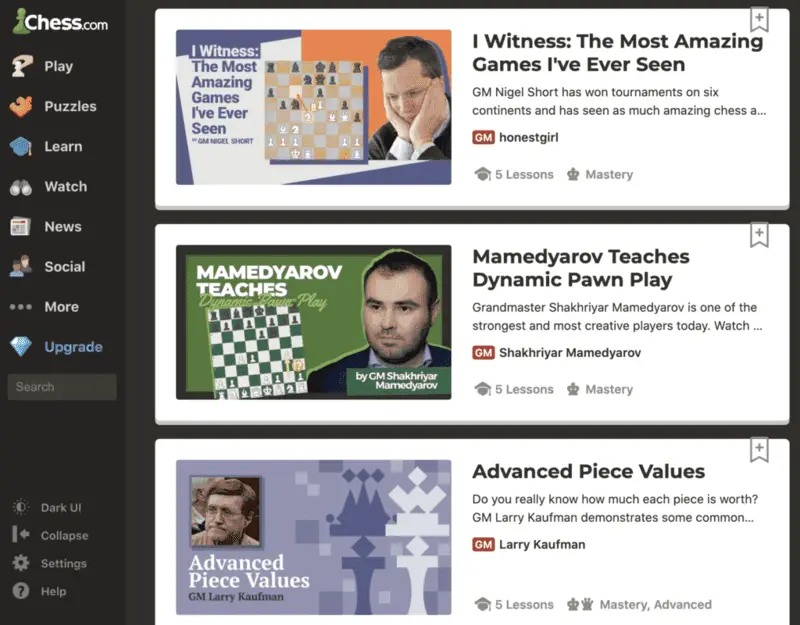 As you can see above, you'll have access to chess grandmasters like GM Nigel Short teaching and even just giving pointers on games they've seen or watched in tournaments.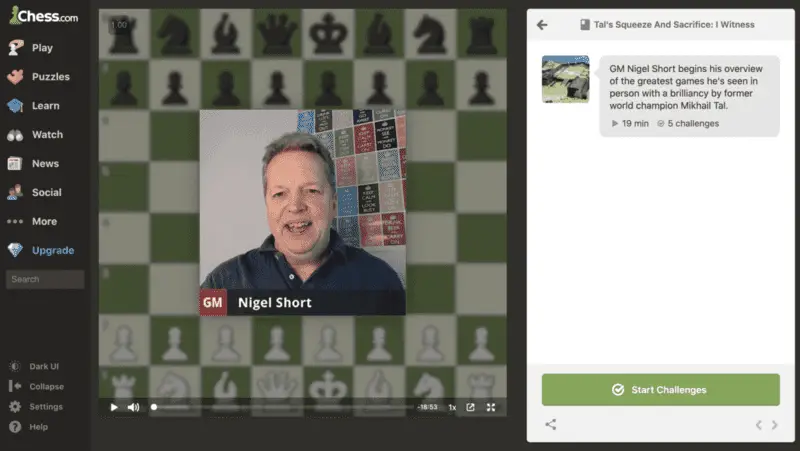 And the access I'm demonstrating right now is within the FREE tier!
What I like about the free plan is that there is more than enough content to level up your game, and they are constantly adding new lessons.
I've never seen GM Nigel Short's lesson before on my free account, and it's incredible!
And there are more lessons from previous sections from other grandmasters that are all available online!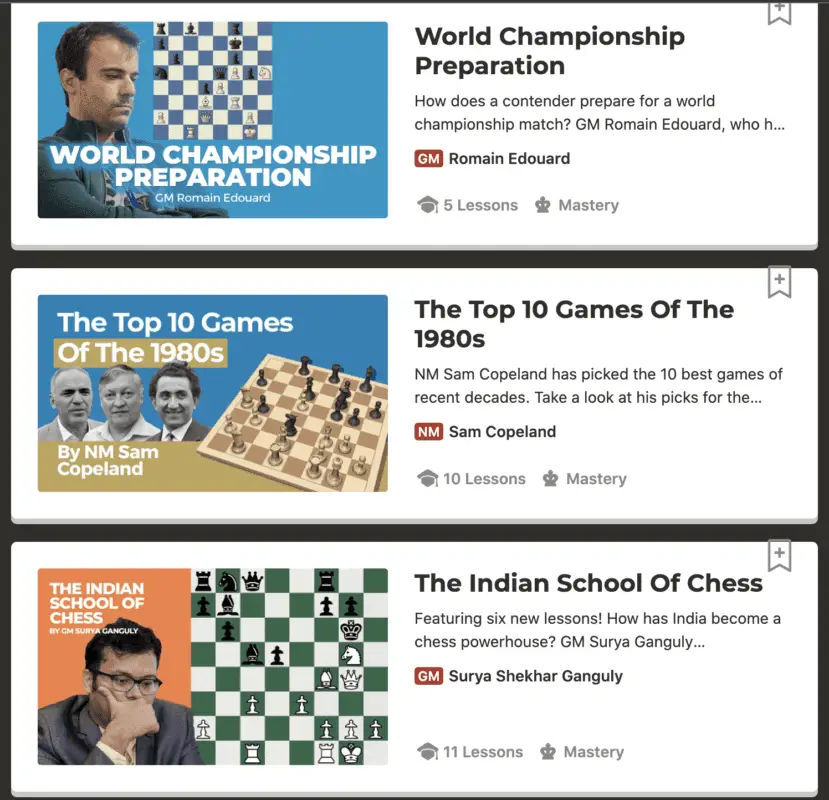 If you want to know more about what Chess.com offers, continue reading…
Are Chess.com lessons really FREE?
If you are unfamiliar with Chess.com and are wondering if they provide free lessons, the answer is yes. After registering as a member, you can access free chess lessons on the platform.
The only drawback is that ads will appear on the platform if you are on the free plan.
Although the test account I'm using at the time of writing this article isn't showing any ads, I'm not sure if they've removed them – but that is the drawback of the free plan.
So, what exactly are the free lessons?
What are FREE lessons inside Chess.com?
If you sign up with Chess.com right now, you will not meet any restrictions on the platform.
Because there are so many things to read and watch inside, you won't believe you're on a free plan.
The various monthly and yearly plans simply give you access to all of the puzzles, game reviews with explanation (on the top tier plan), and lessons that are limited per week depending on your plan.
This unrestricted access to lessons, puzzles, and other features such as playing with bots is somewhat depending on your choice, but it is nice to have for people who are serious about chess and enjoy it as much as I do… 🙂
If you're wondering what lessons are contained within, they're divided into four stages.
New to chess
Beginner
Intermediate
Advanced
The stages above are covered under the "Guides" tab inside the platform.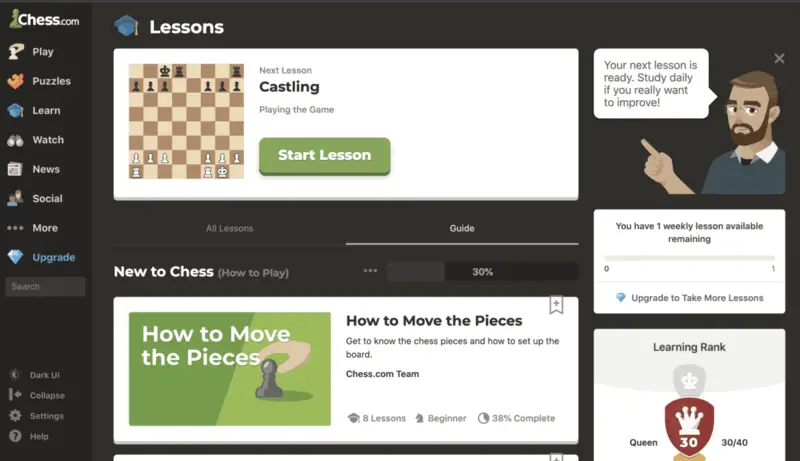 And the "All Lessons" tab on the left will include openings, strategies, tactics, endgames, master games, and grandmaster commentaries and lessons.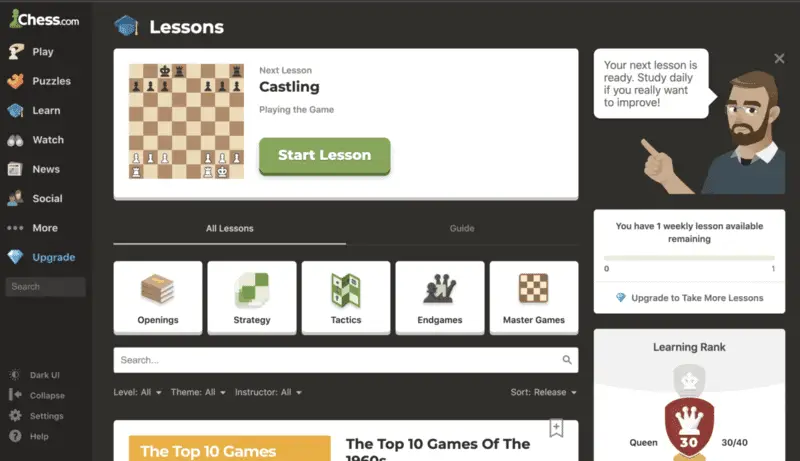 What are the benefits of Chess.com lessons?
The lessons benefit anyone serious about playing chess, especially those who plan to compete in tournaments, regardless of age.
And for many people, the benefit of learning how to play chess can be a fun and rewarding experience.
Also, there are many reasons why lessons from chess.com can be beneficial.
Here are some benefits of Chess.com lessons:
First and foremost, playing chess with a professional chess instructor/s provides a level of support that is hard to find in other forms of learning.

This type of personalized instruction helps students to develop their skills more effectively and makes sure they are making progress.

Next, the lessons on Chess.com are highly affordable, making them an ideal way for anyone to get started in the game.

Lastly, since the lessons are online, they can be accessed from anywhere in the world.
I believe that taking chess lessons can make a big difference in our lives because for me it has helped me learn how to think strategically, which has helped me deal with different problems in my life. And I know that this would also be very helpful for kids.
Is Chess.com Premium Membership Worth It?
Let's talk about the paid membership now that we've talked about the free membership. I do have a paid membership, which is the most popular plan the "diamond" account, and I can say that it is well worth the money.
When you have a Chess.com premium membership, you'll have access to a number of features and benefits, such as the ones below:
Chess.com Diamond Plan
Unlimited Game Review
+ Explanations
Unlimited Insights
Unlimited Puzzles
Unlimited Puzzle Rush
Unlimited Lessons
Unlimited Video Library
Unlock All Bots
No Ads
Chess.com Platinum Plan
Unlimited Game Review
Unlimited Puzzles
Unlimited Puzzle Rush
5 Lessons per Week
Unlock All Bots
No Ads
Chess.com Gold Plan
Unlimited Game Review
25 Puzzles per Day
5 Puzzle Rush per Day
3 Lessons per Week
Unlock All Bots
No Ads
While the site does offer a number of free features and services, it's worth considering signing up for the premium membership if you're interested in using all of the site's resources like lessons, tournaments, and unlimited everything.
There are three different plans available above, so it's easy to find one that fits your needs.
You can sign up here and choose your Chess.com plan.
Wrapping Up
Chess.com offers free grandmaster lessons online.
Even the lowest tier can help you develop your chess skills, especially if you're a novice or want to start over.
If you decide on the free plan, adverts will appear on the platform; however, you should ignore them and focus on the game and lessons.
When you upgrade to a premium membership, you'll gain access to additional grandmaster classes and enjoy unique training. 
Chess.com's grandmaster instruction will definitely help students develop strategies and tactics.
I am 100% that anyone serious about chess can benefit from Chess.com lessons.
Also, don't forget to check out Chessdelights chess resources for more chess stuff! Enjoy your free chess lessons!