I've been playing chess live on Chess.com for as long as I can remember…
By playing live chess on Chess.com, the website enables me to experience competitive chess games even online.
This is essential for those of us who don't have access to regular chess clubs, personal chess coaches, or even regular chess opponents.
I would like to welcome you to the exciting world of online chess.
In this guide, I will share with you how to play live chess on chess.com.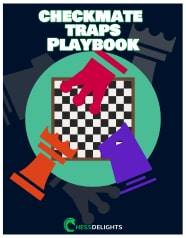 Download Your Free Checkmate Traps
Whether you're a beginner or an experienced player, this PDF will provide you with valuable insights and techniques to improve your gameplay.
First thing you need to play chess live on chess.com
To play live chess on Chess.com, first create a free account here.
Then, find a live chess game to join. To do this, click on the "Live Chess" tab and then just click play or your can choose to join a tournament game by going to the "Tournament" tab.
You will see a list of available tournament games, including the time control, number of players, and ratings.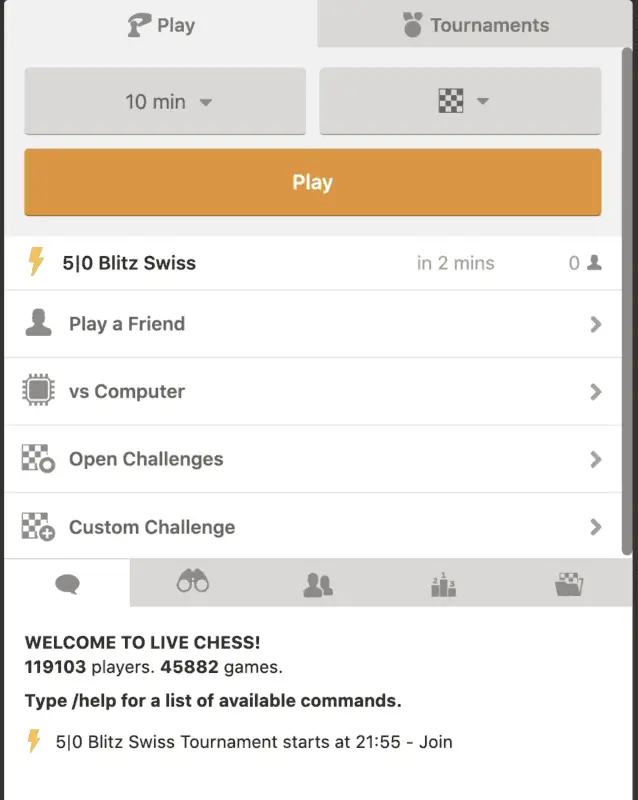 Choose the game you want to join and click on the "Join" button. Once you're in the game, make your moves by clicking on the pieces on the board. When it's your turn, your moves will be automatically sent to your opponent.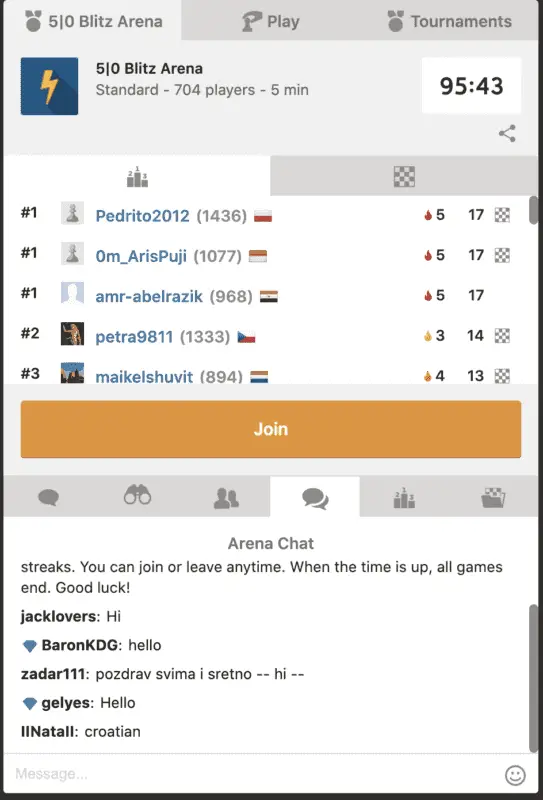 You can also chat with your opponent by typing in the chat box.
Also, to resign or offer a draw, click on the "Resign" or "Draw" button.
Playing with different players all over the world is now as simple as clicking a button with live chess online inside Chess.com and it's FREE!
This is incredible, and it solves our problem of not having someone to play chess with on a regular basis. I know there are other chess platforms available, but here's why I consider Chess.com to be the best free chess app.
If you're still not convinced that this can work to your advantage, continue reading… or check out this article to learn if there is an app for learning chess?
What is the advantage of Online Chess?
Online chess has many advantages over playing chess in person.
First advantage, it is possible to play at any time of day or night, without having to set aside time in your schedule.
Second advantage, online chess allows you to play against opponents from all over the world, which can provide a more challenging experience.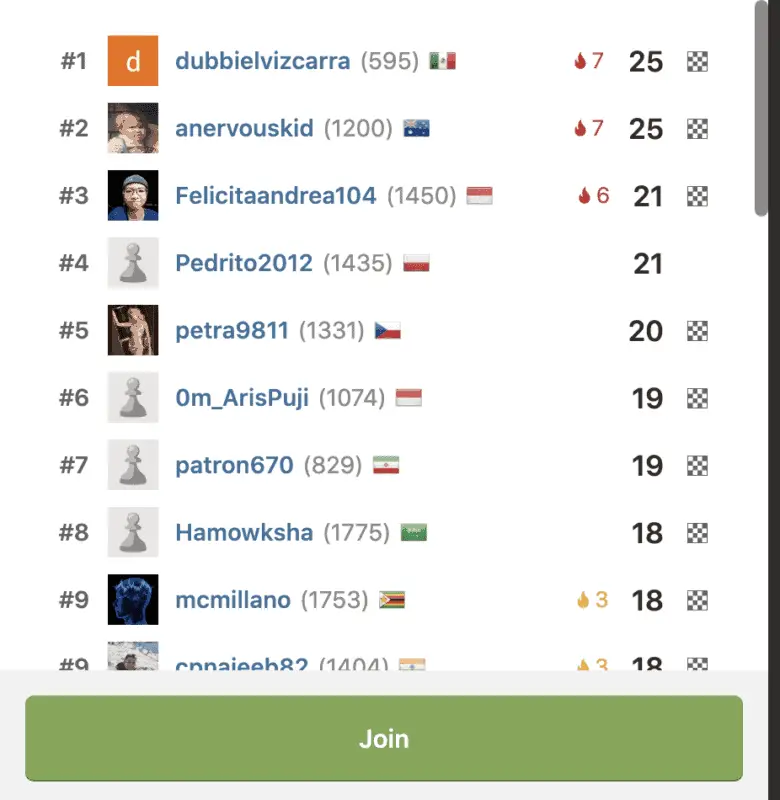 Finally, online chess allows you to use computer engines to assist you with analyzing your game, which can take some of the guesswork out of the equation.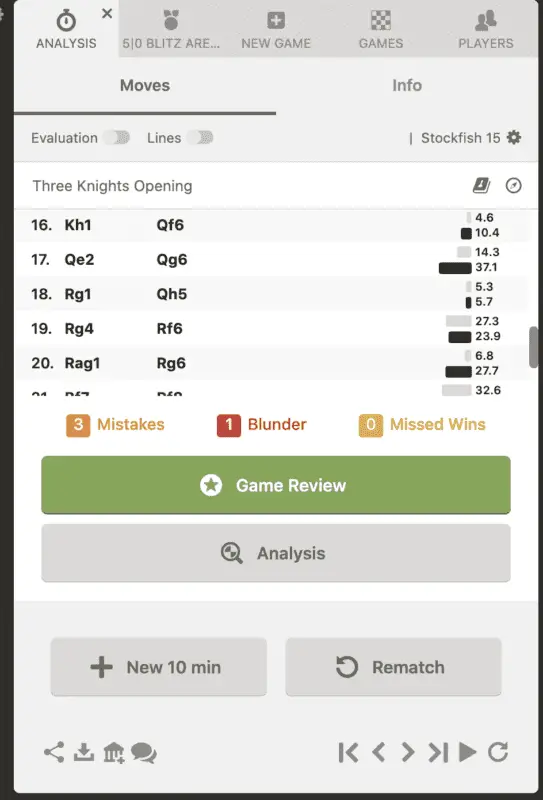 This is easily accessible within Chess.com; simply click the "Analysis" button and it will analyze your mistakes and blunders and suggest the best move for you.
Of course, there may be some disadvantages when playing live chess online…
What are the disadvantages of playing online chess?
There are a few potential disadvantages to playing online chess.
First, it can be difficult to coordinate in person with other players because of your geographic locations. There might come a time that you'd want to have a simple meetup with one of your chess online buddies to discuss how to improve your chess ratings etc… 🙂
Second, online chess can be more challenging than playing against humans in person. This is because some players allegedly are using chess engines to cheat while playing online.
I've seen this before, and Chess.com can detect online players who attempt to cheat while playing. I recall receiving messages adjusting my online rating due to players who cheats online (not really familiar how they actually do the cheating part)…
Finally, online chess could be more costly than playing against humans in person. This is because computer engines are often expensive to use, but if you're serious about improving your game, the cost may be worthwhile.
But I did say playing chess live is FREE… 🙂
How to play chess live online for free?
There are many websites that offer free online chess games. Some of the most popular include Chess.com, Lichess.org, and Chess24.com.
To get started, simply create an account on one of these websites and start playing against other users from all over the world.
And as I said before you can also join online chess forums to chat with other players and learn new strategies.
Chess.com is my preferred online chess platform; I've been using it since 2019 and I love the lessons and videos from grandmasters sharing their ideas, tactics, and explaining every move; you can also easily access the tutorials using their mobile app.
If you've played online and become frustrated by a losing streak (I know how you feel…), you simply need to keep improving.
Avoid getting frustrated when losing live chess online
Losing can be frustrating no matter where you are, but it can be especially tough when you're losing online.
The thing to remember is that there's always a chance to win, so don't get too down if you're not winning right away. I suggest you check out our start here page to guide you with your chess journey.
Keep learning and eventually you will start to see some success. You can check out this article where I list 19 plus best chess apps available online.
Another important thing we need to address is the online cheating that I mentioned above.
What to do with live chess online cheating?
What to do with cheating chess players on the Internet? We are all aware that cheating is against the rules of the game. Moreover, cheating can result in the player getting a higher online rating. To stop cheating, you should report the cheater to the relevant sites.
Cheating players online have ruined chess' credibility and popularity.
In fact, chess sites host over 1 million games daily. The numbers have increased tenfold since then.
Cheating chess players often use computerized chess programs and secret devices to cheat. While online chess cheating has been an issue in online chess, the advancement of technology makes it more difficult to detect. And as a result, if you notice a cheating chess player on the internet, you should report them.
Cheating chess players can also use an engine. Cheating players can use this engine to tell them where to move or to avoid making blunders. The first method of cheating usually shows itself fairly easily.
One way to detect cheating players on the internet is by analyzing the games. Cheating players can use computer programs to make better moves, and this is often what happens when players are playing online.
Ultimately, reporting cheaters is the best way to deal with them.
The problem with cheaters is not the chess website, it is essential to prevent cheating in the online chess world.
Wrapping Up
Even if you don't have access to a regular chess club, personal chess coach, or regular chess opponents, Chess.com is a great place to experience competitive chess. You just need to click on the "Live Chess" tab, then click "Play," or you can join any tournament game available in the "Tournament" tab.
By the way "Live Chess" in Chess.com will soon change its name or label to "Switch" just saw it today while writing this article.
Online chess allows you to play against people from all over the world at the same time as you, without having to make any additional time in your schedule – and it can be just as entertaining! 🙂
More information on how to play online chess can be found by clicking here.
Also, don't forget to check out our chess resources here.