The best way to learn how to play chess is with the help of free tutorials that are available on 10 different websites.
Some can be expensive or just downright boring so it's important for you as a player not only think about your needs but also keep flexibility in mind when searching around online.
However, there are free and amazing platforms available online! Such as the following websites:
Chess.com
ChessMood
Chess24
Lichess.org
Ideachess
Chess Tempo
Chess Game Strategies
Internet Chess Club
iChess
Chess Tutor
You may also check out this chess learning app version of some of them if you prefer to play on your mobile phone.
Let's go into more specifics regarding this chess website!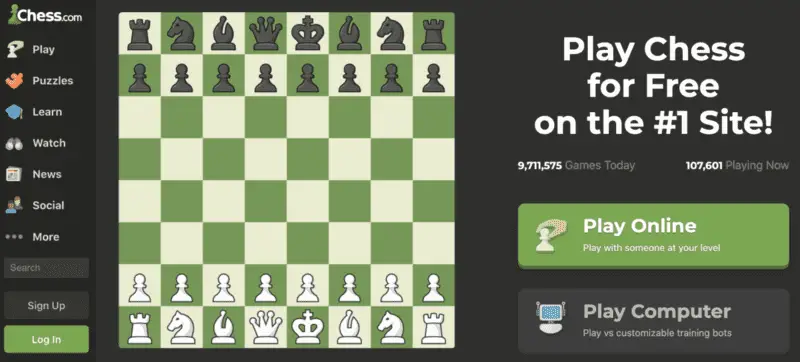 1. Chess.com
The best place where you can learn chess is Chess.com. The website offers a free portal where you can play chess, but it also features a complete learning section. You can learn about how the game works and how you should move each piece. The website lists the unique mechanisms surrounding the game and how well it works.
The Lessons section of Chess.com features multiple sections devoted to how the game works. Beginners can learn about how to capture pieces and what opening moves they should utilize. People with a little more experience can learn about unique tactics and how to plan an endgame.
Chess.com also offers advanced lessons for experienced players who need extra help in understanding how they can win. You can learn about what squares are best for individual pieces, how to attack a king, and unique patterns you might find in an endgame.
The site provides complete details on what works both at the start and end of your match.
Chess.com also has an extensive puzzle section where you can use the skills you've learned and see how they work. The website offers more than 150,000 chess puzzles.
You can compare your performance with others on the website to see how well you can figure out the best strategies for all chess situations.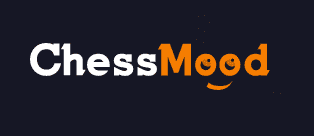 2. ChessMood
If you want a true step-by-step dissection of chess openings and games, where you can quickly pick up tactics and strategies, ChessMood is the website to go. I was able to test the PRO version, and the content is outstanding.
The most promising feature of this site is that you actually get excellent guidance and support from GrandMasters; subscribing to the PRO version allows you to have a one-on-one call with a GM. You will also receive a personal study plan from the GMs, and did I mention that all of the lessons were prepared by chess grandmasters? That is incredible!
I can honestly say that they teach chess in a different and brilliant way; they stick to the three parts of teaching (learning, practicing, and fixing), which I believe is quite successful.
When developing their courses, they commit to a high standard of quality. For example, the Tactic Ninja, Mating Matador, BlunderProof, and other ChessMood courses are aimed at improving your games and increasing your rating fast.
If you want to study and improve your game quickly, I highly recommend ChessMood!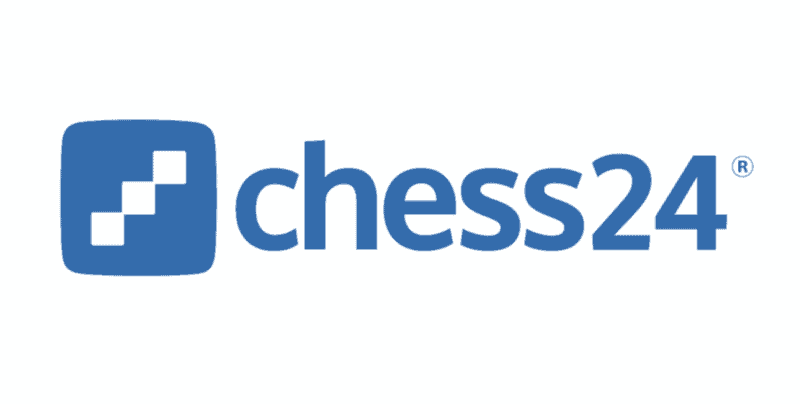 3. Chess24
Chess24 is one of the best chess websites where you can learn about how the game works. The website provides an interface where you can play chess with other people from around the world. You can also find other players and schedule games with them.
There's even a lobby where you can watch chess games in progress, including matches from major international tournaments. The lobby lets you observe how the world's best chess players handle the game and what they do when competing.
You can compare what you would plan on doing with what these grandmasters do, giving you new ideas on what works when you're playing the game.
But the most prominent part of Chess24 is that the website helps you learn all about the game and how it works. Chess24 features various courses that will teach you how each piece works, how to checkmate your opponent, and how many strategies can work.
The lessons are divided based on your experience with the game. You can advance to more complex and detailed lessons as you progressively learn more about how the game works.
The most popular feature here is the Tactics Trainer, a program that reviews your playing style. The Tactics Trainer gives you chess puzzles based on your skill level. You can learn about how you perform in chess based on how you solve these puzzles.
The trainer will help you see the best strategies for each situation, giving you an idea of what you should do when playing.

4. Lichess.org
Lichess.org offers daily chess tournaments, plus you can start a game with anyone online in moments. You can begin a Classic, Rapid, Blitz, or Bullet game on the website. The learning section at Lichess.org will help you find the most innovative ways to play chess.
Lichess.org offers lessons on how to use each piece and how to defend and capture pieces. Some of the more unique lessons here involve handling a stalemate, castling strategies, and determining the value of each piece in any situation.
There's even a section dedicated to two-move checks that can help you gain a better advantage over your opponent.
The website also has a section that is all about coordinates. You'll need to understand how coordinates work if you want to analyze chess matches well.
Lichess.org also has a few live coaches available to help you with your chess skills. You can contact one of the chess coaches on the website for personalized instructions on how you can play chess the right way. It does cost money to hire one of these coaches, but they can work well if you have specific needs for play.
The best part of these players is that they are among the world's top-ranked chess players with high FIDE rankings.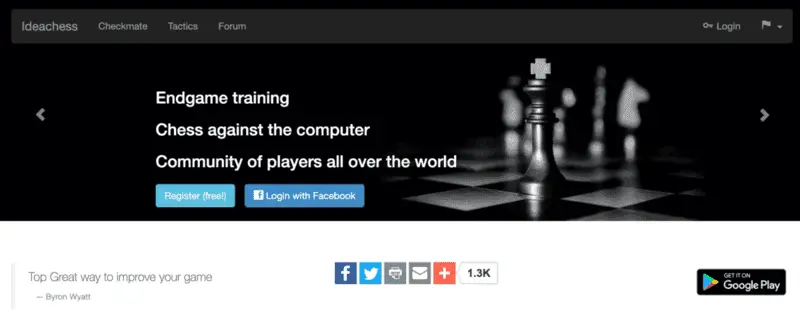 5. IdeaChess
IdeaChess focuses mainly on helping you understand how to complete checkmates. The website includes puzzles and scenarios where you can complete a checkmate in two or three moves on average.
The system lets you see how well you're managing your pieces and what you should be doing when moving your pieces the right way.
IdeaChess also comes with a thorough tactics section. The website can generate tens of thousands of unique chess puzzles.
You can use this to learn and practice new tactics to win at chess through this section.
The interface will also inform you when you're using the wrong move when you try to resolve a situation. It corrects you with the right answer for solving various puzzles.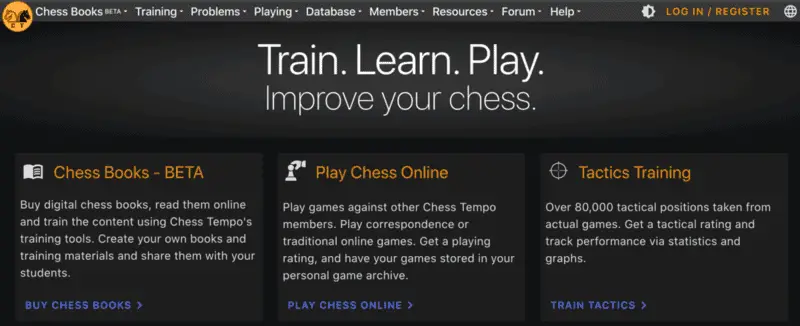 6. Chess Tempo
One way how you can learn chess involves reviewing matches featuring the game's top grandmasters. Chess Tempo has an extensive game database featuring more than three million matches. You can watch how different matches have progressed.
You can review what moves people utilize the most when checking on how each game runs. The database provides reports on what moves will offer players the best advantages.
The game database at Chess Tempo also features an opening explorer. You can review different opening moves people complete and see how they can impact the entire match.
Understanding how unique openings work can be essential in helping you figure out what you should do when advancing down the field.
Chess Tempo also offers a tactical training feature that includes tens of thousands of tactical positions from actual games. You can review how to handle individual tactics.
You can even arrange the board as you wish and find unique tactical strategies based on the results. The system helps you figure out what works best in any situation of value to you.
There's also an endgame training feature that includes thousands of positions from actual matches. You can play an endgame against a computer opponent to figure out what moves you should use when trying to capture the king.
The Guess the Move feature is one of the most popular parts of Chess Tempo. You can get how a grandmaster completes specific moves in many situations.
You'll get a score based on how well your predicted moves compare with what the grandmaster does. The section helps you note what turns are suitable for many occasions.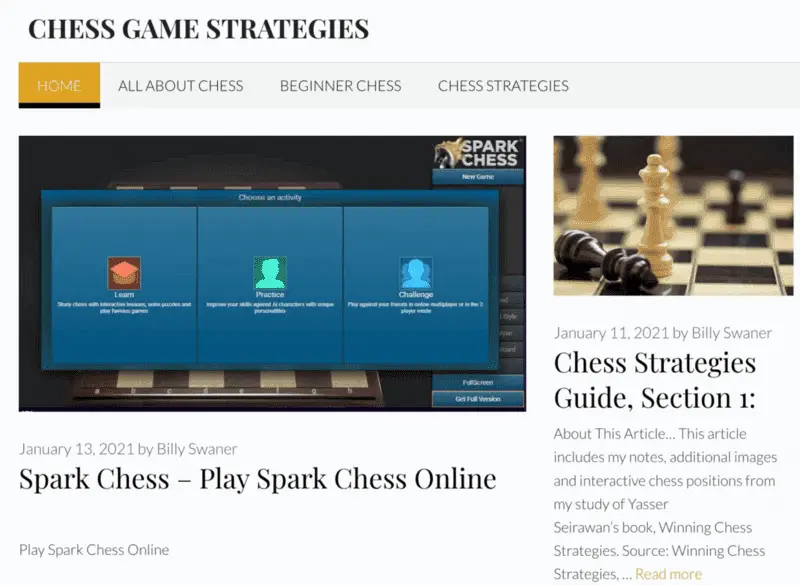 7. Chess Game Strategies
As the website's name suggests, Chess Game Strategies is a site that focuses on understanding specific concepts of chess. The website covers various concepts surrounding how each piece works and how you can respond to many unique situations.
Chess Game Strategies is mainly for new players who want to understand more about the game. The site has various blog posts that incorporate detailed stories on how the game works and what you can do with each piece.
You can learn about many things, from understanding how to detect an advantage to figuring out if certain pieces can jump over others without capturing them.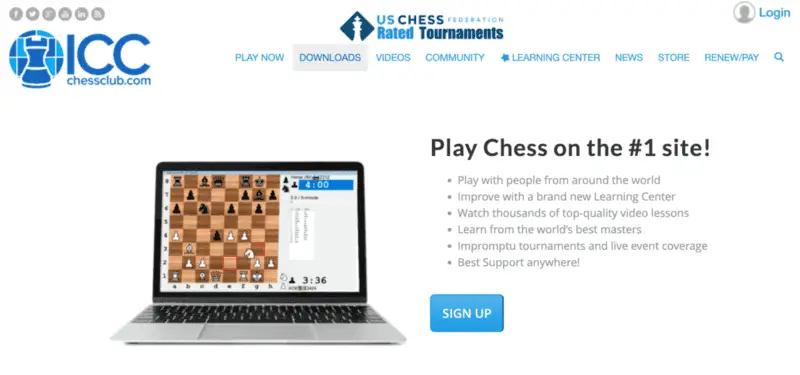 8. Internet Chess Club
Some websites that can help you learn about chess cost money to enter. The Internet Chess Club is one such example. The website is mainly for those who have been playing chess for a while and need extra help to build their skills further.
The chess server lets people play with and learn from various certified grandmasters. You can learn about the more complex and detailed aspects of chess through the Internet Chess Club.
The website also provides ratings based on your performance in games on the website.
You can compare your performance against other grandmasters to see how well you perform and what you should do to build your skills further.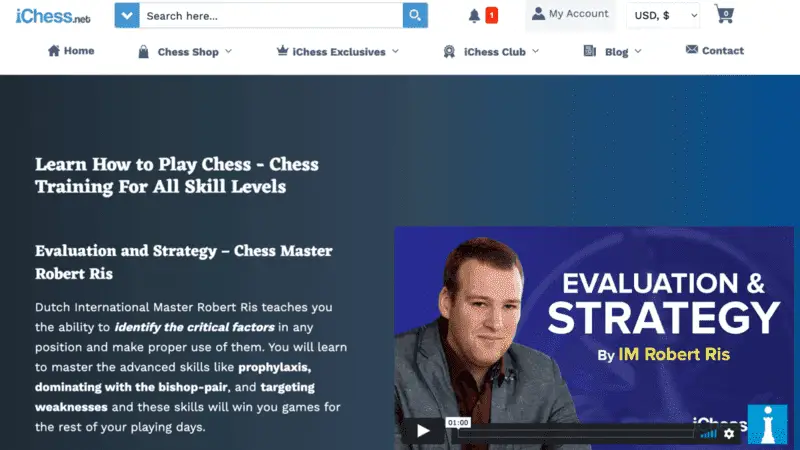 9. iChess
iChess is another place that costs money to utilize, and it sells various programs and guides to help you understand how chess works. What makes the learning materials at iChess different from other websites is that iChess offers courses directly taught by the world's top grandmasters.
These include people who have years of experience in international chess tournaments and understand the many ins and outs of the game.
The website sorts its programs for sale based on your skill level, so you can find a program that fits your unique learning needs.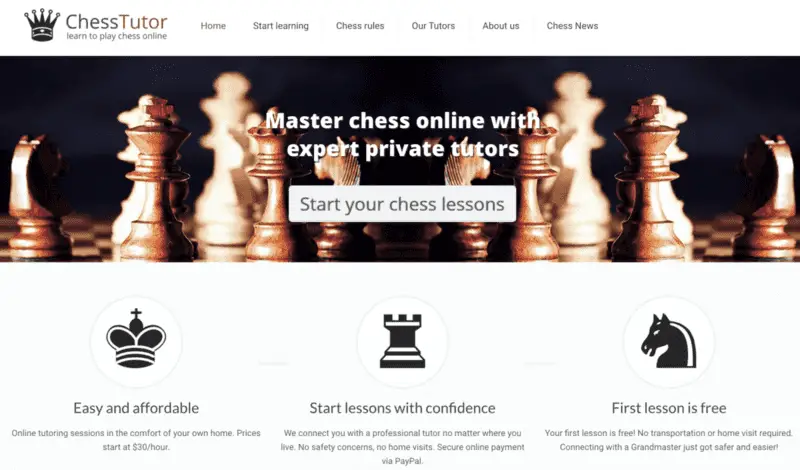 10. Chess Tutor
Chess Tutor requires all members to have a Skype account, as you'll be communicating with a real chess expert through the video conferencing platform here. You can start with a demo lesson and then move on from there.
The video lessons the tutors will provide will help you with whatever specific needs you have when learning about chess. It is suitable for newcomers and experienced players alike.
The tutors include people with high FIDE scores and multiple years of teaching experience, so you can be assured you're working with people who know how the game of chess works.
Gary Flores
Gary created the ChessDelights website to help individuals who struggle with navigating the realm of online chess. The website provide various tools and resource guides to help users learn and master the game of chess. He is also the co-author of
"Chess Fundamentals" digital interactive book a ChessDelights Edition
. Whether you are a beginner in online chess or seeking to use tools and chess resources to improve your skills, the ChessDelights website is for you.