Are you always looking for someone to play chess with? Or looking for a perfect chess set to your grandkids but don't have time to teach them?
You don't need to worry anymore, there are a lot of grandparents who are retired and just want to play chess with not just a computer on screen but using a real chess board. Let's include those grandparents who are looking to gift their grandkids the best electronic modern chess set that can actually teach them and improve their game.
As a chess enthusiast, I am always on the look-out for the best and latest electronic modern chess board that can help you learn and can play like a regular human chess player. I know It's not always fun and convenient to learn and play chess on screen (which you can't really focus in learning much) that is why I created this list of electronic modern chess sets that solves those issues.
Here is my first recommendation. I hope it has all the features you or your grandkids are going to be delighted and happy about with an electronic modern chess set.
Electronic Modern Chess Sets List
The DGT Smartboard WI Electronic Modern Chess Set has an excellent design, and doesn't look cheap even if it's currently made of plastic.
Most of the customers agree that the pricing is not too expensive, especially with the benefit of being able to study a specific game from chess engines using a real chess board.
This model is compatible with chess engines like Chessbase, Komodo and Fritz.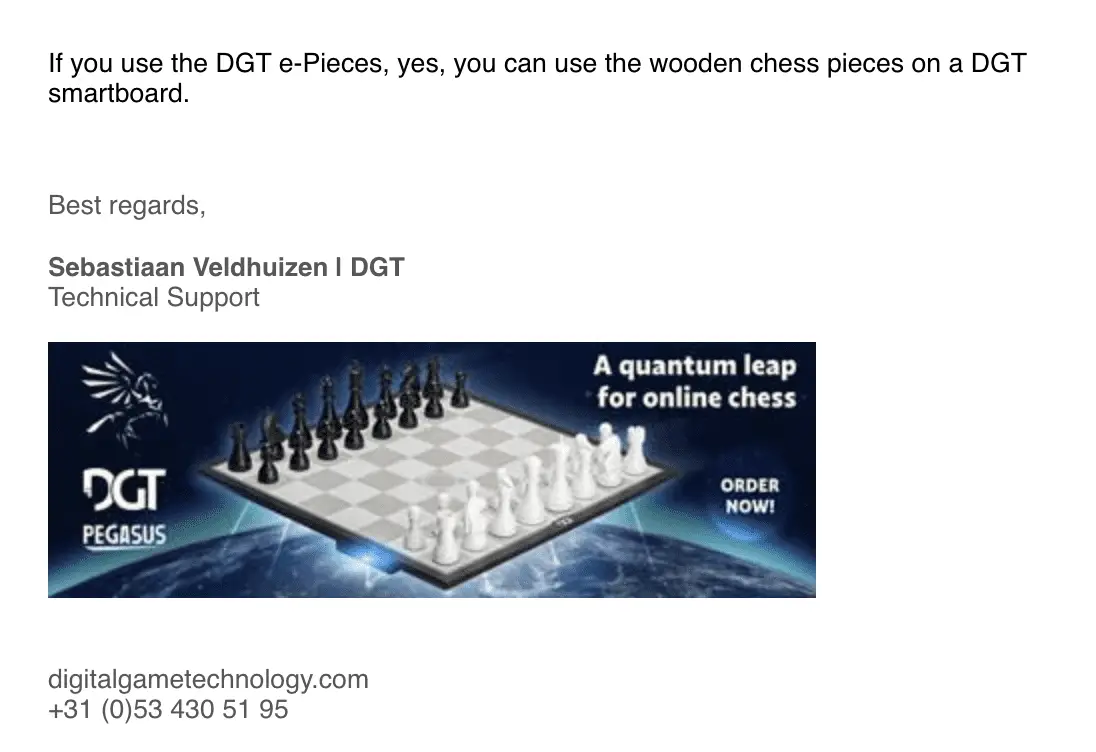 Also, DGT (Digital Game Technology) company told me that you can upgrade some of your old DGT boards for tournaments to DGT USB-C. They also confirmed with me that these DGT e-pieces can be replaced with wooden pieces (see email conversation above) which are sold separately. Doesn't that make your purchase feel all worth it?
The Chess Genius PRO Electronic Modern Chess Set is a powerful but user-friendly electronic modern chess set that is great for chess enthusiasts. The main purpose of this chess set is to turn enthusiasts into chess pros within a short period of time.
Although, some customers are expecting a tournament sized chess board, this is not it, but it has an extensive collection of chess openings that will surely help you improve your game.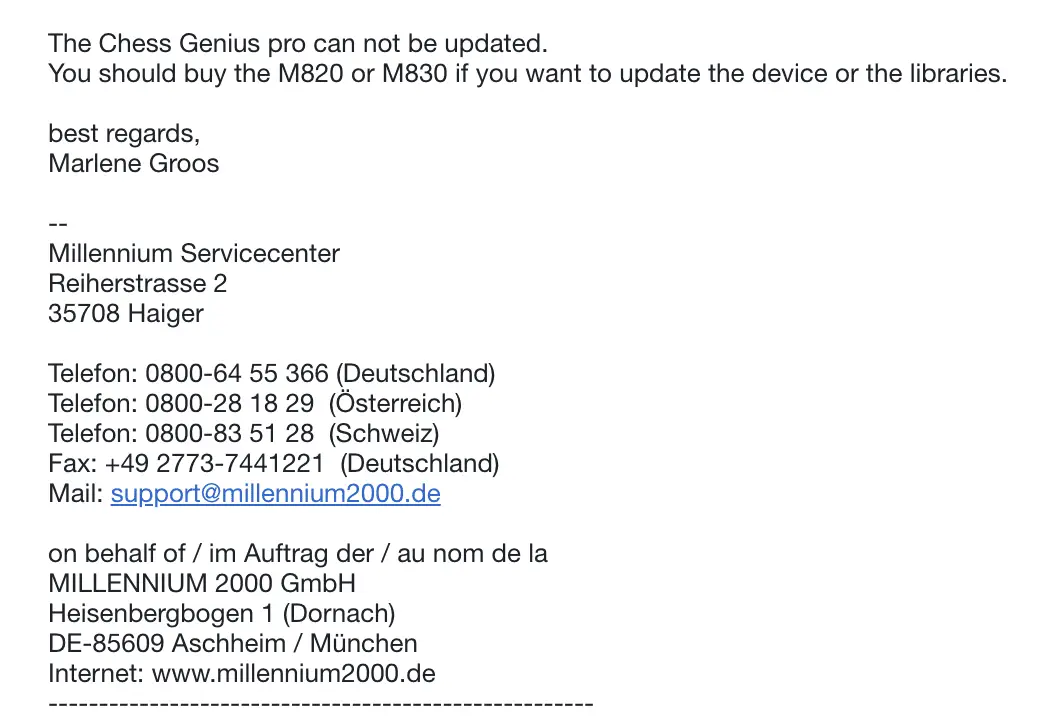 The opening moves includes approximately more than 150,000 positions. If you want to have the latest update of the opening moves, you need to buy the latest model as mentioned above in an email conversation I had with a Chess Genius Pro representative.
You have an excellent chess set even with its plastic look, the most impressive feature is of course its computer's strength which can rival any tournament player. Wouldn't you want a strong chess player to play with every time you want?
The DGT Centaur Electronic Modern Chess Set will not disappoint you with its chess pieces that feel heavy even if it is made of plastic. When you play with the computer, you will see it move by seeing the light up the squares, and it is very easy to see.
You can set the mode first to "friendly" to test it, and then you can also play in a "challenging" mode. You can take advantage of the hint feature where it teaches you the best move to play.
You can enable it if you want to, but that is part of how these electronic modern chess sets can help you improve your games.
As a chess enthusiast who wants to learn and play with regular players, you may ask, "Can this actually play like a human and make mistakes like regular chess players?" Well, you have a very human-like chess player that can also adapt to your level, it can blunder some moves just like a regular human player and can also bounce back to win the game.
The iCore Magnet Electronic Modern Chess Settalks and teaches you about threats to your pieces. That is an amazing feature that is appropriate for kids who are still learning how to play chess.
A great gift for kids, with different modes to choose from and 30 unique chess levels.
If you want to have a nice chess playing experience at the same time as improving your game, — this is a good choice for you and your kids. I will definitely buy this as a gift for my kids.
The Chessman Elite Interactive Electronic Modern Chess Set is a compact, great size chess board and is good value for money.
Most of the customers bought this as a gift, and they like how this electronic modern chess set can teach you to improve your game, and it plays like a human too.
It has a lighting indicator for its move and has different levels as well. This is a good starting point for any chess enthusiast learning from computers with a real chess board.
The Croove 8-in-1 Electronic Modern Chess Set is another enjoyable type of computer assisted chess learning game board. This one has checkers and is another game to play.
The pieces are magnetic, which prevents the pieces from falling off the board.It also has a lot of different modes of learning and settings that are surely going to help you not get bored easily.
This particular electronic modern chess set is excellent for any age group, and also great as a gift. I bet the whole family will be very satisfied with this one.
Wrapping Up
This is my top 6 list of electronic chess set that can teach you chess and can play like a regular human.
I hope this article will help you choose your next chess board or upgrade your current chess board.
If you're interested I have a resource for chess enthusiast like you on this page, ChessDelights chess resources that you are going to like.
Enjoy playing with your electronic modern chess set!
Gary Flores
Gary created the ChessDelights website to help individuals who struggle with navigating the realm of online chess. The website provide various tools and resource guides to help users learn and master the game of chess. He is also the co-author of
"Chess Fundamentals" digital interactive book a ChessDelights Edition
. Whether you are a beginner in online chess or seeking to use tools and chess resources to improve your skills, the ChessDelights website is for you.