Do you enjoy playing chess with your friends and would want to learn how to play the game online? Or, are you searching for the best online chess site?
I have been playing chess online for more than three years, and I am familiar with the best free and premium chess sites.
So, what's the best site to play chess online for free? Chess.com is the premier website for free online chess play. It is possible to play with friends or in multiplayer mode. You can easily create a challenge with more than 93 million members worldwide. Chess can be fun inside the platform because you can play against a computer.
The best part about this chess site is that it allows you to play for free for as long as you want!
Check out this article if you're also interested in using some apps to learn chess.
In the following sections, we'll go over how to play online with friends and other important ideas and tips that you should know.
How to play chess online for free, step by step?
So, I'll show you how to play free online chess with the Chess.com website. You may not be aware, but there are two ways to play online with this website.
Here are two options that let you play online using Chess.com:
1. You can play using your computer (desktop or laptop)
2. You can use your smartphone to play online (IOS or Android)
How to create an account and play Chess.com online using your personal computer (desktop or laptop)?
1. Using your browser (Google, Firefox, Safari, etc.), enter Chess.com
You can access the website's main homepage by entering the URL Chess.com into any of your favorite browsers.
I recommend using Google because it is one of the best browsers and improves the user experience when playing online.
After entering the site name, you should see an example of the homepage below: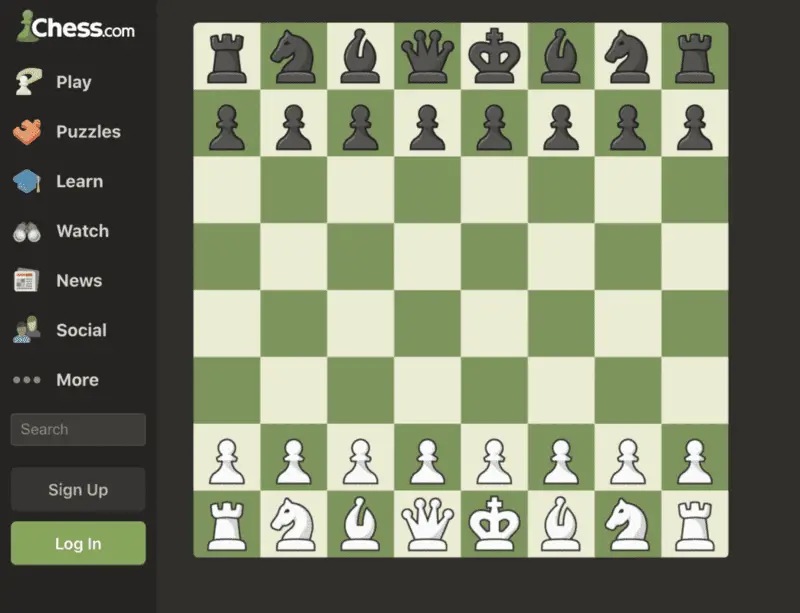 2. To create an account, click "Sign Up."
You can also create an account using your Gmail, Apple, or Facebook account. This method makes signing up easier because you only need to confirm your existing accounts from Gmail, Apple or Facebook.
Nowadays, I find it more convenient to sign up using those platforms because we are usually already logged in, making it much faster to create an account.
You should see the following sign-up page: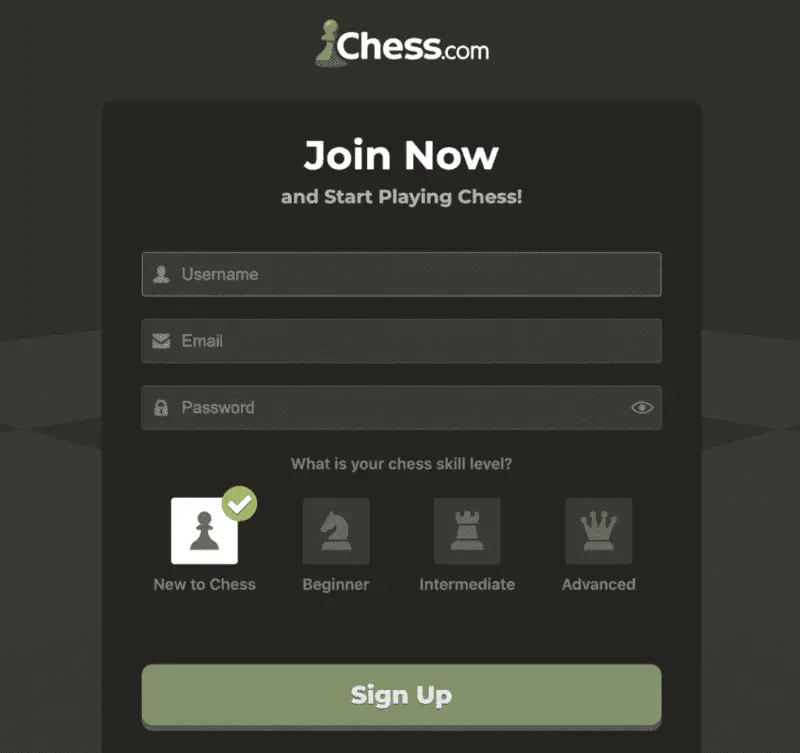 3. Select the type of game to play.
You can choose the type of game to play now that you have an account and are inside the Chess.com platform.
There are several game modes to choose from, including Bullet, Blitz, Rapid, Daily and Custom. The only difference between the five options is the timing. The Bullet has a 1-minute timing, the Blitz has a 3-minute timing, the Rapid has a 10-minute timing, the Daily has a 1-day timing and the Custom means you can create your own timing.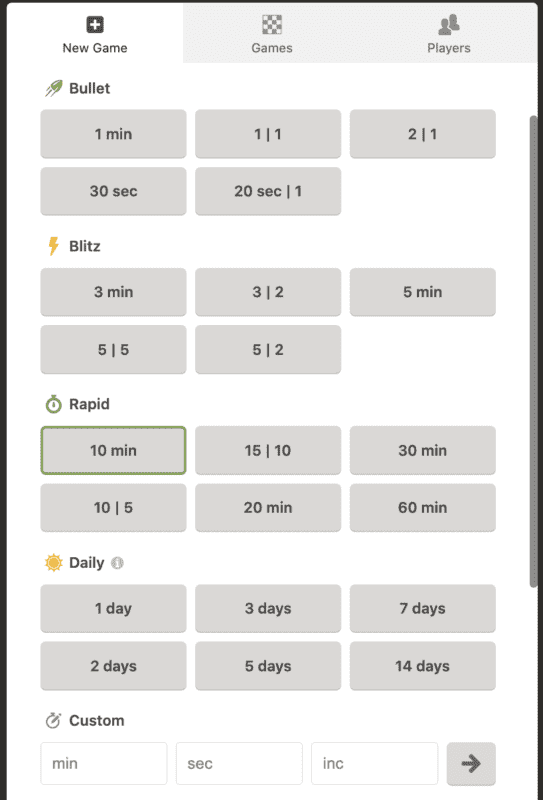 Personally, I prefer the Rapid game because I believe that 10 minutes is more than enough time to have an enjoyable game with a sense of slight pressure while also thinking of the best moves to play.
This is how you can play free online chess with your computer.
How to create an account and play Chess.com online using your smartphone (IOS or Android)?
Let's talk about playing online with a smartphone now. If you have already created an account on your computer, use the method I just described above. Then, you can enter the username and password directly into your smartphone.
If you still don't have an account, you can create one by following the steps below:
1. Navigate to the app store on your smartphone (Apple App Store or Google Play Store)
Depending on your operating system or phone, all you need to do is go to the app store and search for the Chess.com mobile app application.
You should be able to locate the app as shown in the example image below:
2. Download the Chess.com app.
All you have to do now is download the app to your phone, which will only take a few seconds depending on your internet connection.
Once installed, the app should appear on your phone's screen. It should resemble the image below: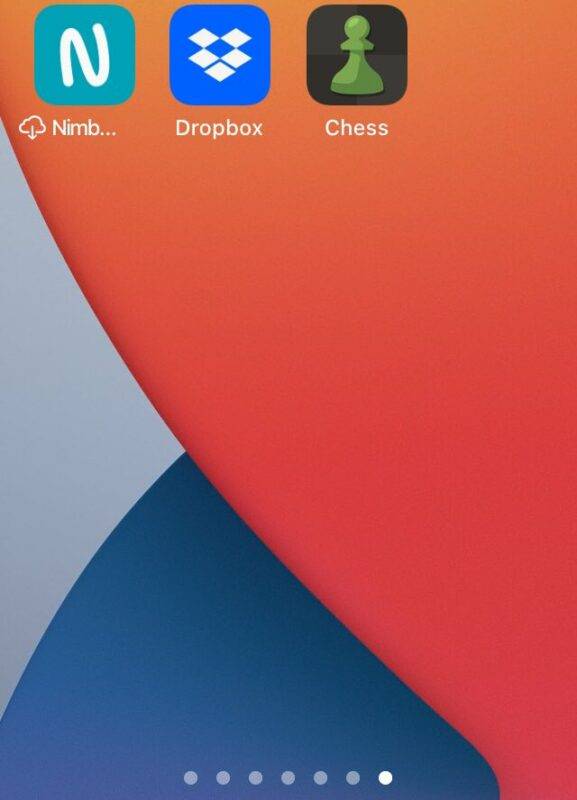 3. Open the Chess.com app and sign up for an account.
To sign up for an account, click sign up, enter a username, and then click continue. You should see the image below: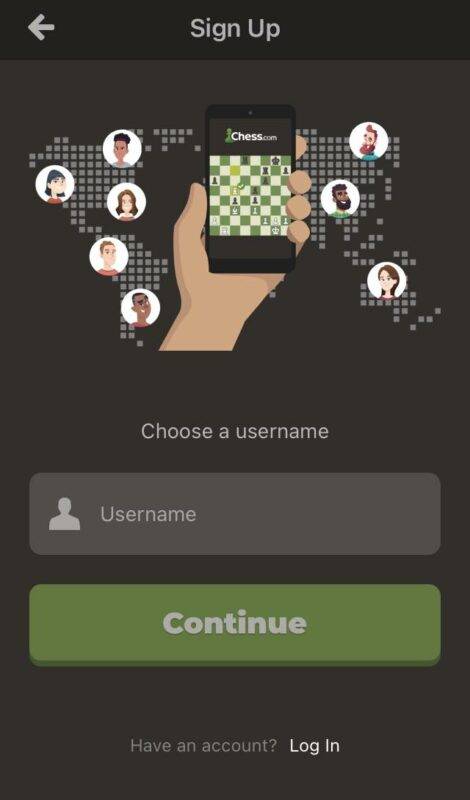 Depending on how you intend to use the app, it is best to create an account using Gmail or Facebook because it is easier to log in if your most frequently used accounts are linked to the chess platform.
4. Select the game that you want to play.
The same procedure applies to selecting an online game; all you have to do is select the timing, and you can submit a challenge. Simply wait a few seconds, and the chess application will select an online player of the same level or rating as you.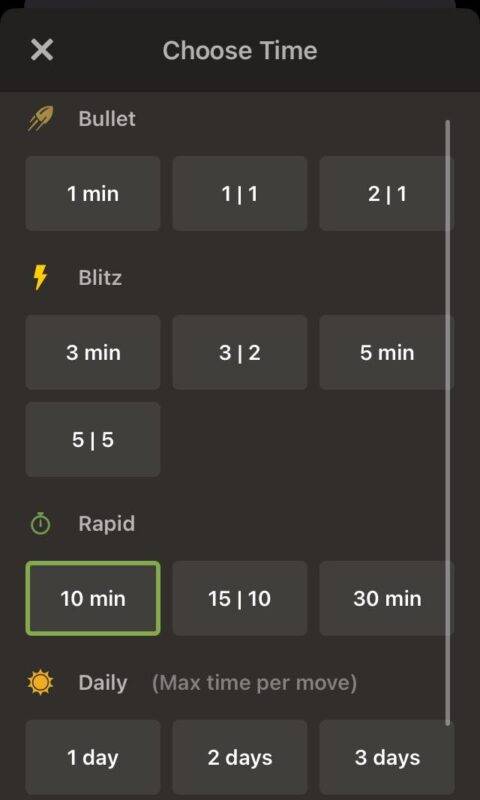 This makes the game more even because you won't be up against grandmasters with higher ratings than you. Yes, some grandmasters play on the Chess.com platform, for example, GM Hikaru.
You now have an online account and can play whenever you want for free.
You might also be interested in reading about the best advise in playing chess.
Continue reading if you want to know what the most important features to look for when selecting the best online chess site.
A checklist of the essential features that every online chess site, both free and paid, must have.
You don't want to have accounts with multiple platforms, but what should we look for when deciding which online platform to use?
The following is a checklist of important features to look for in an online chess site:
You can play for free
You can play offline
Regular updates
User-friendly interface
Few lags and a fast connection
You can watch live chess games
Has a very active customer support
Watch popular online chess personalities
Available forum section
Customer profile section
Available free lessons inside the platform
You have the option to sign up for a premium access
You can play against the computer on different levels
Available both on personal computers and smartphones
You might also be interested to read about other free chess websites to learn faster
So, if you don't have time to scour the web for the best online chess site, I recommend going with Chess.com. I discovered the majority of the necessary features above is available on Chess.com, and you will not be disappointed if you join. The founder is constantly working to improve it, which is always a good sign.
Now, if you want to learn how to play chess online with your friends, keep reading…
How to play chess with friends online?
The only way to play chess online with friends is for both of you to have a Chess.com account. Once you've confirmed that your friends have accounts with the online chess platform, all you have to do is search for their names or photos and issue a challenge to play.
Here are two simple ways to play online with friends:
Click play and choose "Play a Friend."
You have several options here; you can choose to play chess with your friend list. Another great option is to play with your Facebook friends, but they will need an account to do so.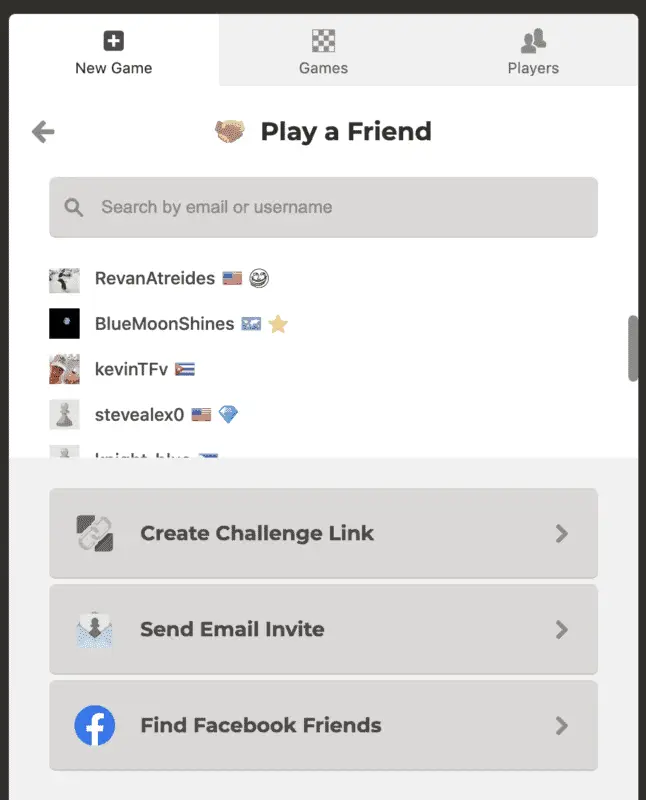 2. Click "Social" and challenge your friend.
If you want to challenge someone from your friend list, go to the "Social" menu and search for your friend, then issue a challenge.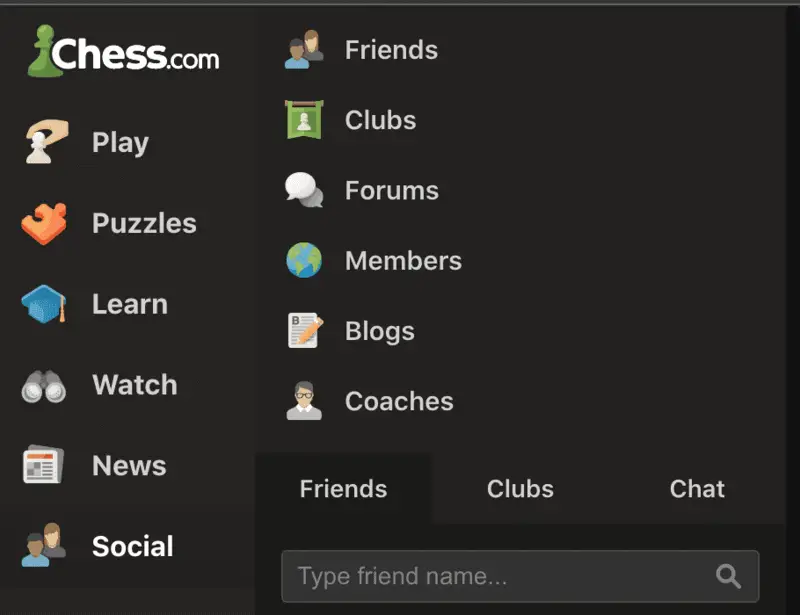 Playing online with friends is as simple as a click of a button; however, it is best practice to notify your friend that you want to challenge them first before issuing a challenge.
How to play multiplayer chess?
To play online multiplayer chess, go to the "Play" menu and select either "Tournaments" or "4 player and variants." Once inside, you can participate in open tournaments and regular chess games. Assume you want to try out different variations. In that case, you can try the "4 player and variants," which are not the same as the traditional games and will provide you with a unique experience when playing multiplayer chess.
You have different options, as you can see below: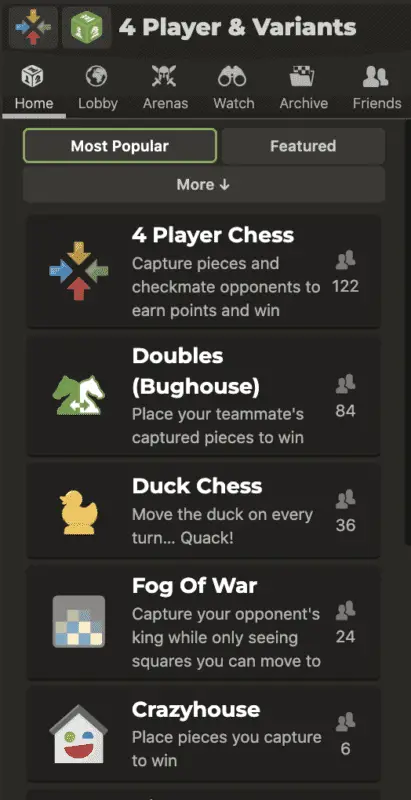 Also, check out this article about the top live multiplayer chess game sites
How to play chess against a computer?
To play chess against a computer or a bot online, simply go to the "Play" menu and select "Computer." You can play with different skill levels, but it's best to start with the beginner level and work your way up as you win.
Here you can see the different skill levels available right now: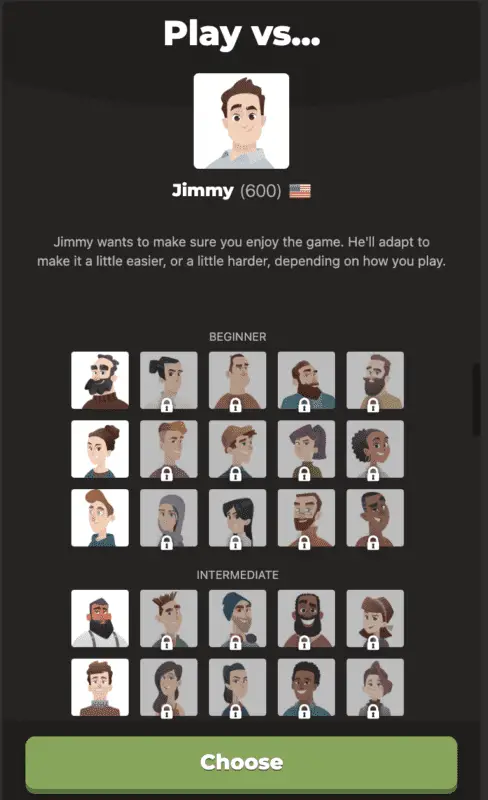 Why should you play chess for free?
Playing chess online for free is an excellent way to learn and enjoy the game. You are not required to join a chess club or find an opponent. The issue is that you may not be able to find a chess club near you, or you may not be able to find an available opponent who can play with you whenever you want.
The best part about playing online chess is that you can do all of the above for free. You can join an online chess club. You can play against opponents at your level or higher. And the benefit of playing against better opponents is that you can learn from them.
I've had a lot of good experience playing chess online, and I can say that it's helped me improve my games, and I can play chess whenever I want.
Chess online platforms such as Chess.com have provided me with this opportunity, and I've been playing and learning here for over 3 years.
If you're still interested in looking for other free chess sites, then check out this article 10 best free chess online websites.
How to learn chess online the right way for beginners?
If you're just starting out, you can use the Chess.com website and the guidelines I've detailed below to build a strong foundation in the game, hopefully helping you to advance your skills and become a professional player someday. 🙂
So, here are the steps you need to follow: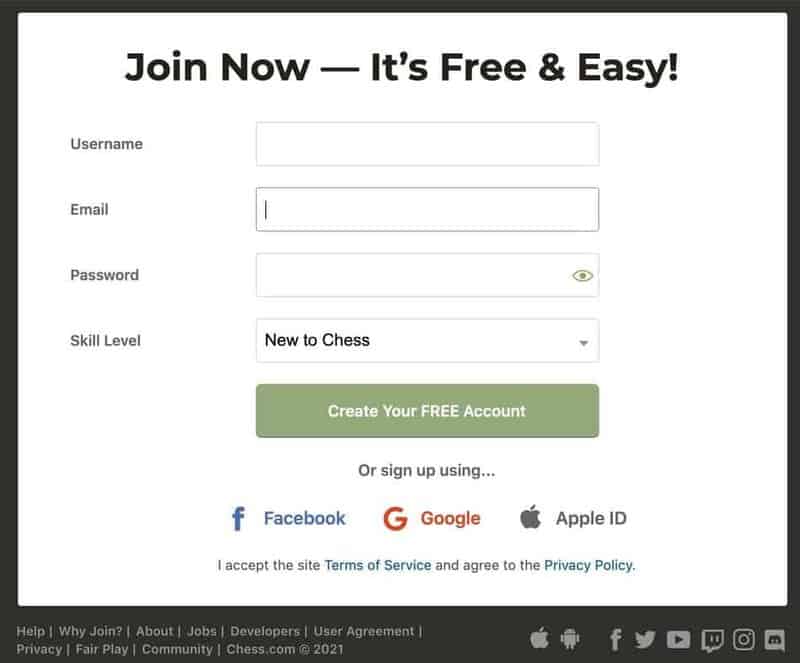 1. Create a Free Account (if you haven't already)
The first step is to create a free account on the chess.com website and complete the signup form using the chess.com free trial link. (affiliate link)
Pay close attention to the "Skill level" – you have five options 1. New to chess 2. Beginner 3. Intermediate 4. Advanced 5. Expert.
By choosing the correct skill level, you will be rated as such, and you'll know what lessons you need to take to improve your game.
Once you are done with the first step, click create your free account!
Note: You also have the option to sign up using your Facebook account, Google, or Apple ID account.
I prefer to sign up using the first step I mentioned above.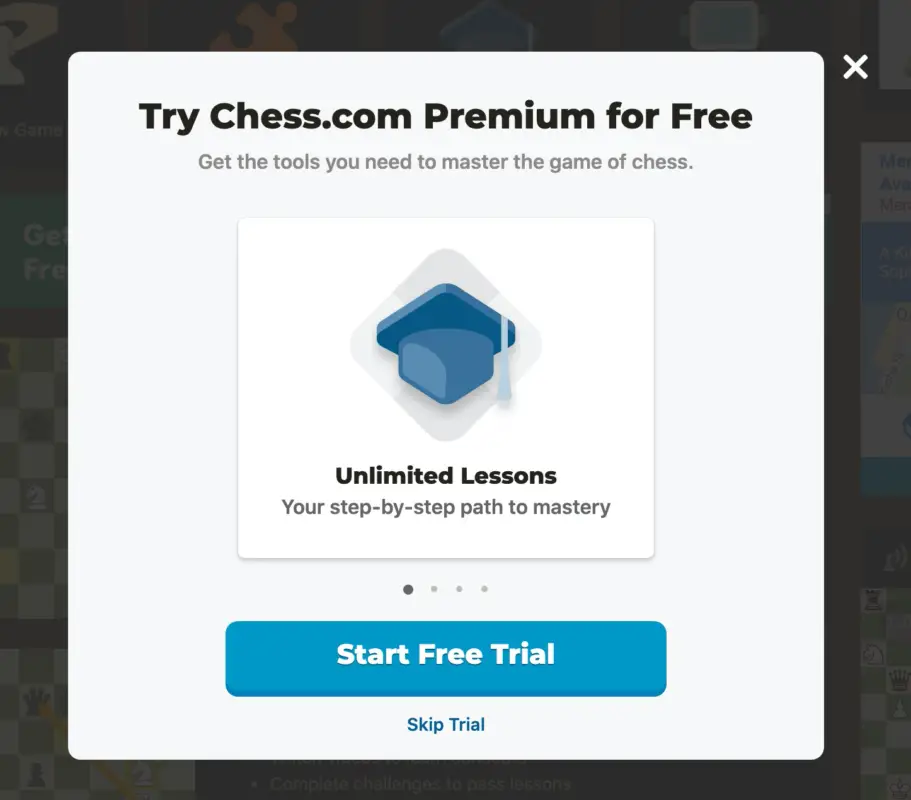 2. Skip the trial (recommended)
This next step is optional, but if you are serious about learning chess and you are willing to spend most of your time going through different lessons to speed up your learning process, then you should skip the trial and select a premium membership. 
If you are a premium member, you are set, and you just need to go through the lessons and ongoing updates for new lessons from beginner to mastery at your own pace.
3. Start the Free trial for 1 week
This is where you need to make serious learning time since you know that you have to go through all the lessons and mastery to use the free trial that was given to you. 
If you choose this path, I will show you in the next steps the essential lessons you need to learn before the trial ends.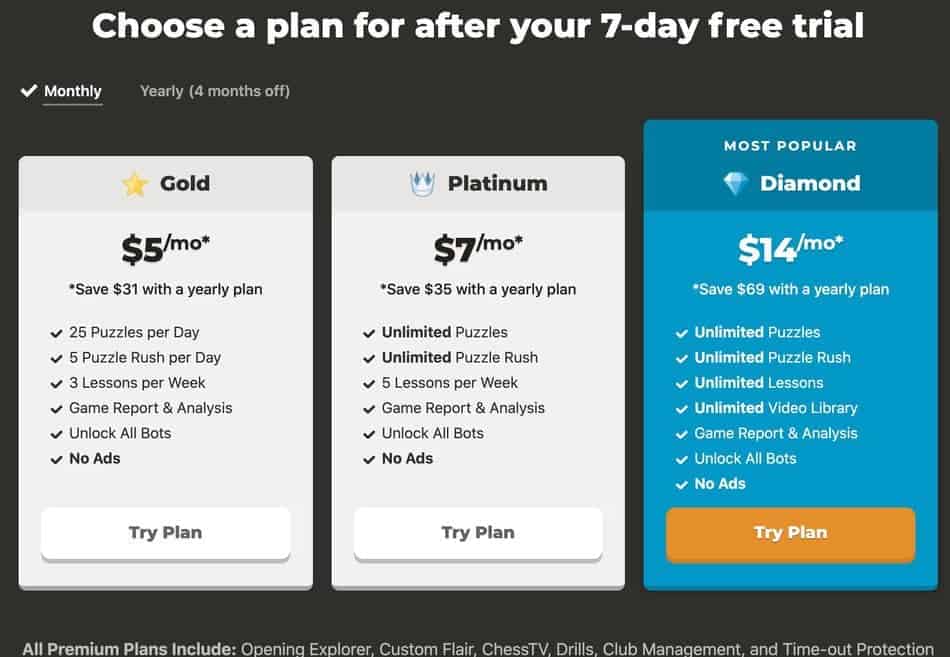 4. Choose your plan during free trial
In this section, choose your preferred plan where you are going to decide how many puzzles, lessons, game analysis, and video lessons that you want to receive.
Since I want to have the video lessons, which is important, I chose the "Diamond plan" for a monthly subscription where I can just cancel anytime I want.
Or if you want to pay yearly, you will get 4 months off, then click "try plan" and enter your account details!
Note: All the paid plans, whatever you choose, will remove all ads while playing and learning.
Once your set, I will show you my preferred lessons to learn first when you are under the free trial version of chess.com!

5. Go to the learn tab
Now that you are in the chess.com dashboard, I will start by clicking the "Learn" tab, and more options will appear…
Choose the "Lesson" tab, and more options will show up for you! 
You will see the "All lessons" option and then go to the next step!

6. Choose the endgames lessons
Now that you are under the lessons section and the free trial of the chess.com platform, I would suggest you start now and learn the endgames lessons.
You will have different lessons related to endgames that are being explained and taught by Grandmasters! 
As I said before, if you do have enough time, I suggest you go through all the endgames lessons; otherwise, I will share with you in the next step what I prefer to learn during the free trial!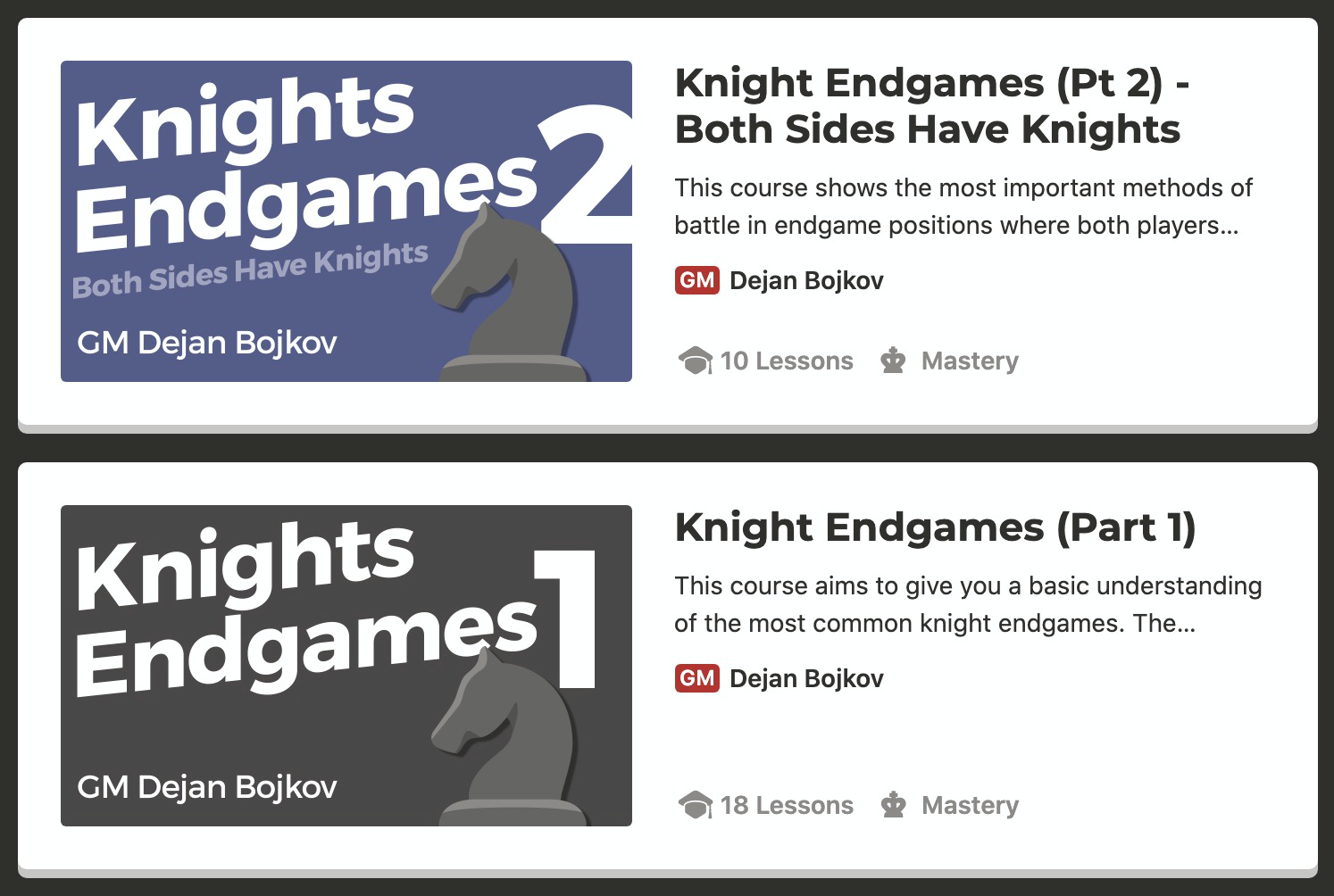 7. Study the Knight Endgames Part 1 and Part 2
These lessons were developed for chess players with ratings of 1000 up to 2400 level in difficulty regardless of your rating. You will learn a lot of new tactics and correct strategies from Grandmasters in these lessons!
To give you an idea of what to expect, you will study how to win pawn promotion and checkmate threats with Knight and Pawn lessons. This is available in part 1 lesson.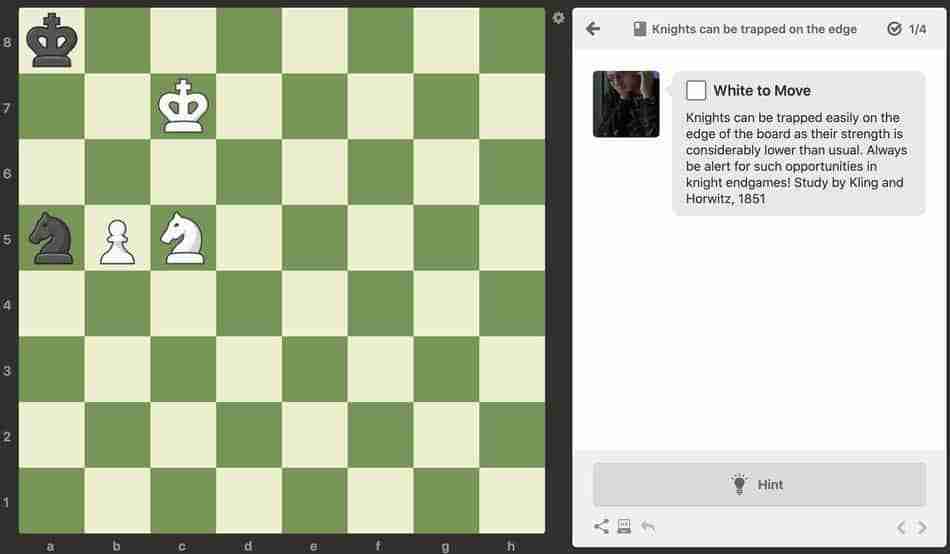 While in lesson 2, you will learn about deflection using the Knight, Zugzwang ideas, or even Two Pawns versus and many more.
These will all be interactive lessons where you can continue your studies using your mobile phone.
This is going to be exciting for you as you can immediately improve your game after going through these Knight Endgames lessons alone!

8. Study Pawn play in the Endgame
My second recommendation on playing chess and learning online is to study the Pawn play in Endgame. I do have a very weak pawn play, and I end up losing with a stronger chess player who knows how to play the endgame with pawns very well.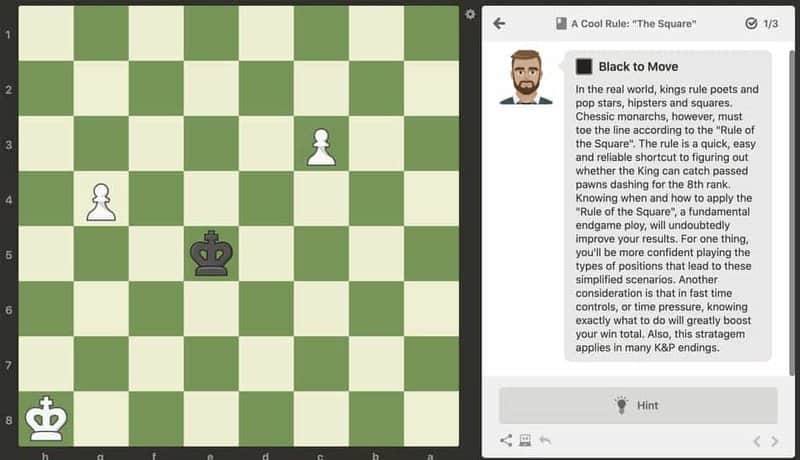 In this endgame lesson, you will learn about "Rule of the Square" this is where you can reliably gauge whether you can catch a pawn dashing to the opposite side of the board to get promoted!
That is a fantastic tactic to learn and improve your pawn play during the endgame. If that did not intrigue you, how about learning "how to develop X-ray vision"…
Yes, you can learn that inside the chess.com platform, and once you've solved this problem, you will, of course, try this out in your next game! 🙂
The last endgame lesson I want you to take advantage of during your chess.com free trial is the Capablanca's Endgame Masterpieces!

9. Study Capablanca's Endgame Masterpieces
If you are not familiar with J.R. Capablanca, he is considered one of the most dominant chess players of all time. He has advanced endgame tactics during his time and his book the Chess Fundamentals is one of the best books that you should have at your disposal.
In this section, you will learn the following:
Converting an extra pawn
Converting a positional advantage
The mating net
Capa's Knight
Breaking through
Capa's Bishop
Defender
A Beautiful Finish
Unity
The Art of the Endgame
The mating net lesson is an excellent starting lesson to increase your tactical mating knowledge. I love to start learning with mating, especially in the endgame, because that is our primary goal in chess, right?
This is an excellent lesson in chess, where you can solve problems like having material disadvantage but finding ways to win.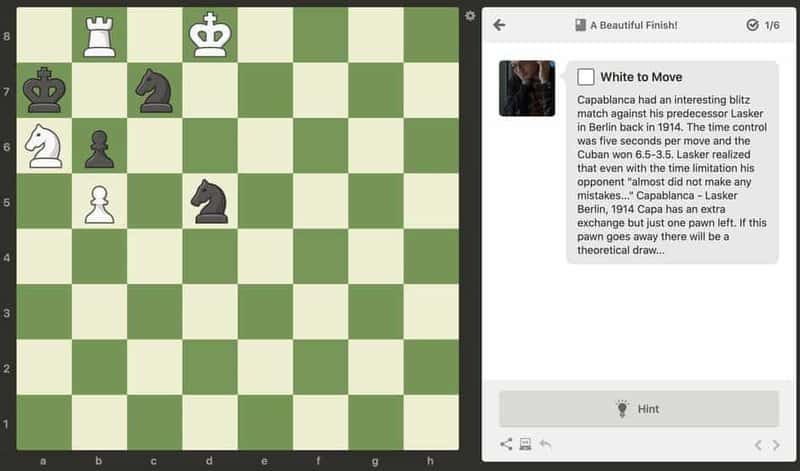 The next lesson under Capablanca's Endgame Masterpieces is to study "a beautiful finish," where you will see an amazing endgame played by Capablanca against Lasker.
I wanted to try this once I get the chance, but the theory and tactic behind this move are mindblowing for me.
JR Capablanca is genuinely one of the greatest players to play the game! Continue reading if you're still curious about the advantages of learning online.
What are the benefits of learning chess online?
Chess can be a very educational game, providing an opportunity to learn about strategy, tactics, and logic.
Some of the benefits of learning chess online include the following:
You can learn at your convenience
The ability to study different strategies and tactics
You can learn from a variety of professional chess teachers online
The ability to connect with other chess players from around the world
The opportunity to use software that provides feedback and helps you improve your skills
For example, Chess.com offers an instant "game analysis" feature. This helps you identify inaccuracies, mistakes, blunders in your games, and much more.
What's the takeaway?
I suggests you start with the endgame lesson when you are under free trial for 1 week. It's because I follow and advocate World Chess Champion José Raúl Capablanca's endgame quote…
"To improve your game, you must study the endgame before everything else, for whereas the endings can be studied and mastered by themselves, the middle game and the opening must be studied in relation to the endgame."
I believe this is an excellent start for anyone who really wants to become good at chess and wants to learn how to play chess online.
To speed up your learnings, maybe after you decide to cancel the free trial, I suggest you check out the Chess Fundamentals book by JR Capablanca or this special ChessDelights Edition of the Chess Fundamentals Interactive Digital Book, which is available on our site!
Important ideas and tips when playing chess online
Now that you know where to play online, it's time to learn some useful tips and ideas.
Begin playing online for free with a Chess.com account.
Download the Chess.com app to your smartphone.
When playing online, keep all distractions to a minimum.
It is critical not to become discouraged when losing online.
Begin with a rapid chess game with a time limit of 10 minutes.
Take advantage of Chess.com's free chess lessons.
It's a good idea to start playing chess with your friends.
Play chess against a computer using the Chess.com app.
When playing online, you should always check to see if you have a good internet connection.
Wrapping Up
There are several free chess sites to play online, but Chess.com remains the best.
It has received consistent updates, and it is undeniably one of the most popular platforms available today.
You can try other online chess sites, but I believe you will come back to Chess.com because it is one of the best online chess playing sites, and we can't deny that top grandmasters promote and support the site.
Also, read this article about why chess.com is the best free chess app
So, rather than listing ten different websites where you can play chess online, I advise going with one, Chess.com.
Gary Flores
Gary is a chess enthusiast and has three children who also enjoy learning the game. He is a co-author of the
"Chess Fundamentals" digital interactive book a ChessDelights Edition
. He founded ChessDelights.com in order to brush up on his understanding of this tactic and strategy game. He also enjoys encouraging those who are learning, re-learning, or instructing their children in the game of chess.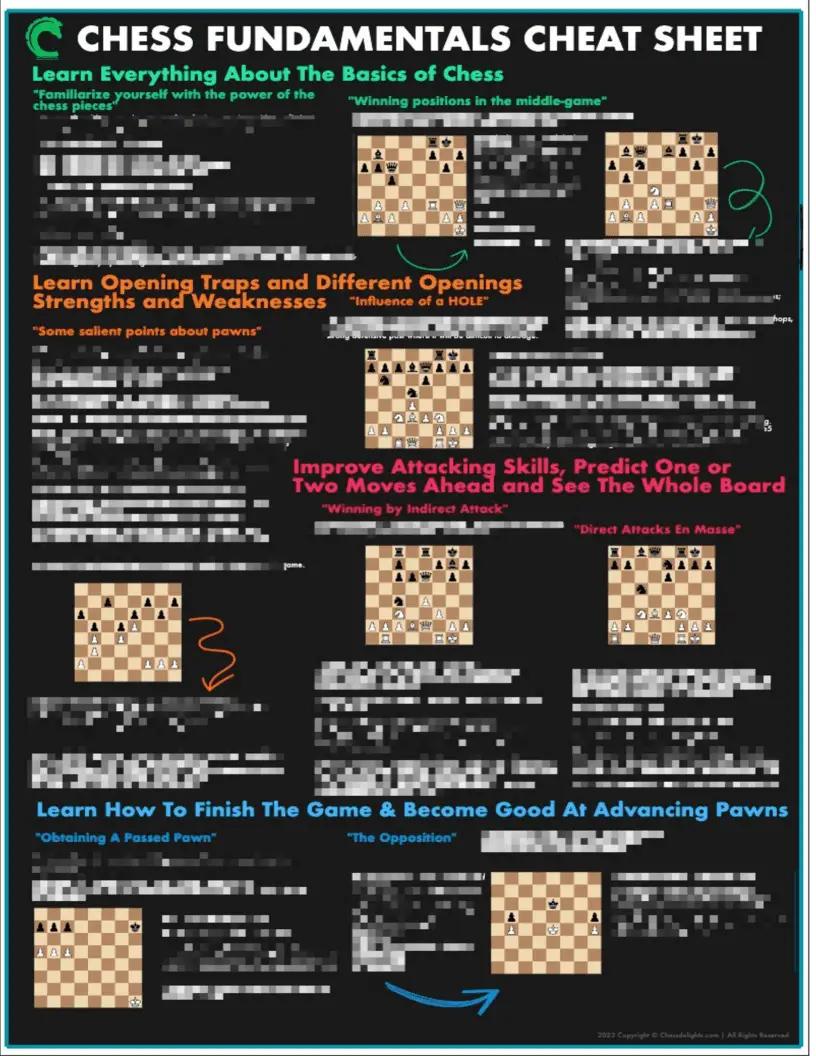 "Discover The Solution On How To Improve Your Game Faster" (Even If You're Just Starting Out And You Don't Know Where To Find The Answer!)
Also Get Your FREE "Chess Fundamentals Cheat Sheets" to help you SPEED UP Your Learning and more!
Click Here To Get Started