I enjoy studying chess openings online, and Chess.com is an excellent resource for doing so.
The lessons are well-organized and well-explained, with plenty of videos and examples to go along with them.
If you are interested I have an article that reviews 24 best chess apps online.
You should study chess openings if you wish to improve your chess skills.
I'll show you step by step on how to use Chess.com to learn chess openings in this article.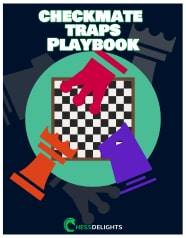 Download Your Free Checkmate Traps
Whether you're a beginner or an experienced player, this PDF will provide you with valuable insights and techniques to improve your gameplay.
Step 1. Create a Chess.com Account
I'll guide you on how to create an account in Chess.com, first go to this link.
Click "Sign Up";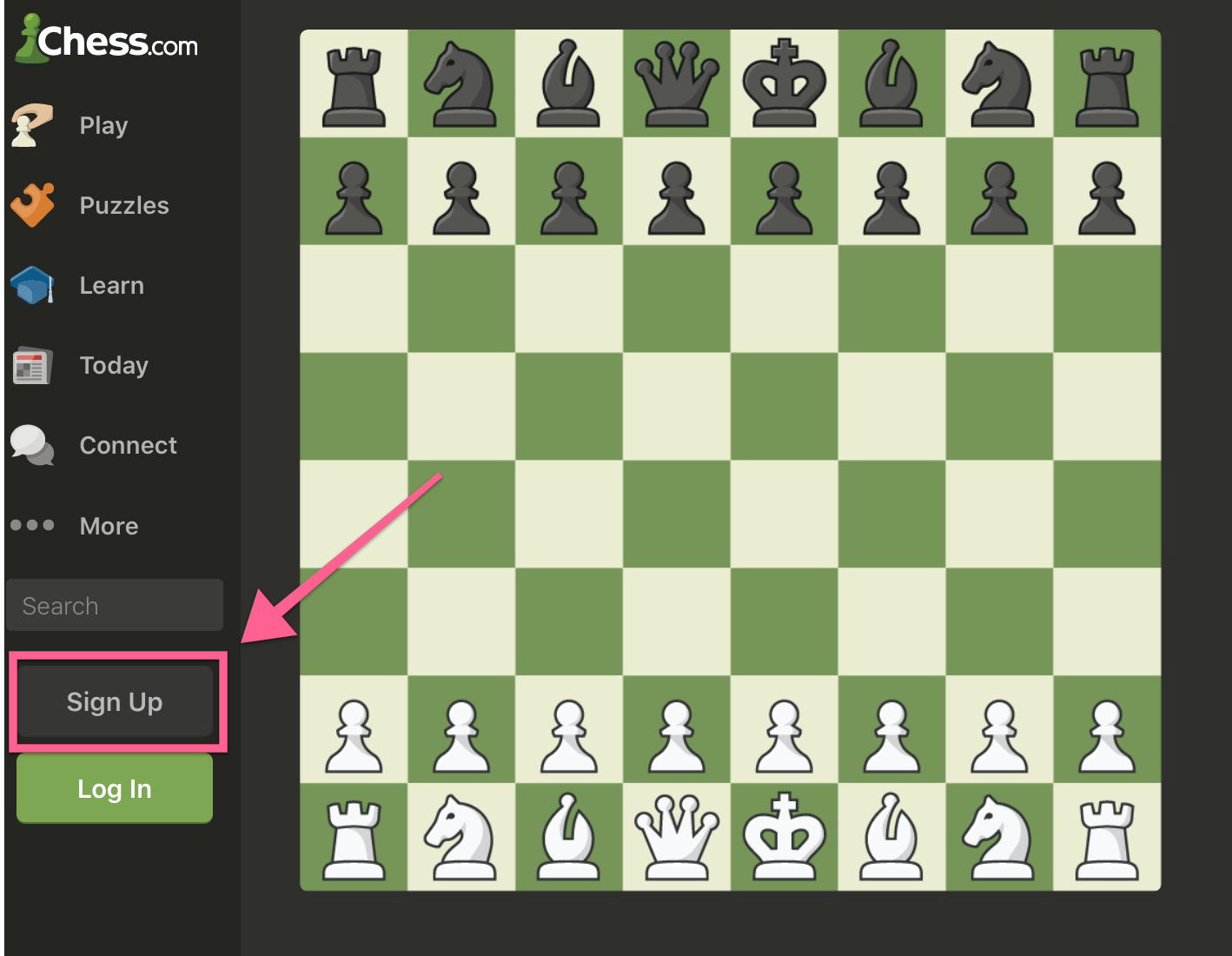 Then enter your preferred "Username";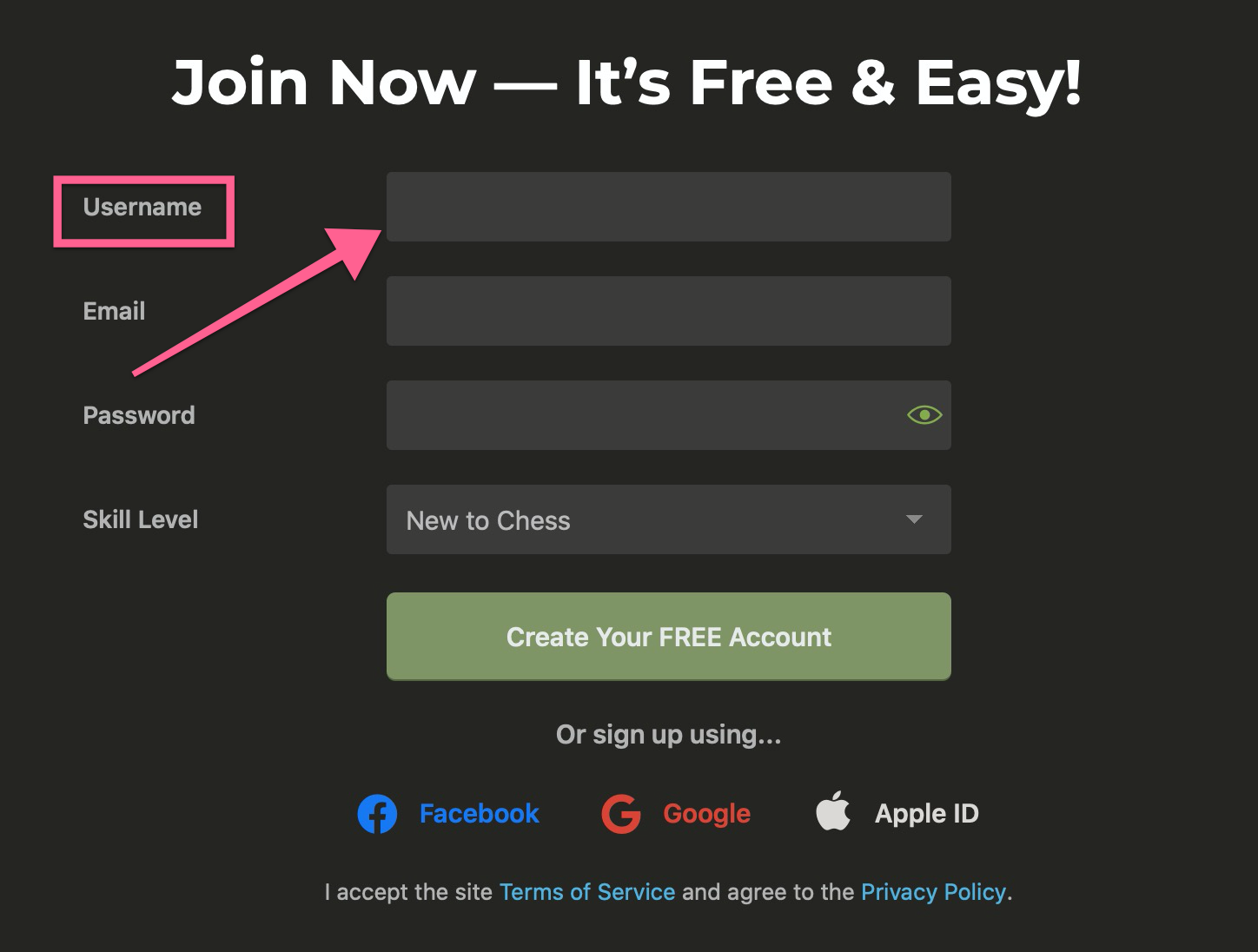 Now, enter your email address;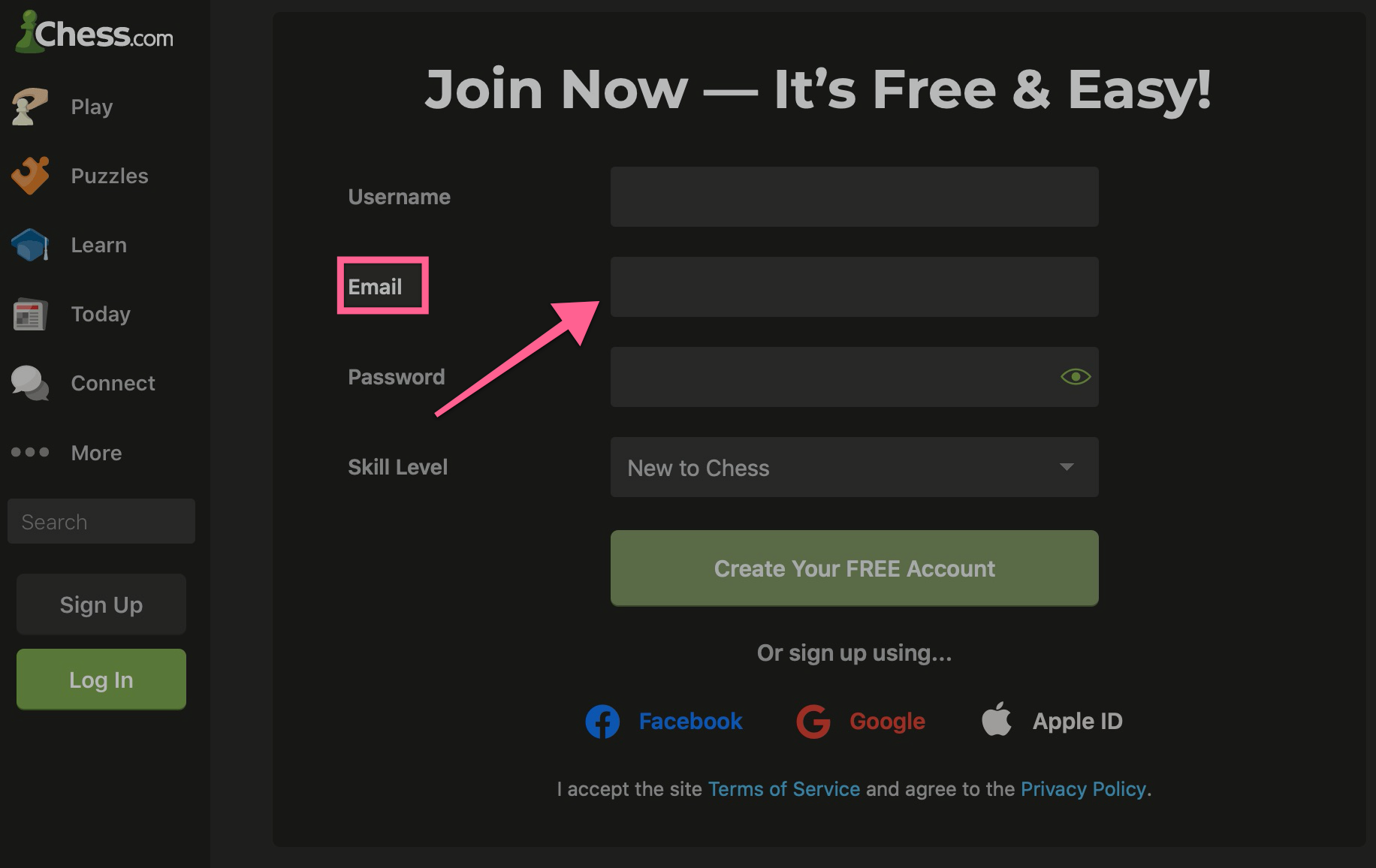 Type your preferred "Password";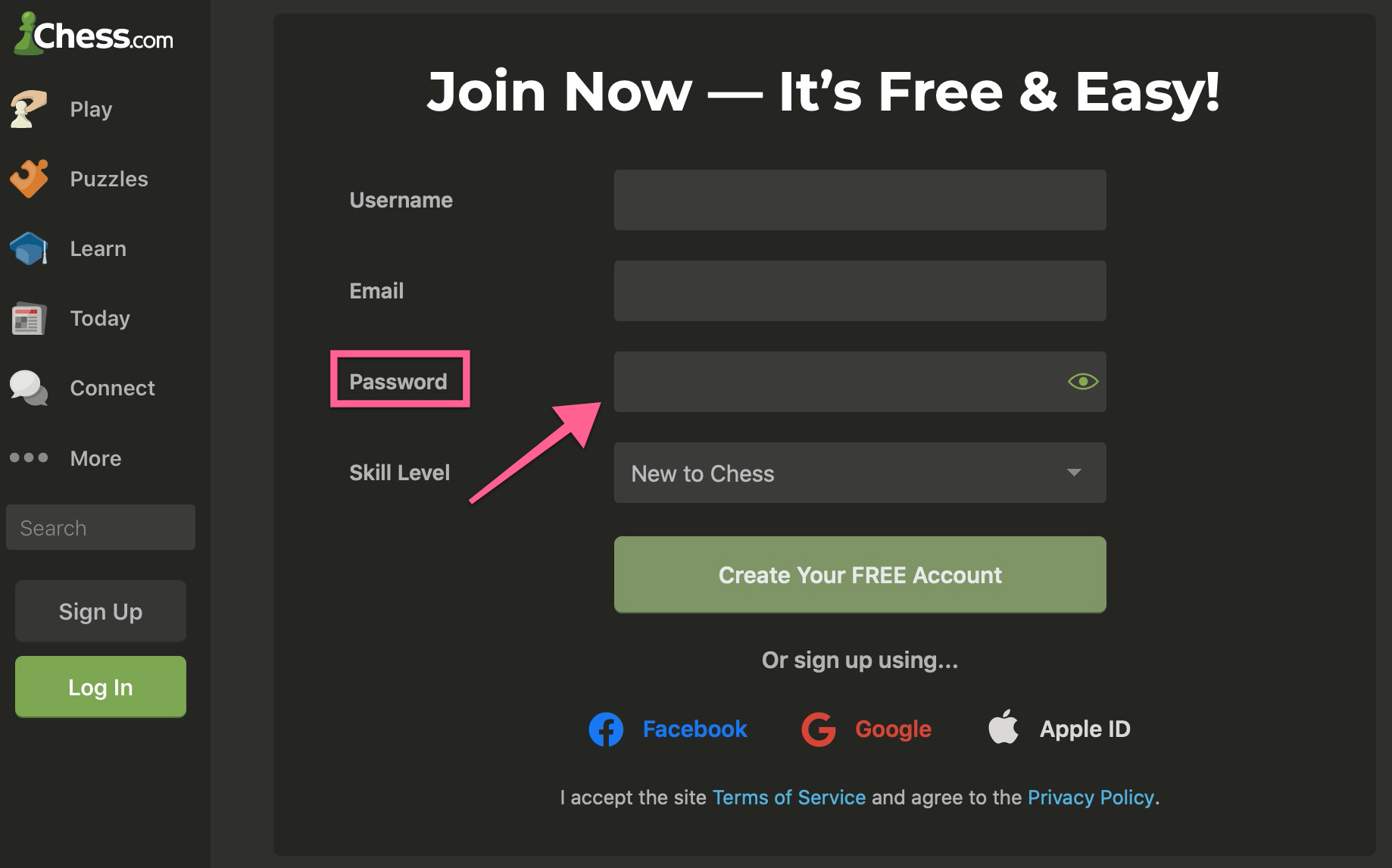 Then select which "Skill Level" you are currently;
Finally, create your account;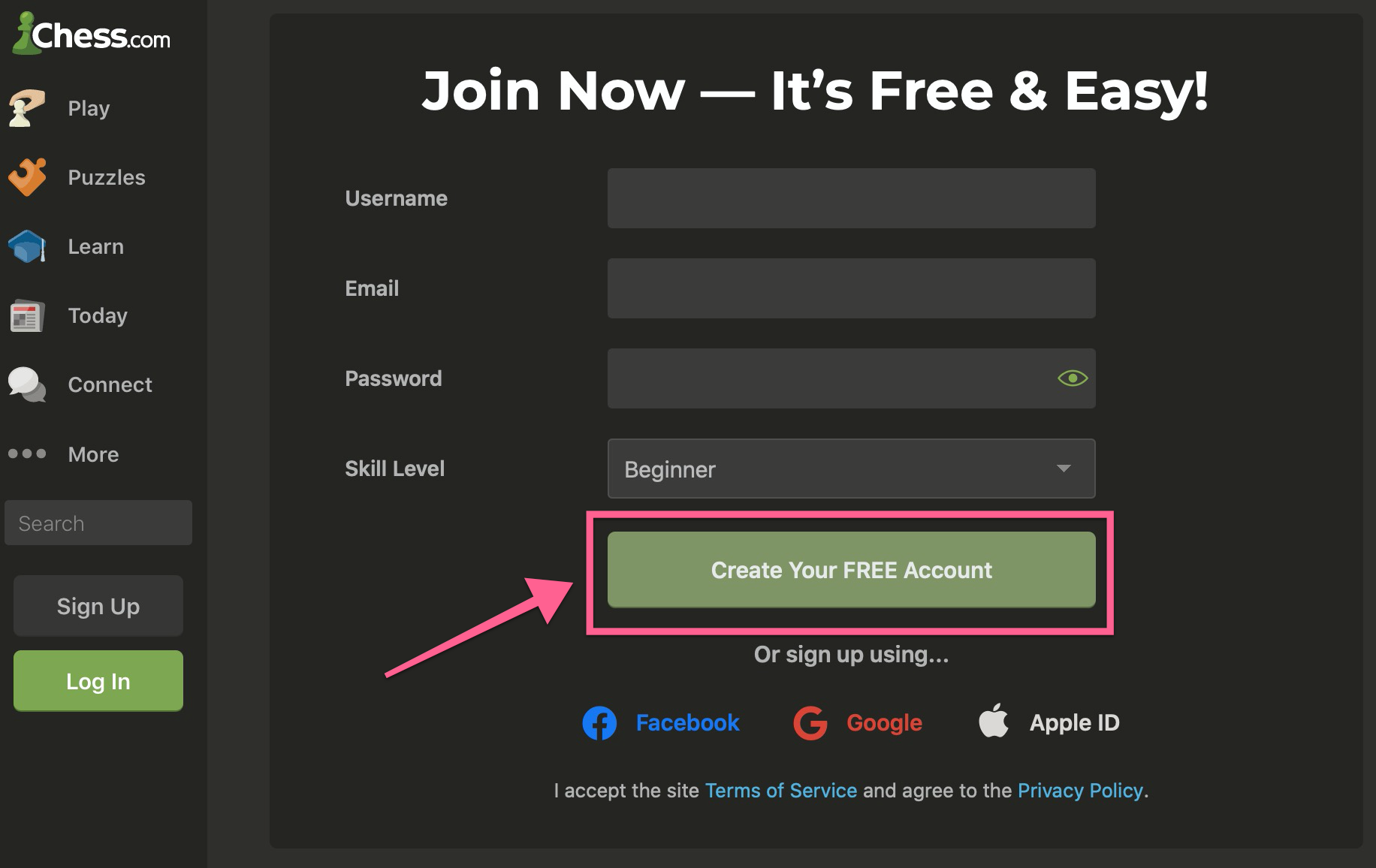 Or you can also sign up directly using your Facebook account, Gmail account or Apple ID;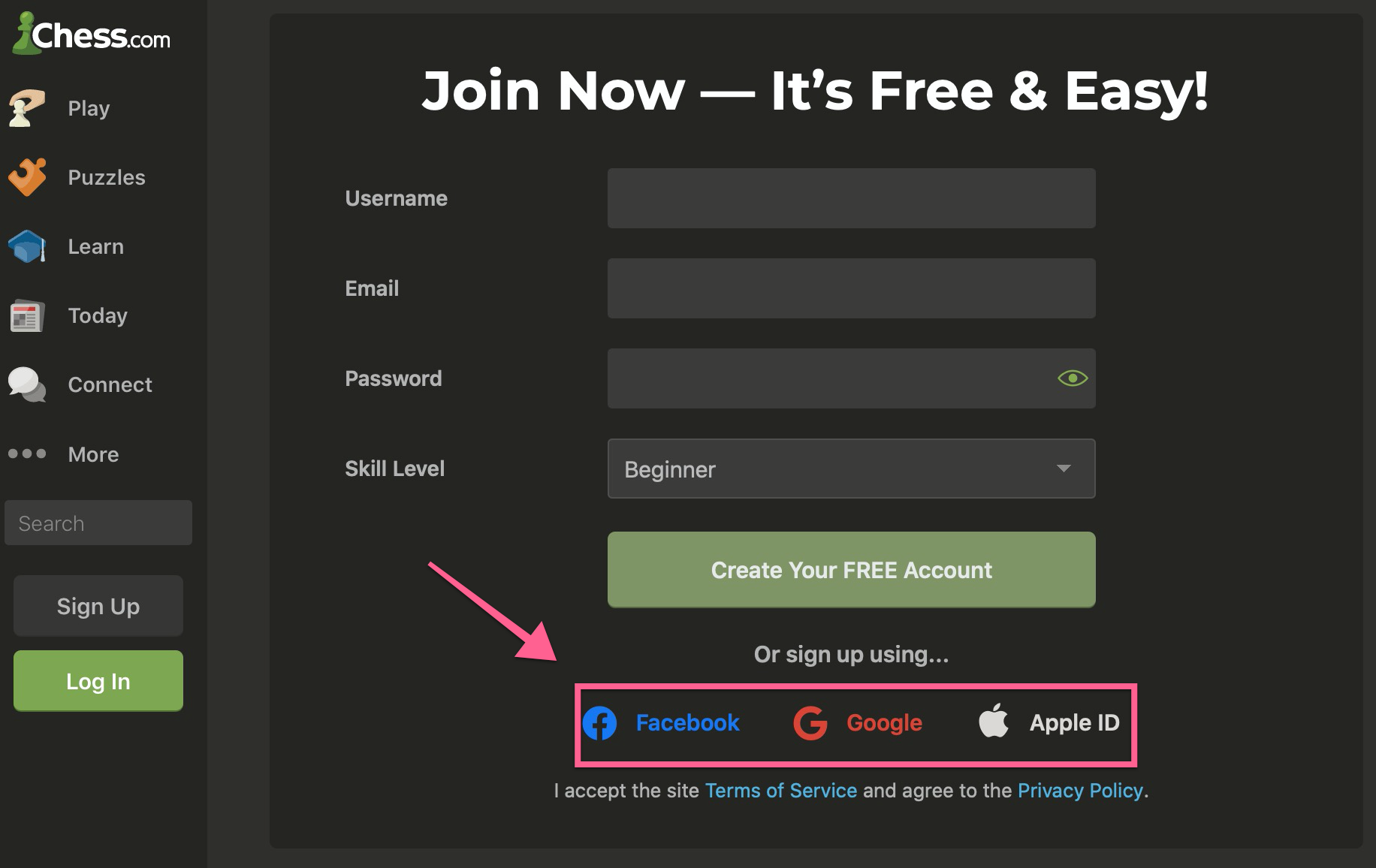 Within the dashboard, you'll see an opportunity to begin a free trial of their Premium membership, which starts at less than $5 per month for the Gold membership and less than $100 per year for the Diamond membership.
After creating an account and signing up for a free trial, you'll have access to the entire site's premium content, which includes classes, games, and articles.
Inside you can start learning chess openings.
Step 2. Go to Learn
When you click the "Learn" menu, you'll notice various sub-menus, including the "Openings" section.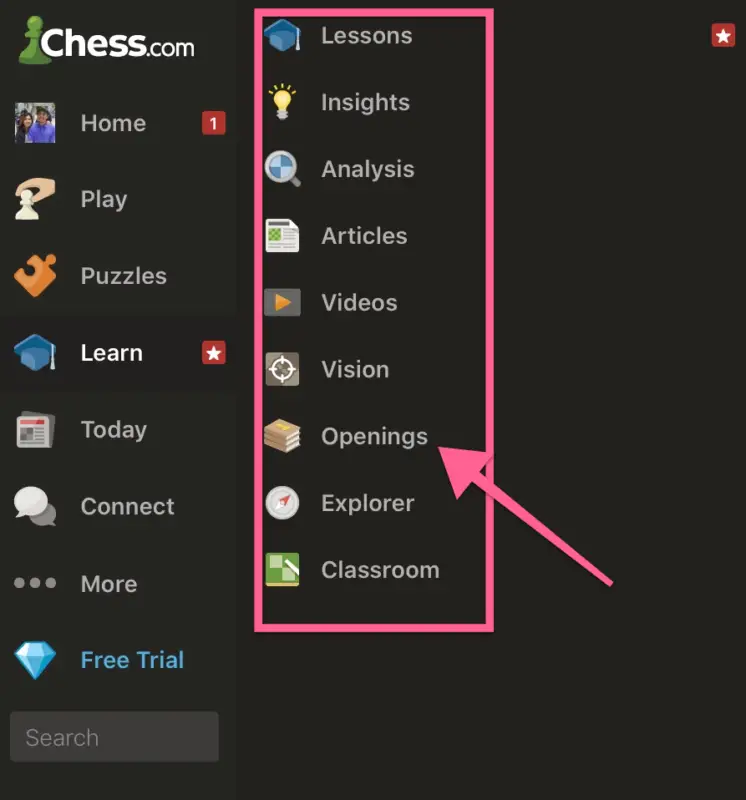 Step 3. Go to Opening Principles
Once you click the "Openings", you can find 5 main categories. You start with the first category the "Opening Principles."

In Opening Principles you'll learn proper techniques in protecting your King, how to control the center of the board and more about having confidence in playing your first move.
You'll go through 6 lessons inside the Opening Principles, and you have to master and finish 31 challenges.
Below are the 6 lessons you are going to learn;
Control The Center
Develop Your Pieces
Protect Your King
Active Pieces
Your Opponent's Move
Phases of the Game
Step 4. Next Study Key Openings
The next category on Chess.com is "Key Openings."

You'll learn about significant and popular openings that can result in a quick checkmate under "Key Openings." You'll study opening game chess traps and master some Gambit plays.
You'll go through 8 lessons, and you have to master and finish 46 challenges.
Below are the 8 lessons you are going to learn;
Offbeat Openings
Popular 1. e4 Openings
Popular 1. e4 Openings: The Sicilian Defense
Moves 1. e4 Openings: French and Caro Kann
Popular moves 1. d4 Openings
Popular moves 1. d4 Openings: 1. …Nf6, Dutch Defense
Gambits
Opening Traps
Step 5. Study the Popular Queen's Gambit
After you're done learning about "Key Openings" inside Chess.com, you can start with the next category which is "Learn the Queens' Gambit."

Learn to play the Queen's gambit in this section, you'll become familiar with and hopefully master this popular chess opening. I began studying this opening when I was seven years old. This is an extremely useful opening to master when you're just getting started.
The lesson in this category will be different from the other two lessons – it will begin with a video discussing the ideas and tactics of the Queen's Gambit. Following the lesson, you will be required to complete challenges that will advance you to the next lesson; do not worry if you are unable to complete the challenges; there will be hints available to assist you in developing a more effective strategy for completing the challenges.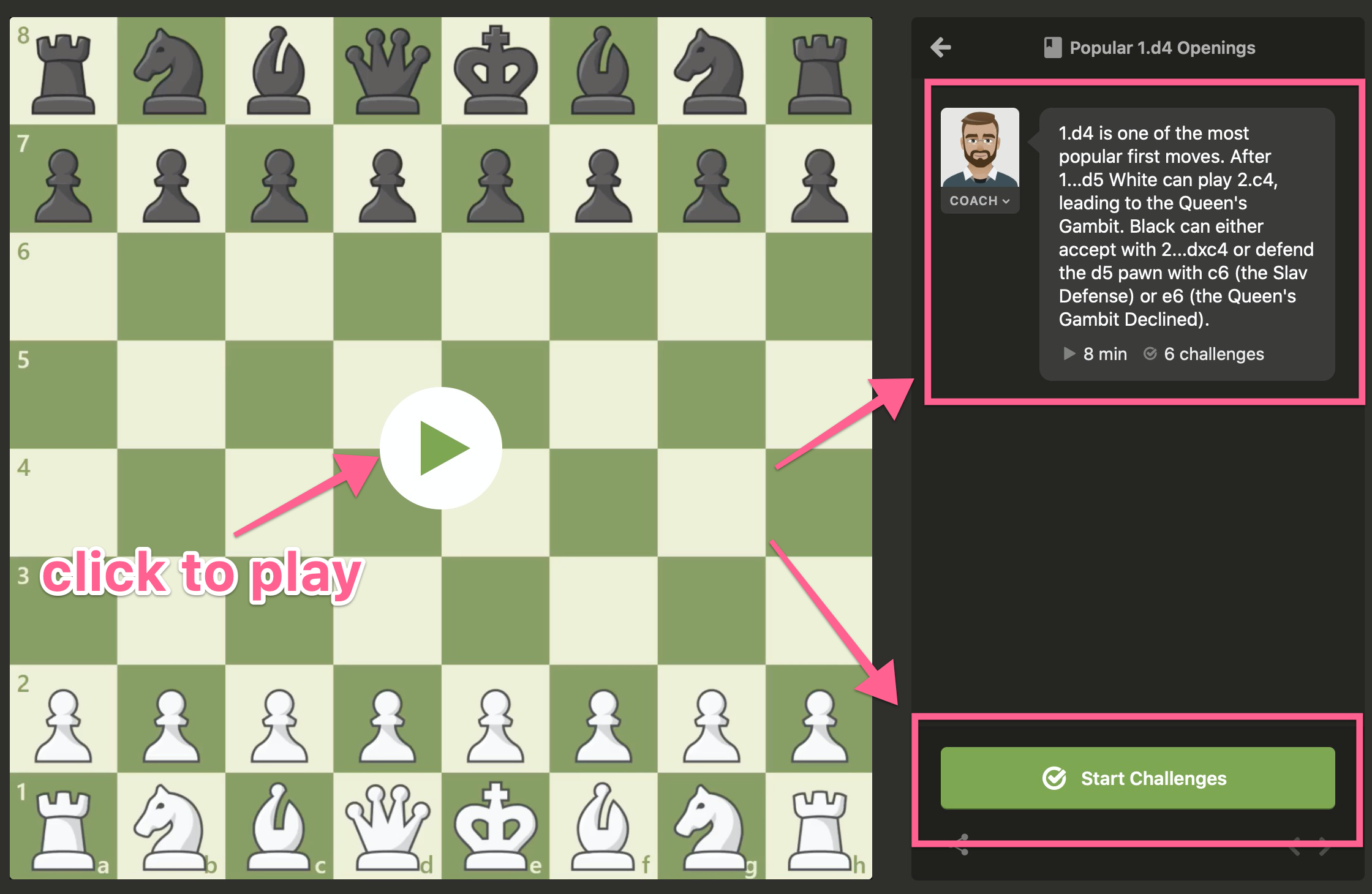 The Queen's Gambit is a white-pieces game, and the next lesson you will learn how to play a black-pieces game opening.
Step 6. Learn The Sicilian Defense
Now that you have developed understanding about the Queen's Gambit which is mainly for white pieces, it's time to learn and master a popular black chess opening which is the Sicilian Defense.

Inside Chess.com's "Openings" tutorial, the next category you must go through is "Learn The Sicilian Defense." The Sicilian Defense is one of my favorite openings since it is very powerful and allows you to deploy a variety of tactics.
Following a similar format to the Queen's Gambit section, the Sicilian Defense lesson will begin with video tutorials in which you will need to pay close attention and carefully absorb the theories and tactics of the opening. Following the completion of the video lesson, you will be required to complete the tasks before proceeding to the next video lesson.
Below is a screenshot of the actual challenge under "The Sicilian Defense," where you can see what the challenge is about and whether or not you should check the "Hint" if you're having trouble solving it.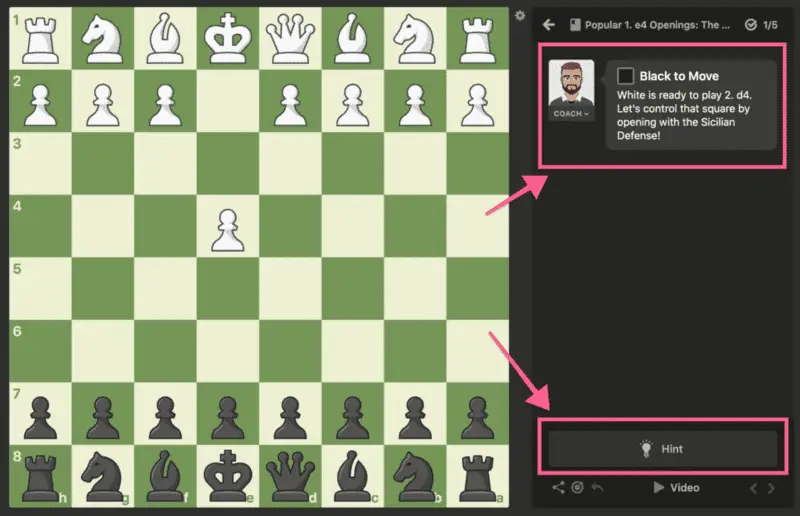 Step 7. Study other Chess Opening Lessons
Congratulations, if you have arrived at this category, you have gained a better understanding of the concepts of opening games, you have learned about important chess openings, and you have learned to master two popular chess openings. It's time to look into more chess openings lessons by searching for them under "Search Openings Lessons."

If you are unfamiliar with Chess.com, it is a massive online chess platform that hosts a large number of GrandMasters that are actively playing and teaching. Here you have the option to learn from them in this category of "Search Openings Lessons," which is beneficial because you can observe how they evaluate and play different strategies in an opening game.
Since we're talking about learning and studying chess openings, there will be problems after learning from Grandmasters, which is why you should pay attention to what they're teaching.
Here are some of the lessons you can find inside the platforms which you can easily bookmark as well;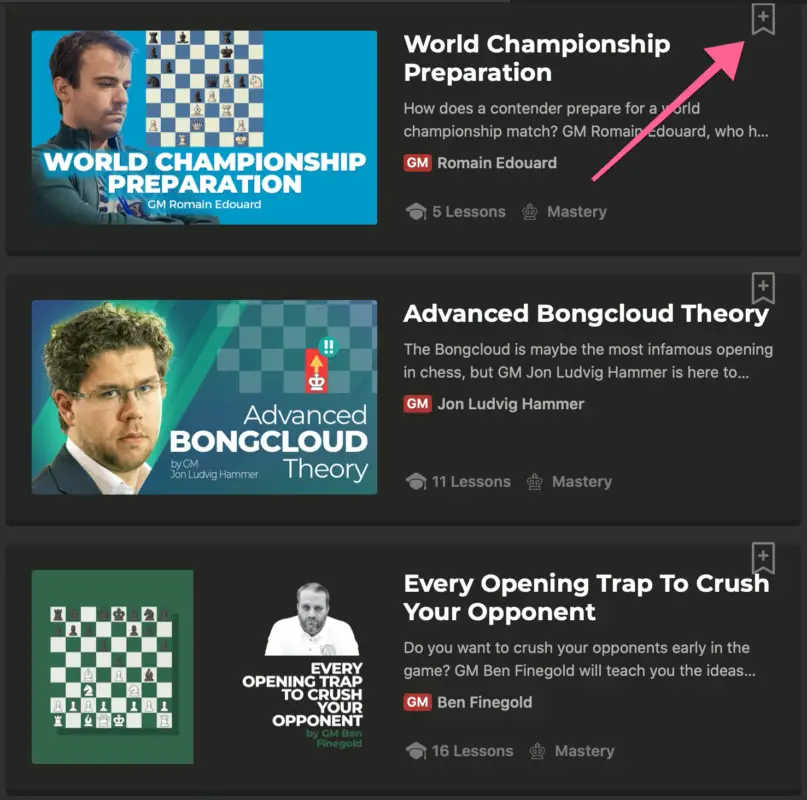 Other Chess openings to learn for beginners
So, starting at the beginner level, you'll want to study more chess opening lessons, and I recommend learning one more gambit opening and one more defense opening, both of which are listed below.
Learn Danish gambit
The Danish Gambit is a chess opening in which a player makes a material sacrifice, typically a pawn, in the hope of gaining an advantage.

The move begins with 1.e4, which is the most frequently used opening, and is followed by e5. White's next move, however, is 2.d4, which is a gambit, and if black takes with exd4, the gambit is accepted (see image below).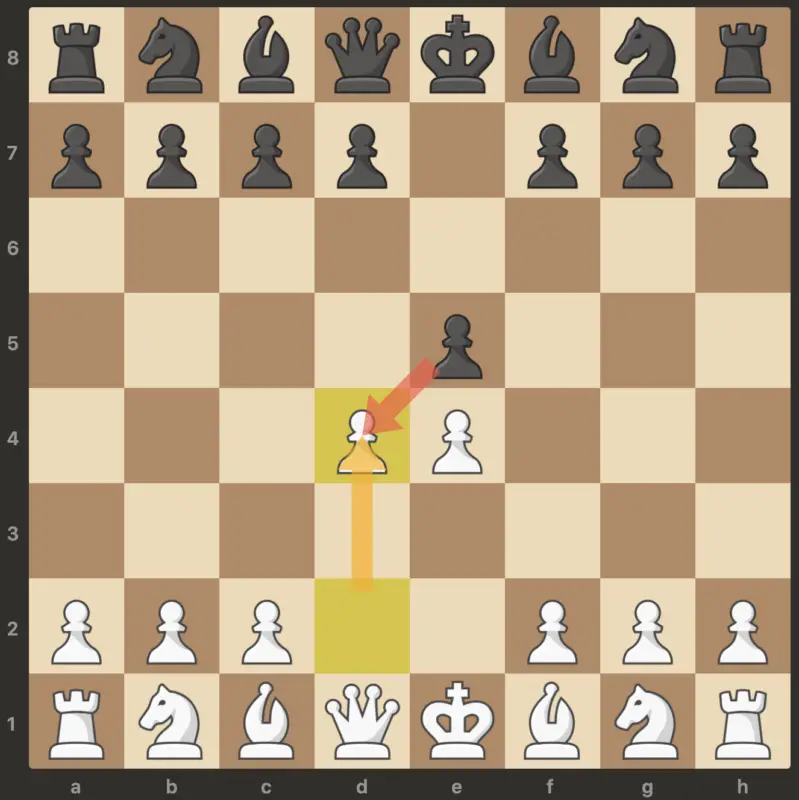 However, the gambit does not end there because white will gambit another pawn; white's next move will be pawn to c3.
While the Danish gambit is an intriguing chess opening to study, you should be aware that there have been numerous counterattacks to this opening that you should also study.
Learn Scandinavian defense
Here's a chess opening for black that you should study more about because the Scandinavian defense is rarely used by beginners – you can take advantage of this.
The Scandinavian defense for me is really a very aggressive move for black, it starts with 1.e4 then black's move is 1… d5 (see image below).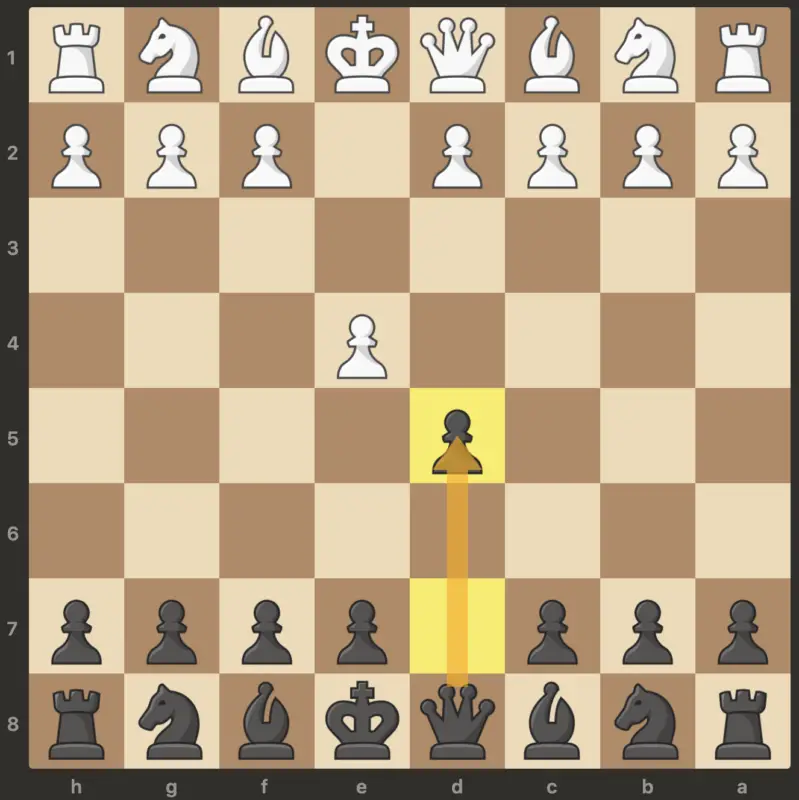 When white captures the d5 pawn, black's next move is to use the black Queen to capture it. If you're not used to exposing your Queen early in the game, particularly in the center of the board, you might think this is a bad idea.
Because when the black Queen takes d5, white can begin attacking Queen, and white develops much more quickly. Black, on the other hand, can also begin to develop more rapidly and position its Bishops and Knights (see image below).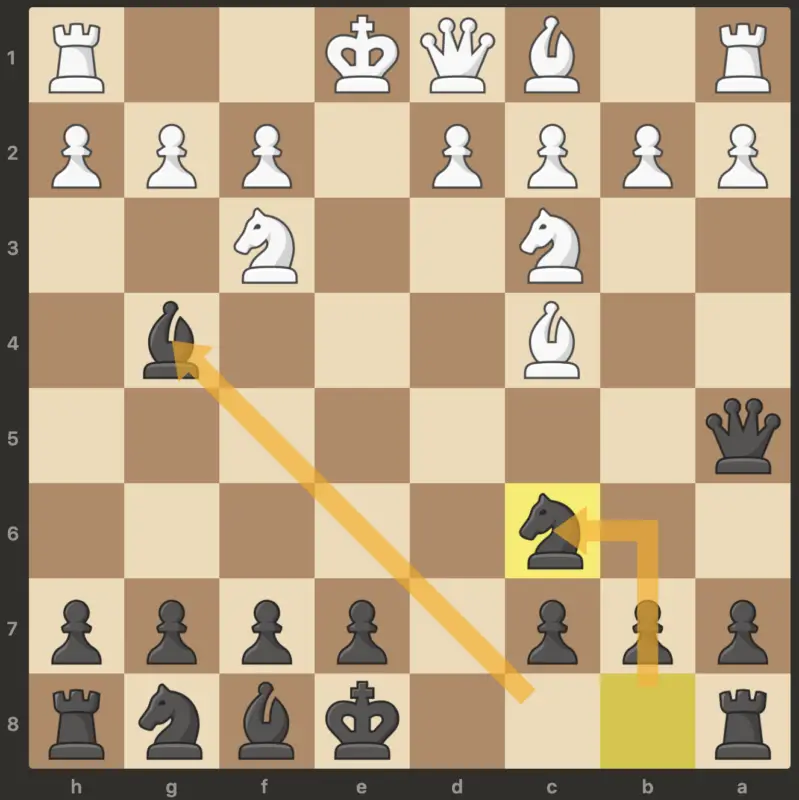 If you like playing aggressive chess openings, you should learn more about the Scandinavian Defense.
Wrapping Up
It is possible to begin learning how to play chess openings entirely on your own with the Chess.com platform, which is a pretty great online platform for this purpose. I really enjoy this platform because it is very user-friendly and has a large number of lessons; nevertheless, I am aware that there have been numerous complaints about the actual online chess playing, which is present on every platform, I believe.
Your primary attention should be on learning and implementing new concepts; you should be thinking about how to improve your chess game, rather than getting distracted by things that will not help you become a stronger chess player.
Thank you for taking the time to read this article. Please feel free to share it and look at the other chess resources on this page and you are welcome to email or contact me at any moment. Enjoy learning chess openings in Chess.com!