There is a growing trend of people learning chess online.
Online chess lessons are popular since they're easy to access.
There are many different websites available that offer free and premium materials to help people learn the game.
Some of these materials include video tutorials, lesson plans, and interactive boards.
There are also mobile apps that can be used to play the game on the go.
I'm using chess.com's mobile app and their website to learn online.
You can also check an article I've written about the best chess apps available today! 
Whether you are a beginner or an intermediate player, there are many great resources and tips available to help you learn chess online.
In this post, we will explore some of the best free resources and tips for learning chess online.
What are the benefits of learning chess online?
Chess can be a very educational game, providing an opportunity to learn about strategy, mathematics, and logic.
Some of the benefits of learning chess online include the following:
You can learn at your convenience
The ability to study different strategies and tactics
You can learn from a variety of professional chess teachers online
The ability to connect with other chess players from around the world
The opportunity to use software that provides feedback and helps you improve your skills
The chess app I'm using offers an instant "game analysis" feature. This helps you identify inaccuracies, mistakes, blunders in your games, and a lot more.
How can I find the best website for learning chess online?
When it comes to learning chess, there are many different ways to do so.
One popular way is to use online resources.
There are plenty of free and paid websites that offer tutorials, practice games, and other tools for beginners.
Choosing the best website to study chess can be a challenging task, so I've created a list of my favorite free chess resources to learn online.
Here are three of the best websites to learn chess online:
I've also shared 6 other websites to learn chess faster and they're mostly free!
You can also follow the method I'll share below!
To find free chess lessons, type "learn chess online free" into Google and you'll see a variety of websites that offer free chess lessons.
Here's an example of the search results when I type those words.

Here you can see that the website Chesstempo.com is giving free chess tactics training! 🙂
Additionally, you can find a variety of free chess training resources by simply scrolling down.
Tips for finding the best chess website to learn chess
First, consider your level of experience. If you're just starting out, then a free website may be enough.
However, if you've been playing for some time and want to improve your skills faster, then you may need to invest in a premium subscription service.
Second, research the different sites before choosing one. Look at the ratings and reviews from other users before making your decision.
Finally, be patient when starting out – learning chess takes time and practice!
I've also explored the question of how long does it take to learn chess?
Where to find collections of Chess games online?
There are many online collections of chess games, some free and some subscription-based.
A good place to start is with the "Internet Chess Club" (ICC), which has a searchable database of games going back to 1990.
Other good sources include "ChessBase" (chessbase.com) and "The Chess Site" (thechesswebsite.com).
I search Chessgames.com primarily for grandmaster chess games.
I utilize this resource to evaluate how an opening was played and to study the actual game in order to improve.
Tips for using searchable databases of games online
If you're familiar with many databases of chess games available online – you'll notice that they are not very user-friendly.
But with Chessgames.com, you have the option to do an "advanced search," you can type in the year, the player, number of moves and you even have the option to type ECO chess opening codes.

It can be helpful to use a database that is searchable by position if you are looking for specific chess games played by particular players or in specific positions.
Additionally, databases that include annotations can provide additional information about the game, such as detailed analysis of tactical moves or strategic considerations.
Sign Up to Learn Chess Online
There are numerous ways to study chess, but one of the most effective is to create a free account on various chess platforms and uses several resources within the platform.
In fact, I signed up for a free trial and then completed the lessons most of the time.
Chess.com is one of the best resources for learning chess because it offers both online and offline lessons, and registration is free.
Here's a complete review and why I consider Chess.com the best chess online game website!
There are also many other online resources that I really like that are not very expensive, such as TheChessWebsite.com which is $7 per month or $50/year.
I'm not sure but I believe they offer free trial before!
It's important to find a resource that you enjoy so you can keep learning, and signing up for free offers many advantages, such as access to coaches who can help you improve your game quickly.
Tips for using free chess platforms to learn chess online
When it comes to learning chess, there are a few platforms that offer the perfect way for students of all levels to get started.
Some of the most popular chess platforms include Chess.com, Chess24, and Lichess. However, not all chess platforms are created equal.
Here are a few tips for choosing the right online platform for your learning needs:
1) Consider your level of experience: If you're a beginner, Chess.com (which is my most recommended) is probably the best option because it offers an easy-to-use interface and extensive tutorials available on their website.
Also consider reading this article about how to learn chess openings using Chess.com?
However, if you're an experienced player who's looking to take your game to the next level, Lichess.org may be a better choice because it provides a more challenging environment with more complex moves and strategies.
2) Find a platform that suits your learning style: Some people prefer to study individual moves while others prefer studying entire games; there is also a wide range of chess boards and pieces available on different online platforms so you can find one that best suits your needs.
3) Take advantage of interactive features: Many online platforms offer features such as chat rooms where users can ask questions
How to use online chess platforms effectively?
There are many free chess online platforms available, each with its own set of features and advantages. It can be difficult to decide which platform to use, especially if you are new to the game.
Here are a few tips for using free chess online platforms:
1. Research the various platforms before making a decision. The different platforms have different features, user interfaces, and support for various chess formats.
It is important to choose one that will fit your needs and interests.
2. Be patient when starting out. The learning process can be slow at first, but with patience and practice you will soon be able to play challenging games on any of the chess online platforms.
3. Use forums and chat rooms to ask questions and find help from other players. These communities are often very helpful in providing advice and tips on how to improve your game.
You may also want to read how to learn to play chess online?
Wrapping Up
Overall, learning chess online is a great way for beginners to get started with the game as well as more experienced players who want to brush up on their skills.
Using a mobile app to learn chess may make learning chess online a lot of fun – I recommend focusing on learning first and then playing chess with friends.
If you're serious about learning chess, and you want to learn from one of the best grandmasters of all time – check out The Chess Fundamentals and Garry Kasparov's Masterclass!
Gary Flores
Gary is a chess enthusiast and has three children who also enjoy learning the game. He is a co-author of the
"Chess Fundamentals" book's ChessDelights Edition
. He founded ChessDelights.com in order to brush up on his understanding of this tactic and strategy game. He also enjoys encouraging those who are learning, re-learning, or instructing their children in the game of chess.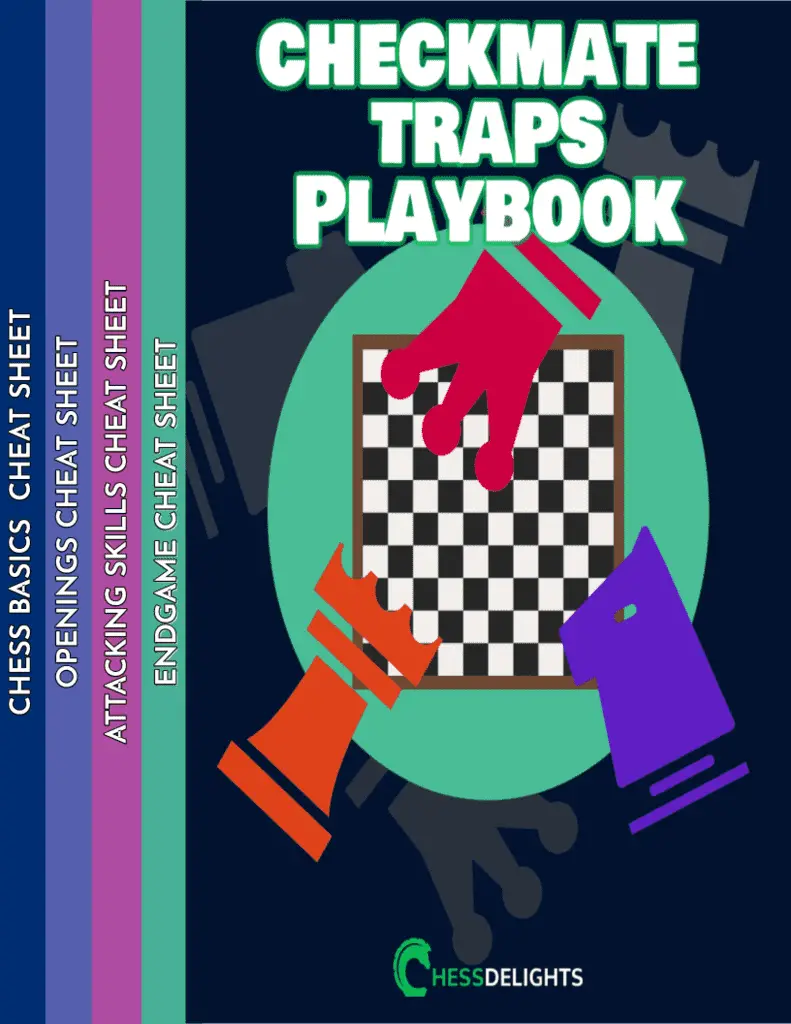 "Discover The Solution On How To Improve Your Game Faster" (Even If You're Just Starting Out And You Don't Know Where To Find The Answer!)
Also Get Your FREE "Chess Cheat Sheets + Checkmate Traps Playbook Bundle" to help you SPEED UP Your Learning and more!
Click Here To Get Started