Are you looking to buy the best themed chess sets? Want to gift your family or friends with a movie themed chess sets or even a video game themed chess sets?
Then this article can help you make the right decision…First, let me share a quick intro about chess history and importance of the chess boards.
From its humble beginnings in India to its place among princes in China, Arabia, and Europe, tournaments between skilled professionals and social games between amateurs, chess is one of the world's great games, and it's no secret why.
Chess teaches the value of patience. It is an intensely strategic and psychological game.
It's a game that, like the board used, is as simple as it is open to endless innovation and reinterpretation.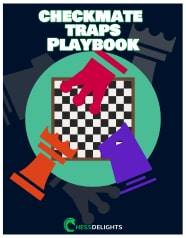 Download Your Free Checkmate Traps
Whether you're a beginner or an experienced player, this PDF will provide you with valuable insights and techniques to improve your gameplay.
For that reason, themed chess sets are all the rage right now, not just among regular players but among adamant collectors.
Where are some of the cool themed chess sets made of?
Great chess sets have been made from everything from wood and stone to ivory and pewter to plastic and beyond.
And then there are the chessmen themselves.
You would be hard-pressed to find a game whose pieces are at once both so iconic and yet infinitely variable, with a seemingly endless number of riffs on the basic roster of pieces.
Since the first sets, chessmen have given their respective sets a sense of personality.
The 17 selections listed here, ranging from literary and historical offerings to themed movie sets, have personality in spades.
Here are the 17 of the best custom, video game, and movie-themed chess sets
1. Lewis Chessmen Replicas
If you take a trip to the British Museum in London or the National Museum of Scotland in Edinburgh, you'll be able to see the Lewis Chessmen.
These remarkable Viking-carved chessmen were created in the twelfth century, rediscovered in Scotland in 1831, and rank among the oldest roughly complete chess sets in existence.
Moreover, they offer an incredible look into the medieval world, with its bishops, kings, queens, and "berserker" rooks all evoking a quintessentially medieval spirit.
These replicas do well to keep that spirit alive. Made from laser scans of the originals and modeled at 3.25 inches per piece, they are official replicas offered by the National Museum of Scotland.
Check Lewis Chessmen Replicas price in Amazon
2. Napoleonic Wars
Lure your enemies into meeting their own Waterloo or rewrite history in favor of La Grande Armée with chess sets themed on the Napoleonic Wars.
The conflict remains vivid in the imagination in everything from novels by Thackeray, Stendhal, and Tolstoy to movies and video games too, yes, chess sets.
Take this set from Bello Games with its board made from fine Spanish walnut and maple.
It features lovely hand-painted replicas of Napoleon, Wellington, and the French and English forces, each made of marble resin with felt bottoms, just waiting to reenact Waterloo.
Check Napoleonic Wars price in Amazon
3. American Civil War
As with the Napoleonic Era, the American Civil War has long been a favorite of novelty chess set makers.
Swap out the White and Black for the Blue and Grey as you bring the Civil War to your tabletop.
This hand-painted set features Abraham Lincoln and Ulysses S. Grant opposite Jefferson Davis and Robert E. Lee as "king" and "queen" of the Union and Confederate forces, respectively.
Check American Civil War price in Amazon
4. Classic Hollywood
There's no shortage of franchise-themed movie chess sets, and we'll get to those in a moment.
First, however, let's take a trip back in time before multi-billion dollar special effects-laden tentpoles ruled the roost.
This Classic Hollywood set boasts an all-star cast of comedy greats, including Charlie Chaplin and Mae West as king and queen, with the Marx Brothers, W.C. Fields, and Laurel and Hardy filling out the back row, and the hapless Keystone Cops filling in as pawns.
Lights, camera, action: your move.
Check Classic Hollywood price here
5. Star Wars
I also wrote an article about the Best Star Wars Chess Sets to buy!
Watch the action from "a galaxy far, far away" unfold on your tabletop.
As one of the big movie merchandising behemoths, it should come as no surprise that there are many Star Wars-themed chess sets out there.
Some feature on one trilogy, while others take a grander peek at the whole series.
The Force is strong with this set, which spans the first six films in the saga. Yoda, Obi-Wan, Han, Luke, Leia, Padme, and other heroes square off against the Emperor, Darth Vader, Darth Maul, Count Dooku, General Grievous, and other denizens of the Dark Side.
May the Force be with you, and remember that most sage piece of chess-playing advice: "Let the wookie win."
Check Star Wars price in Amazon
6. DC Comics Sets
Is this set super? Wondrous? The chess set you need or deserve? Hopefully both.
Superman, Wonder Woman, Batman – DC's stable of heroes are iconic.
However DC's Cinematic Universe may be going, the heroes that make up the Justice League are presented here in all their glory, with solid-feeling metal pieces doing battle atop a bat symbol in the middle of the board.
One of the great things about this set is the fact that it features a deep roster of DC heroes and villains.
If you're a fan of Supergirl and other heroes alluded to on TV who have yet to get their full due in the films, this set can be a great way to capture them side by side with the Man of Steel and the Dark Knight.
7. Marvel Sets
The Marvel Cinematic Universe has become one of the great box office heroes of all-time, featuring some of the best-reviewed superhero films while also boasting a box office gross bigger than the Hulk.
As with the DC offering, this set is drawn from the comic book source material.
It nevertheless serves as a wham-bam reminder of just how amazing a themed chess set can be.
The core Avengers from the MCU are here, in well-molded wonderfully painted pewter and bronze, along with secondary heroes and villains from Marvel's rich past.
Fans of the original creations of Jack Kirby and Stan Lee as well as newly-converted MCU fans are sure to be delighted.
Avengers, assemble! Excelsior!
8. Disney Sets
Before Disney was the world-dominating Star Wars and Marvel-buying House of Mouse it is today, Mickey, Minnie, Donald, Daisy, and company were among the great animated stars of the silver screen.
In one short after another, they helped build Disney's identity, evolving into some of the most recognizable characters in film history.
Now, you can take the magic of the Magic Kingdom home with you in Disney-themed sets.
This set features Mickey, Minnie, and the whole gang on a child-friendly board that doubles as a must-have for any devoted Disney collector.
9. Nightmare Before Christmas
Sing "this is Halloween" come Christmas time with this holiday twofer themed around Tim Burton's iconic cult classic.
The Nightmare Before Christmas is one of Disney's most creative features in the past few decades.
Appropriately enough, this themed chess set ranks among the most innovative on our list.
Jack Skellington and Sally square off against Oogie Boogie and his forces in a set which does a remarkable job of capturing the unique sculpted appearance of these Claymation creations.
Each piece features a character from the film atop a festively fearsome base.
Check Nightmare Before Christmas price here
10. Harry Potter Films Sets
Chess recurs throughout the Harry Potter books and films.
Most notably, in the book and film version of Harry Potter and the Sorcerer's Stone, Harry, Ron, and Hermione join living chessmen in what Dumbledore himself called the most elegant game of chess
Hogwarts had seen in ages.
And who are we to argue with a Supreme Mugwump of the International Confederation of Wizards?
While they may not come to life like book and movie contemporaries, these Wizard Chess replicas are sure to liven up any Potterhead's day.
The pieces are sized between two and four inches in size and are modeled after those in the film.
Check Harry Potter Films Sets price in Amazon
11. Lord of the Rings Films
Is this the one film trilogy to rule them all?
As one of the biggest critical, commercial, and fan-received films of all-time, you could certainly make a case for Peter Jackson's adaptation of J.R.R. Tolkien's book series being just that.
As an adaptation of an adaptation, these The Lord of the Rings chess pieces match the meticulous dedication of the films.
So much care was given to the design of each sculpted pewter piece that the designers sought and received the approval of the actors who played each character depicted here.
The dedication to evoking the majesty of the books and films doesn't stop there. For as closely as the figurines are modeled on the cast who brought the characters of The Lord of the Rings to life, the board itself does a beautiful job evoking Middle Earth.
Instead of a flat board, it is raised several inches high, with faux-stone decorative features in the shape of a stronghold encircling the board.
Speaking of which, the board itself features a detailed map of Middle Earth securely sealed beneath a plexiglass surface.
Check Lord of the Rings Films price here
12. Super Mario Bros.
"Here we go!"
It's hard to believe that it's been nearly forty years since Mario "Jumpman" Mario first made his debut in Donkey Kong.
Along with Mickey, Minnie, Donald, Daisy, Goofy, and the other stalwarts of the Disney lineup, Mario, Luigi, Peach, Bowser, and the rest of the Mario Gang are among the most recognizable fictional characters in the world to the young and the young at heart.
And since, as we've seen, those Disney stars have their own themed chess set, why shouldn't everyone's favorite Plumbing Duo and Co.?
This set's pieces are modeled to be bright, colorful, kid-friendly, and perfectly matched to their video game selves.
Bowser, Bowser Jr., and his kingdom square off against Mario, Luigi, and the Mushroom Kingdom in a set that's great for getting young children interested in chess as well attracting gamers who have been playing Mario and chess for decades.
Check Super Mario Bros. price in Amazon
13. The Legend of Zelda
It's dangerous to go alone – take this incredibly-realistic Hyrule-themed chess set.
From the first screen, the original Legend of Zelda had fans hooked with its unique combination of world-building and puzzle-solving, both of which are brought to life in this stunning set.
The same critical thinking skills you need to determine which wall to bomb open to reveal hidden dungeons or what needs to be done with your Ocarina or Wind Waker can be put to use plotting your way to victory.
This set pits Link, Zelda, Epona, Navi, and other Hyrulean allies against Ganondorf's forces of darkness.
Each metallic bust stands two to four inches tall, with Link's side being coated gold and Ganondorf's a dark silver.
The detailing on these pieces is incredible, giving them a heroic quality worthy of Hyrule's Triforce itself – which, conveniently enough, adorns each side of the board.
Check The Legend of Zelda price in Amazon
14. Shakespeare's Plays
s"All the world's a stage," and with this set from Berkeley Ornamental, the stage is set for Shakespearean action, as some of Bard's best-loved characters do battle.
"The hollow crown" of kingship sits upon the heads of Richard III and Henry VIII.
"My kingdom for a horse?" This set has you covered with knights modeled after Hamlet and Bottom.
Lady Macbeth vs. Cleopatra. Shylock vs. Cardinal Wolsey. Elsinore Castle vs. the Globe Theatre itself.
Even the opposing pawns are impressive, pitting a "band of brothers" in Agincourt-ready English foot soldiers vs. "Friends, Romans, Countrymen" made manifest in legionaries.
"Cry having and let slip the dogs of war" with this remarkable resin chess set.
Check Shakespeare's Plays price here
15. Oliver Twist
After all these boards, do you still "want some more?" If so, and you have a thing for Dickens, you'll want to check out this Oliver Twist-themed set.
Whereas in other sets on this list the main character is often the king, here you'll find Dickens' most famous orphan eightfold in the pawn's spot, perpetually holding out a bowl, ready to give his famous line.
Opposite him are eight Artful Dodgers prepared for more mischief.
The likes of Mr. Brownlow and Fagin fill in the kings' slot, while Mr. Bumble, Bill Sykes, and more classic characters fill out the roster.
These chess pieces are, in keeping with the illustrations in Dickens' works, a bit more cartoonish than some of the other chessmen on this list.
They also stand a bit taller than some sets, with pieces standing between three and five inches tall.
16. Sherlock Holmes
The (chess) game's afoot.
Given what a famously rational literary figure he is, with stories filled with faithful allies and iconic adversaries, Sherlock Holmes is a natural fit for the world of chess.
Indeed, this themed chess set positively exudes Sherlockian and Victorian elegance, a must-have for any lover of Conan Doyle's Great Detective or the world of Victorian London.
The resin figures in this set are finely detailed and feature beautiful felt bottoms as well.
This is another set that features chessmen on the taller side. The London Bobbies and Common Criminals who make up the pawns are just over three inches tall each.
The faithful Dr. Watson, Ms. Hudson, and Inspector Lestrade, and the chess pieces opposing them each stand roughly four inches tall.
Last but not least, Sherlock Holmes himself as well as his greatest nemesis Professor Moriarty each stand just over five inches tall.
The rooks oppose one another nicely as well, with Holmes and Watson's famed London residence of 221B Baker Street being pitted against Reichenbach Falls, where Holmes and Moriarty faced off for the final time.
Whether you're a lover of the books, the classic films starring Basil Rathbone, the legendary Granada series with Jeremy Brett, or Benedict Cumberbatch's globally-popular modern-day Sherlock, seeking out this set is "elementary."
Check Sherlock Holmes price in Amazon
17. Game of Thrones
You may want to check out the best chess birthday gift ideas too!
Although this is not a movie themed chess set, I know that some chess players and fan of the tv series would love to have this as a chess set collection or as a gift.
And this one is a game of really cool chess set to have…don't you think?
So, If you have wanted to play a chess game with the famous characters in the Game of Thrones HBO TV series, then this set is perfect for you.
I would love to have this as a collection, but I won't be playing with it all the time… 🙂 Just because I like the design of this chess set.
Check Game of Thrones price in Amazon
Wrapping Up
This selection is some of the best themed chess sets that you can check out as a gift for yourself or as a gift for your family and friends.
I made this article because I know some chess players would like to have a collection of a specific themed chess sets of a movie or a video game that they love to play with.
As for me, I like the star wars chess set, because I'm a massive fan of that movie. 🙂
While my daughter is an avid Super Mario Bros. video game player…
Keep in mind that you can also use this themed chess sets to entice your kids to get interested in playing chess.
I do hope this article was able to help you find a beautiful themed chess set which you can be proud of playing.
Make your move and snag a fantastic themed chess set today.
Also: Check out other Chess Recommendations here