Free chess allows you to play with the computer, online players, and even friends online without any cost. The question is, which site should you choose to sign up and play? In my experience, Chess.com has been the best free chess platform for me. I have been playing and learning on this platform for over 5 years, and I have never found any other platforms as extensive as Chess.com.
Although I have accounts on other free chess platforms, none of them have come close to the reputation that Chess.com has built as the number one site for playing free chess.
Some platforms claim to offer free chess, but you may soon discover that there are certain features that you won't be able to enjoy with a free account. Sometimes, these features are important to enjoy a game of chess.
Finding the best platforms to play free chess is not difficult if you know what to look for. So, before you waste your time registering or signing up for any platform, you should consider the factors below.
Table of Contents
User Interface Is Easy To Navigate And With Action Buttons
The ideal user interface has all the primary action buttons as headers or sidebars.

Personally, I prefer sidebars with action buttons. By action buttons, I mean links that directly lead to the desired action, rather than menus with submenus. I don't want to spend time searching for the link to play chess.
Most of us just want to start playing immediately, and we also value fast loading times.

As online chess players, we want an awesome user interface experience, even if it's just a free chess games.

Let's examine Chess.com's user interface: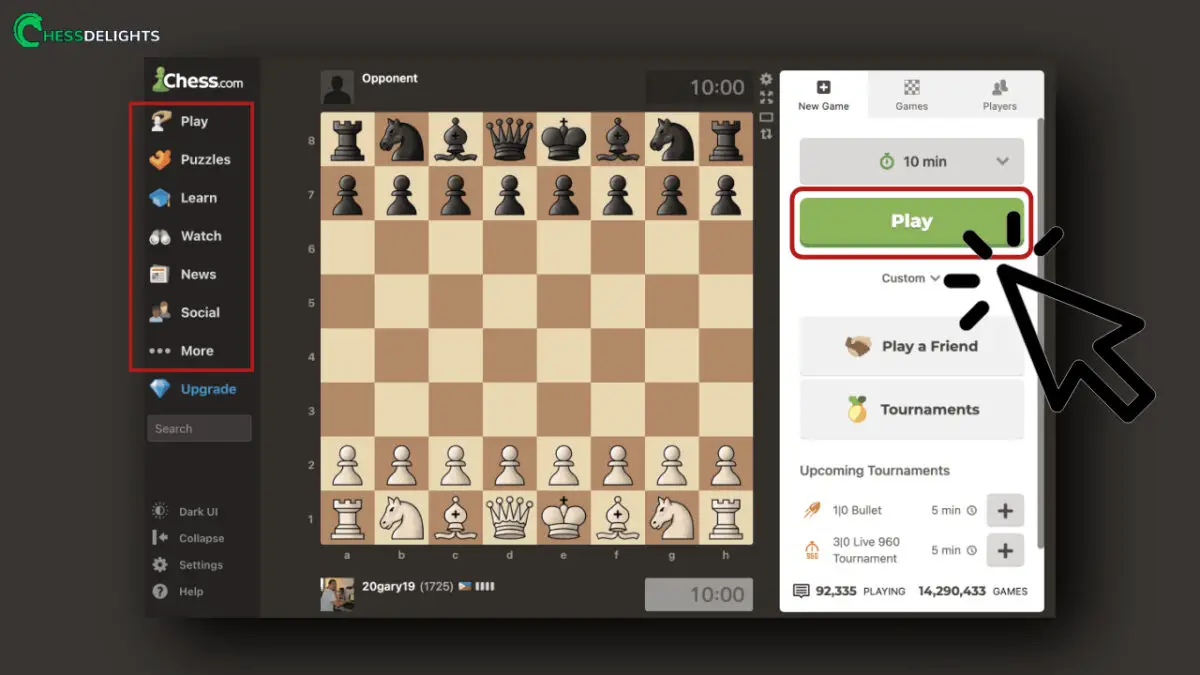 The sidebar contains menu links that lead directly to the desired actions, with the "Play" option positioned at the top.

On the other side, there is a prominent green action button that redirects you to a screen where it searches for your opponent.
Full Features For Free Chess Accounts (Almost)
Even if we only have a free chess account, we want to experience the full features of the chess online platform. The reason is that we would like to upgrade to a premium account once we know that it's going to be worth it if we upgrade.
The issue with some online chess platforms, particularly newer platforms, is that…
Premium features are locked for free users. I get why they want us to upgrade, but we are not sure if the locked feature is any good.
And if platforms like that lock their feature, they must ensure that we can readily contact them or that they respond within 24 hours.
I tried contacting support for newer platforms but had no response for months…
The free user account should be nearly full-featured, like Chess.com has done. You may actually try out their premium features for free or with a basic account, and you can contact them, and sure enough, you'll get a response.
So, even with a free account, you can use the following features on Chess.com:
Available Features For Free Chess.com Account
Create Game
Open Challenges
Puzzles (Not Unlimited)
Custom Puzzles
Lessons (Not Unlimited)
Bots (Not Unlimited)
Watch Live
Lates News Update
Social
Analysis (Not Unlimited)

*These by no means exhaustive, but it covers the most sought after features
Can Play Chess Against Computer Or Bots With Skill Levels
As of now, there are many AI applications being implemented, and chess platforms have been using AI for a considerable amount of time.  I recall watching Kasparov play against a computer, and it was both shocking and amazing. 
If you are currently seeking a free chess platform to challenge your skills against computers or bots, it is important to consider the quality of the chess engine or AI opponent. 
If the platform does not allow you to choose the skill level or intelligence of your AI opponent…
It may be more beneficial to play with online friends instead. 
In my experience, without the option to adjust the skill levels of computer players, it becomes difficult to improve your own skills. 
Let's take a look at Chess.com's computer or bot players: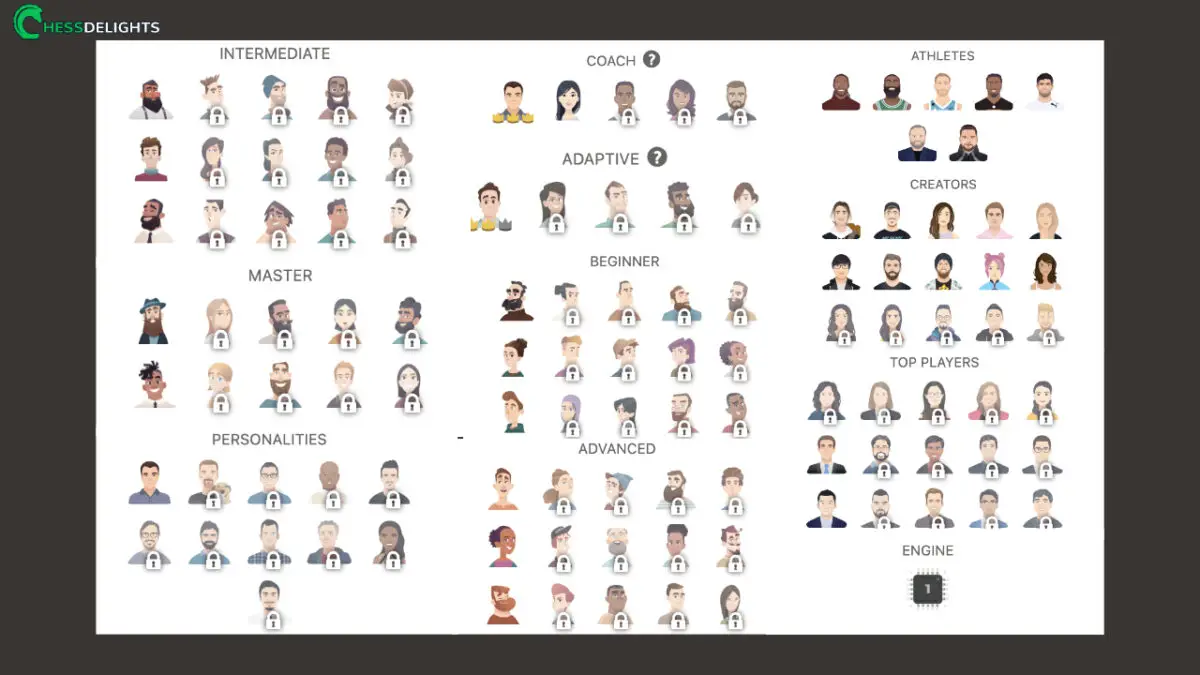 Intermediate – 1000 +
Master – 2300 +
Personalities – 2500 +
Coach – 400 +
Adaptive – 600 +
Beginner – 250 +
Advanced – 1500 +
Athletes – 1250 +
Creators – 1100 +
Top Players – Skill level 2650 +
Engine – You can set the skill level
* The bot players with lock icon will be unlocked only with premium accounts
Can Play Chess Against Friends Online
If you are able to play chess against a computer, then you should definitely be able to play chess with friends in that platform (some platforms don't…). Honestly, I have been playing chess online for many years, but I have yet to play with actual friends online. The reason being that most of my friends do not play chess. 🙂
The good news is that…
One of the great aspects of chess online platforms is that you do not need to ask your real friends to play chess with you online.
Nowadays, as I mentioned before, you can play against a computer with different skill levels or play against online chess players from all around the world.
The only thing you need to hope for is that…
There are players online, and they possess the same or higher skill levels than yours. This will help improve your games as you play more.
Chess.com is particularly good because they have millions of players, making it quite easy for you to find players who are at the same or higher skill levels as you.
Just take a look at this sample data: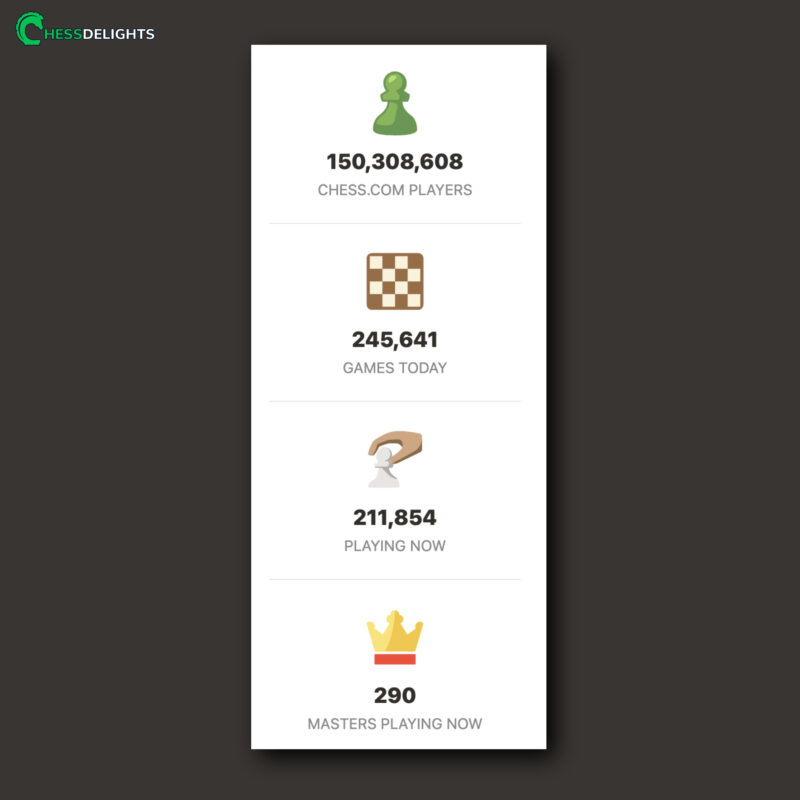 Chess.com Players – Number of registered players around the world
Games Today – Number of games played
Playing Now – Number of players actively playing
Masters Playing Now – Number of Masters actively playing
Can Play Chess On Your Mobile Phone (Android And IOS)
There are online chess platforms that do not have a mobile app available for both Android and iOS devices. 
Since many of us use our mobile phones frequently…
It would be ideal if these free chess platforms had a mobile app version that is compatible with different devices and operating systems. Personally, I like using online applications that also have a mobile app version because it demonstrates how strong their organization is and how well-equipped their infrastructure is.
Aside from that…
Because it is more convenient, especially given how much time we spend on our phones. 
I've tried a few different chess mobile apps…
But, as comparison to other mobile chess sites, Chess.com provides the best user experience and faster loading times compared to other mobile chess platforms. 
Here is a glimpse of what the Chess.com mobile app looks like: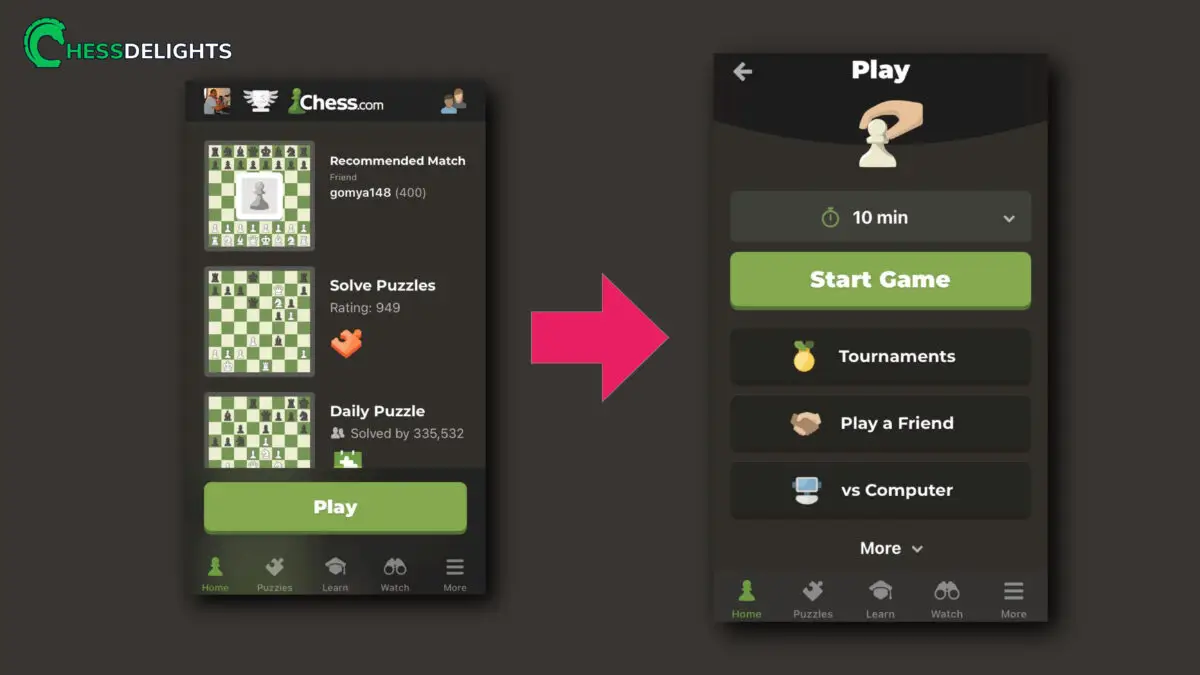 Game Review Analysis Feature (Important)
I've played on at least 10 online chess platforms and noticed that most free chess accounts don't have access to analysis features, including premium users.

Having a game review analysis feature is crucial for a chess online platform, and I believe it should be available for free, at least for a limited number of times.
The accuracy of the analysis is what distinguishes the best chess online platforms. 
In my opinion, Chess.com has one of the best game review analysis features available and for free (limited to a number of games…). 
I have used it frequently, and it's particularly helpful when analyzing games that I've lost. 
Here's an example of how it looks like: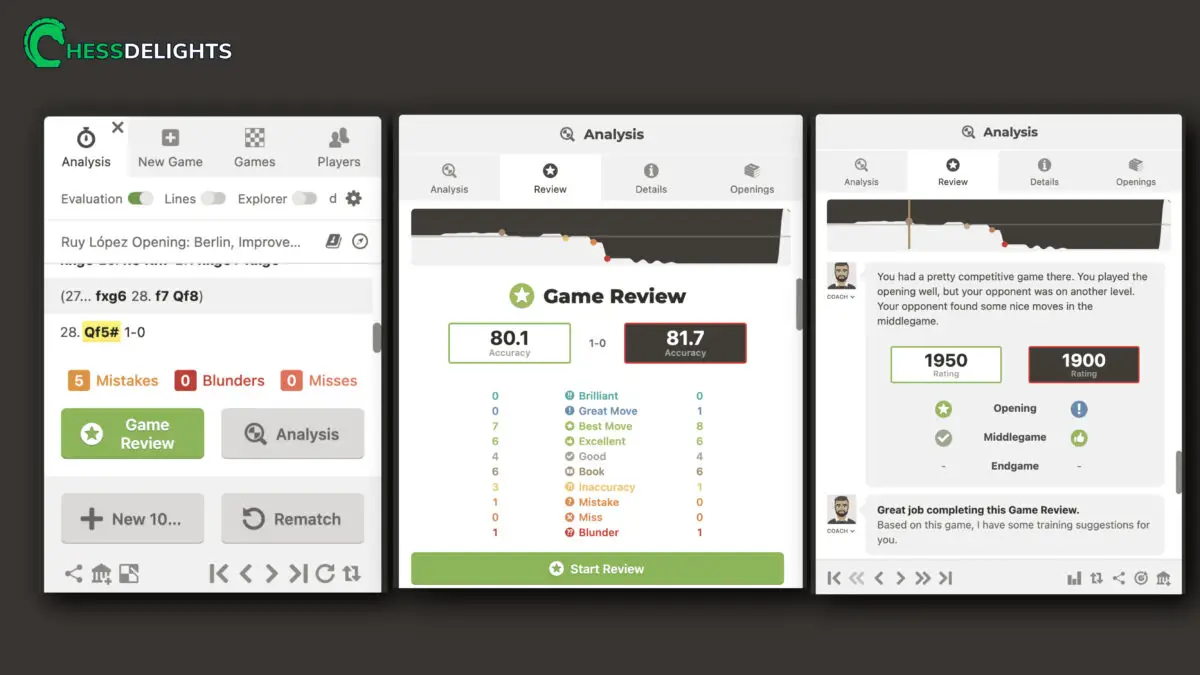 Variety Of Game Modes (Just For Fun)
I haven't explored this extensively, but I have tried playing on various chess modes, and it's quite fun but also confusing. 
It serves a different purpose and provides extreme entertainment… 
Here are the most common game modes you're probably familiar with and you'll find in most chess online platforms:
Blitz Chess
Bullet Chess
Rapid Chess
And the chess variant modes would be the following:
Chess960
Crazyhouse Chess
King of the Hill Chess
The first time I tried one of the different variants of game modes, I thought the platform was glitching! LOL! 
I captured a pawn and it came back checking my King. 
It's kind of fun and annoying at the same time…
But only if you don't know the rules of the particular game mode. 
I do think a free chess online platform should have these kinds of features available so that users can have variety and fun at the same time. 
Chess.com offers for a many variety of game modes: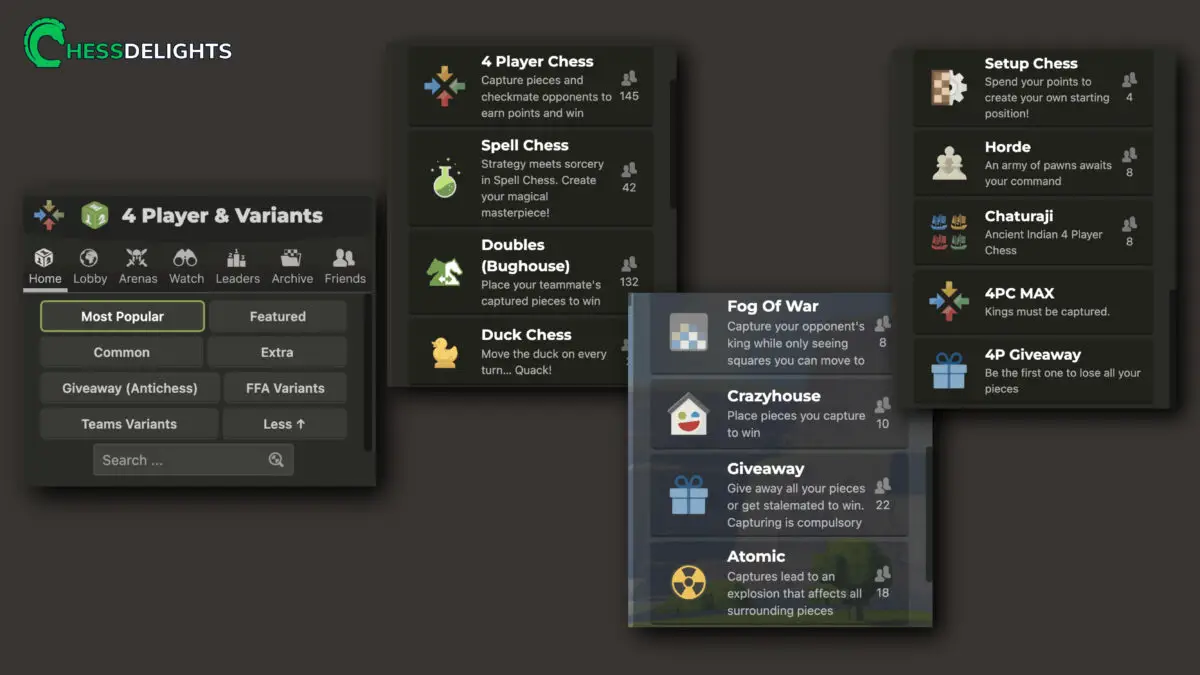 Go to Variants option
Choose category (like Most Popular, Featured, Common and more)
You can also search the name of the chess variant modes.
Number Of Online Players (Also Important!)
I remember attempting to play on a different online platform and clicking 'play', and it started searching for online players and never found any. 
That was frustrating and resulted in a poor user experience and a waste of time…
When it comes to online chess, it differs from offline because offline games usually involve having fewer players to ensure we get a chance to play. LOL! 
However, with online chess, we prefer having more online players so that we can play immediately without waiting for hours.
I have never encountered any issues finding opponents who match my skill level on Chess.com, and the process is fast even if you're using a free chess account. 
I simply click the 'new game' button, and within seconds, my opponent has made their first move (ofcourse opponent plays as white).
The number of online players is crucial, and chess online platforms should prioritize this if they want to retain users on their platform. 
This is especially important for users like us who don't want to wait, right?
Here's how you can achieve that on Chess.com: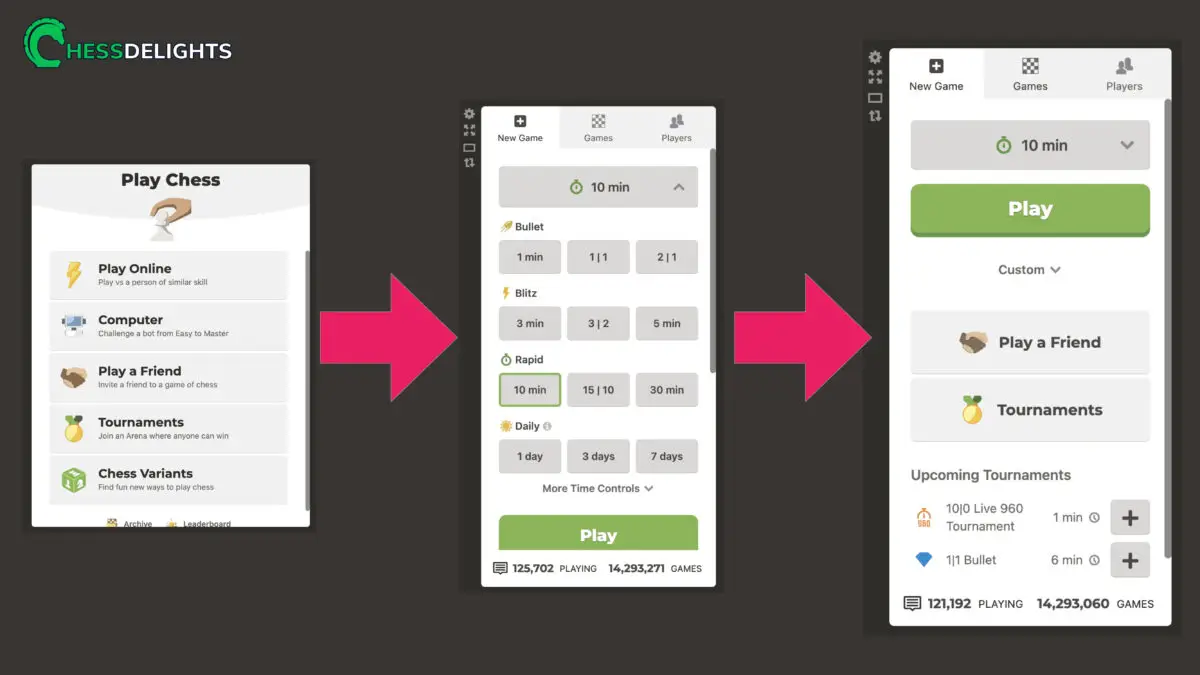 Click Play Online
Choose the game mode
Click the play button
Import And Export Games You Want
The majority of top online chess platforms offer the option to export and import games using PGN (Portable Game Notation), which is a file format for recording games in text files. 
Another format available is FEN (Forsyth-Edwards Notation), which is similar to PGN but with a different structure.
I have used both PGN and FEN formats when importing games and developing a chess app…
The main advantage of having these formats available is that you can load them on your chess platform and review the games.
This is where the analysis feature becomes crucial…
While you can analyze the game by yourself, having a platform with a reliable AI analysis or chess engine allows you to have an assistant to analyze the game you just uploaded (easier option)…
If you don't have a PGN or FEN format, there are other options available to import a game…
Chess.com, for example, offers several ways or formats to choose from (even you're using a free chess account).
Let's now explore the currently available formats in Chess.com: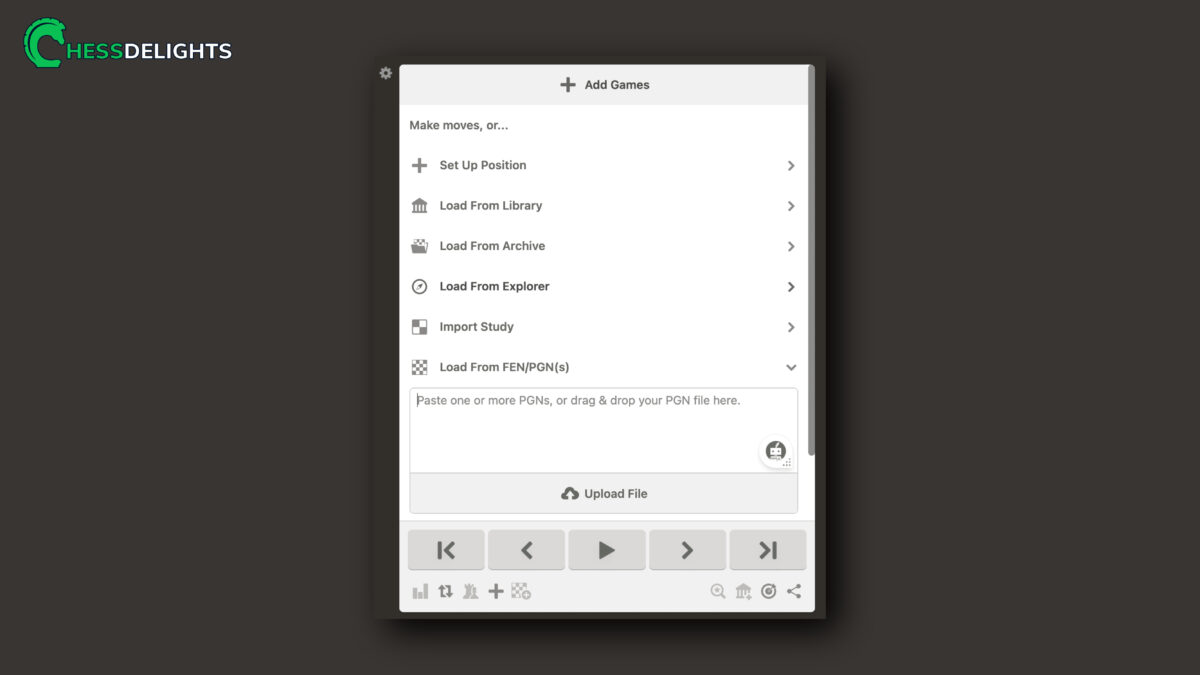 Customization Options (Like Board Themes, Sound Effects?)
The subtle and engaging sound effects of pieces being moved provide a sense of realism when playing chess online. However, I have encountered platforms where the sound feels distorted and painful to listen to through my earphones. 
I use earphones while playing because some players make slow moves…
And with earphones, I can hear when they finish their move online.
I believe that this feature is important for online chess platforms, and having the option to choose different sound effects and board themes is crucial for visual appeal. 
This is especially significant for free chess accounts, as it allows us to customize the platform according to our preferences – It enhances our comfort and convenience while playing online.
It can be distracting to encounter poor theme designs and painful sound effects…
Especially considering that free chess accounts often have advertisements on the platform. 
Since we already have to deal with ads, it would be best if we could customize the themes and sound, even with a free account.
Personally, I have customized my board themes and sounds to create a better user experience. It makes playing more enjoyable based on my style preferences, although it may not necessarily lead to winning more games or does it? 😉
You can find the customization options for Chess.com here: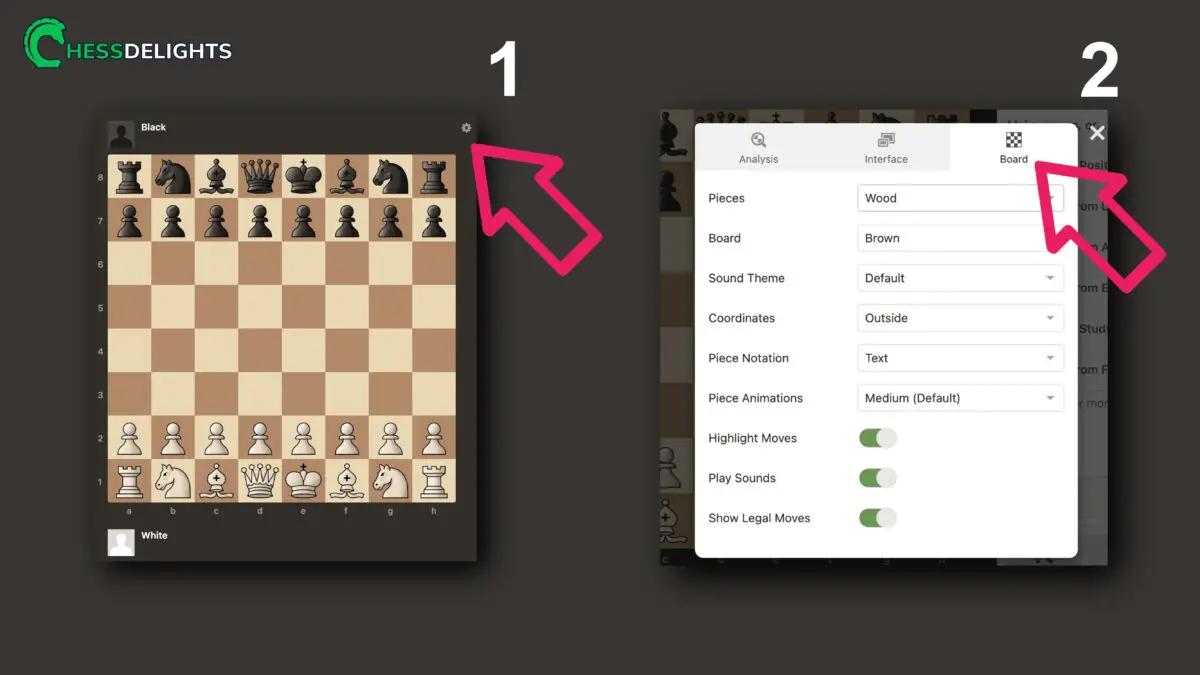 Detecting Cheaters (Really Important)
Playing online chess doesn't really assure us that our opponent is not doing any cheating behind the computer.
For online chess platforms this should be a priority like detecting if your opponent is trying to cheat…
It was a relief for me when I receive a message inside the platform that my opponent was cheating and they adjusted my online rating.
It gives us the feeling that the chess platform is taking good care of it's players…
I've also analyzed how they can detect this and it was by accident – I was watching a chess game and they were playing using an online platform and when it's over the guy who won was worried because his game review analysis is showing almost perfect accuracy…
So, he was worried that the platform might detect that he is cheating because of his near perfect accuracy. 
And that feature is available inside Chess.com even if you have a free account.
Here are some messages that explains my opponent was cheating: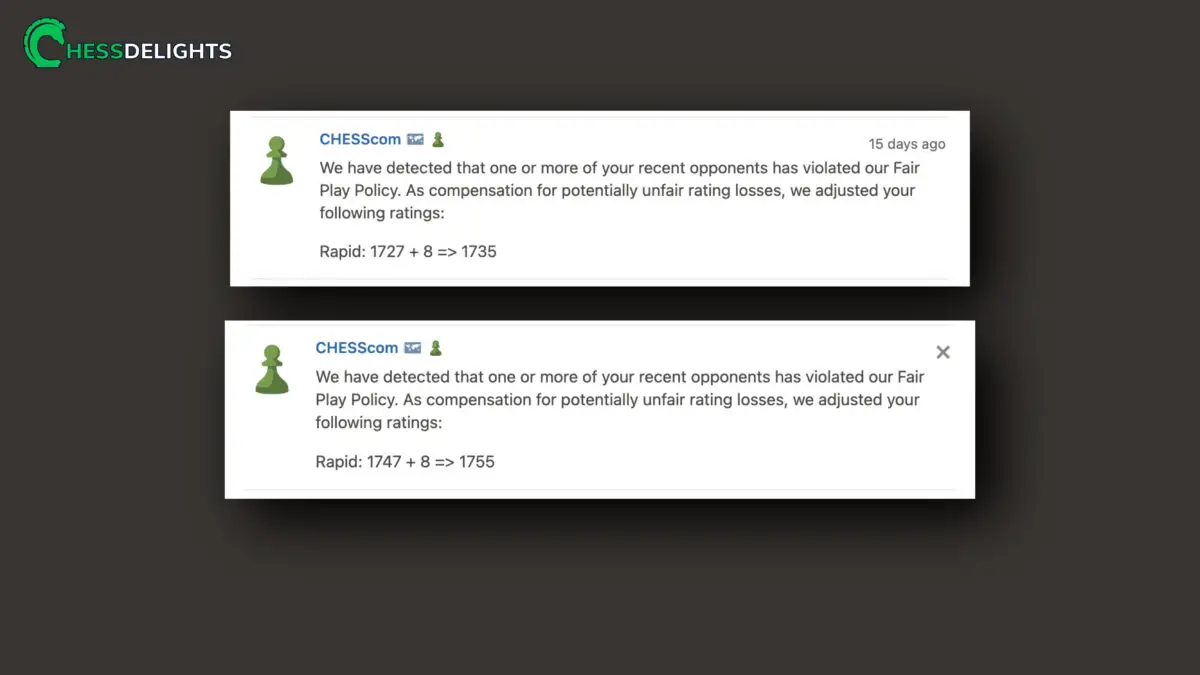 Sending Server Maintenance Notifications To Players
It would be incredibly frustrating if your ongoing game went offline due to a server maintenance issue. 
It would be beneficial to have this feature available for free to all users…
Since I mainly use Chess.com, I am unsure if other online platforms send notifications to players about server restarts  –  it is not advisable to start a new game during that time.
If you start a new game and the server maintenance is within 2 minutes, a 10-minute game would end up being aborted, or even worse, you could lose points from your online rating.
However, I do remember a time when the game I was playing on Chess.com suddenly lost connection due to server maintenance, but after a few minutes, it went live again. 
I received a message stating that my rating had been adjusted due to the server maintenance.
It's great that even free accounts have access to this feature inside Chess.com.
Here's a screenshot of what it would look like: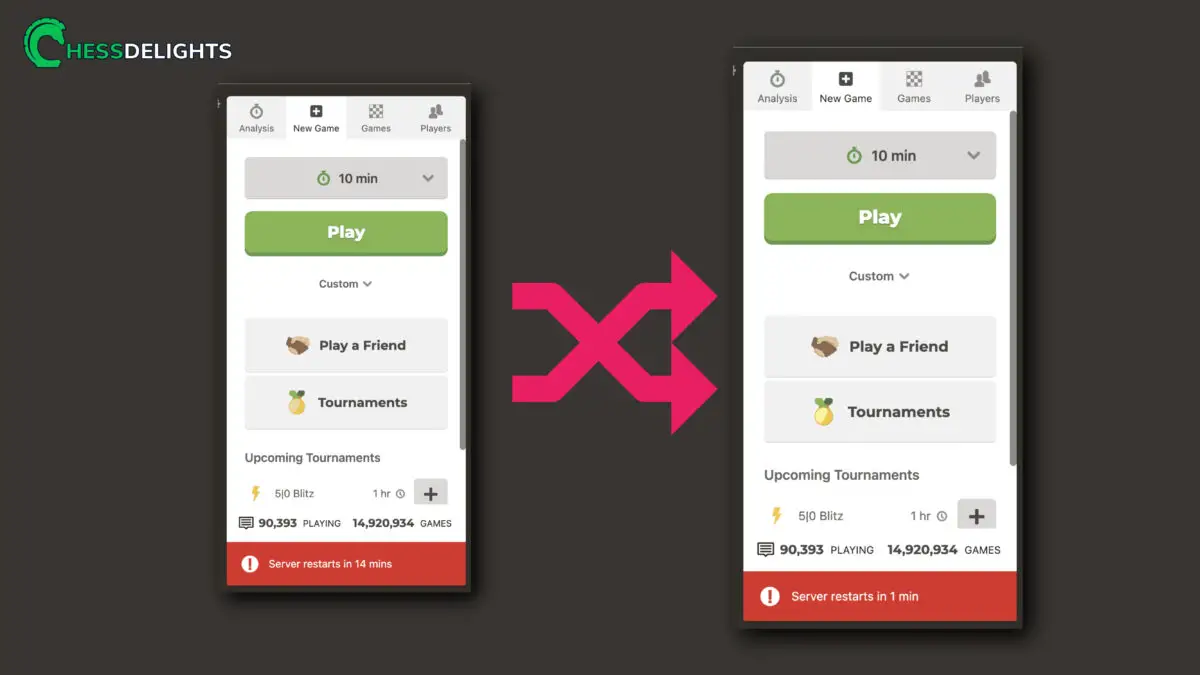 You'll see a red bar below the right sidebar showing server restarts time
Gary Flores
Gary created the ChessDelights website to help individuals who struggle with navigating the realm of online chess. The website provide various tools and resource guides to help users learn and master the game of chess. He is also the co-author of
"Chess Fundamentals" digital interactive book a ChessDelights Edition
. Whether you are a beginner in online chess or seeking to use tools and chess resources to improve your skills, the ChessDelights website is for you.