I have a love-hate relationship with chess clocks, and I've always questioned why we must use one during a "chess game." 🙂
It was alright for me to play for long hours in a tournament without a chess clock. However, it may become really draining, and having to concentrate so hard on each choice you make can be very mentally challenging. Trust me, I know.
So, if you're wondering why do we use a chess clock in chess? It is used to keep track of the moves made by each chess player as well as, most importantly, the passing of time. You see, one of the most essential elements of the game of chess is keeping track of our time. Every professional chess player's career includes learning how to analyze and move under pressure.
You can also check out this article about the important rules of using chess clocks in tournaments.
The chess clock forces us to be responsible for our moves and ensures that we only take advantage of each position in the best possible way to win.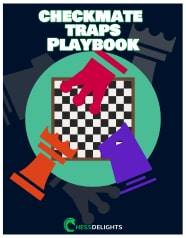 Download Your Free Checkmate Traps
Whether you're a beginner or an experienced player, this PDF will provide you with valuable insights and techniques to improve your gameplay.
Now that you are aware of the main reason for chess players' use of chess clocks, let me share some other information on "chess games or tournaments and the use of chess clocks", including digital ones.
What are the main types of chess clocks used in chess games or tournaments?
There are two main types of chess clocks used in chess games:
Mechanical chess clock
Electronic or Digital chess clock
And they all are used for the same reasons I mentioned above, which is to keep track of time in chess games.
1. Mechanical Chess Clock
The most common mechanical chess clocks used in tournaments are those with a traditional clock with hands.
Advantage of using mechanical chess clocks:
Mechanical chess clocks are often more accurate, and they can be set up to give real-time updates. This can be helpful for players who need to know the exact time control in each position (we can get more technical with this but mainly it's because you can accurately set it by means of reading the graduation)
Mechanical clocks also tend to last longer than electronic versions, which can be a big advantage if you plan on playing a lot of chess. And some mechanical clocks like the one below does not use batteries in order to work.
Our Top Choice
Disadvantage of using mechanical chess clock:
A mechanical chess clock is typically slower than a digital one because it must use gears or other moving parts to keep time. This can make it difficult to keep up with the speed of modern chess games, which can often be played at speeds over 50 moves per minute.
Moreover, a mechanical clock is subject to wear and tear, which can cause it to malfunction.
2. Electronic or Digital Chess Clock
An electronic chess clock is a device used in modern chess to keep track of game time. They typically have a display that shows the current game time, as well as the end game time and the moves of the current player.
Advantage of using electronic or digital chess clocks:
One of the advantages of using electronic or digital chess clocks is that the displays are easier to see and make it convenient to keep track of time.
They also have additional features that you can set directly using button functions. Another advantage is that most digital chess clocks are portable, so you can take them with you wherever you go.
If you want a feature-rich digital chess clock you should check out the item below on Amazon.
Our Top Choice
Disadvantage of using electronic or digital chess clock:
The primary drawback is that since they typically rely on batteries, a battery failure could cause them to stop working (a good thing to keep in mind is to always have spare batteries with you). Also, digital clocks frequently lack the same level of accuracy as traditional chess clocks, because digital clocks can lead to inaccurate results.
Who uses chess clocks in chess tournaments?
The chess arbiter is typically responsible for determining whether or not the chess clocks adhere to the game's rules. They make sure that the timer is accurate and operating in accordance with the tournament's rules.
The arbiters can change timings or stop the chess clock if there are any issues that need to be discussed and then resume play once the issue has been resolved, which is the most significant use of chess clocks in tournaments aside from keeping track of time. As a result, the game will proceed according to the chess clock as if nothing had happened or been interrupted.
There are different timings you can play in chess, and I go into greater detail about them in this article about chess timings.
You may find out more here if you're interested in tournament-approved chess clocks or if you're a chess arbiter yourself and want to know which chess clocks are recommended.
If you enjoy playing chess as much as I do and want to learn more about digital chess clocks, continue reading.
What type of chess clock should you use?
What kind of chess clock should I use is the question that you would now be asking. Since I do own a chess clock and usually advise owning a digital chess clock, I can assist you with that.

You should buy the following digital chess clock or check the item below:
Our Top Choice
As I mention in the previously linked article, this already has the most popular chess timings that you can use.
If you do purchase this digital chess clock, I can help you with any queries you may have, or you can just go to this article about how to set up leap digital chess clock for a detailed tutorial on how to use this specific kind of digital chess clock.