The easy way to learn chess is online! I've also shared an article about 24 best chess apps you can learn and play chess today.
Nowadays, we go through Google and learn a lot of things with a few clicks of the mouse.
The same thing with learning Chess, some websites offer tutorials online, and most of the time, the online chess mentors have very impressive credentials.
The question now is, can you learn Chess online?
Can you learn chess online?
The simple answer to the question is YES! You can learn to play chess online, wherever you are, whatever time you may want to begin.
There are several thousands of chess sites online which can help you to master the fundamentals of chess.
You can also get to interact with people from different countries who are avid chess players themselves.
With the technology we have now, we can learn a lot of things via video tutorials, electronic books, and other modalities.
Chess, as traditional a gameplay as it may seem, has come to the electronic world successfully.
Right now, there's sure to be millions of chess players online just waiting to play with you.
Whether you are just starting to learn chess or a beginner or someone who can be considered in the advanced, intermediate, or expert stages, you are sure to find satisfaction and fulfillment online.
Also read article about: Important Things You Need To Know With Playing Quick Online Chess
Easy chess game objective
As we all know, chess is played on a surface that is divided into sixty-four squares of alternating light and dark colors.
We have two opposing colors – White and Black, and each side starts with sixteen chess pieces. Eight of the pieces are Pawns, and they are placed directly in front of the Towers (or Rooks, of which there are two), Knights, (or horses, two in number as well), Bishops (two pieces as well) and the King and Queen pieces.
The objective of the game is to out-strategize your opponent into losing the game.
It can either happen via checkmating the King piece or forcing the opponent to resign his side because of superior positioning and an impending mating move.
A draw can be announced if both parties agree to the move. It can happen when the King piece can no longer make a legal move on the board. This is called a stalemate.
In tournaments, winners are awarded a point for every victory, and a draw is given a half-point.
You may want to check out my review of this online chess platform.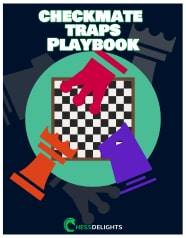 Pro Chess Players Study These Checkmate Traps!
Download your playbook to play traps like a pro! In this playbook, you will learn traps you can play with popular chess openings! King's Gambit ,Caro-Kann Defense, Italian Game, Ruy Lopez Opening and more...
Download The FREE Playbook
Recommended Websites to learn chess the easy way
We want to recommend the following websites if you're going to tap into the web as part of your chess playing regimen.
Remember, some of these websites have paid membership, but most of them are free of charge. Take a look at the following ten sites and find out which one best suits your tastes.
This website boasts of over 28 million users that can log in daily. It has a highly interactive interface, which is also pretty simple.
One only needs to sign up with his email address to access the various features of the site. One can play live chess or with time-controlled scenarios that you can toggle according to your preference.
Basic membership is free, and you get limited access to the video tutorials and electronic materials that they have.
Paid memberships give you unlimited access to these features, training, and statistics.
Among the best features of the site is the identification of your moves.
They have an extensive database that can identify the openings you are using. You also get immediate move notation, and you can analyze the moves afterward or have the computer do it for you.
It also gave you the number of wrong moves, blunders, and missed wins that you make during the game.
Opened in 2014 by Grandmaster Magnus Carlsen in coordination with Enrique Guzman, chess24.com has quickly become an all-around chess destination online.
The interface is not difficult to navigate and is not lacking in aesthetics.
You can get access to thousands of games, video tutorials, and other similar features.
Basic membership is free, but premium membership gives you access to a lot more material that can boost your ratings quickly.
You would also get the chance to watch live streams of elite tournaments and also have the opportunity to play against a ranked and titled player during such live streams.
This platform is an open-source chess server that you can even embed on your website to promote it. It also provides players with various online playing modes.
Players can also have a decent number of challengers who can help him improve his game. It has round the clock tournaments and a slick interface that is easily navigable even by the most novice players.
While it does not have the extensive game database that chess.com and chess24.com provide, it does makeup with great overall play.
It also doesn't have any ads to bother your gameplay, which we know is a definitive advantage.
The Internet Chess Club got founded in 1995 after a bit of program rewriting from Danny Sleator, a computer science professor from Carnegie Mellon University.
It grew to be an international community of chess players until several other websites overtook.
Now, it still is one of the better sites around as it boasts of great gameplay. It also has a paid membership that gives you access to a multitude of materials that you can use to improve your style and game.
The Internet Chess Club does have a one-month free membership so you can check it out first before signing up for a long time.
it has over a million users at any given time. You can play against similarly skilled chess players or compete with others who have higher ratings.
It is generally free to use, and users have access to a slick interface that is highly navigable.
One can also gain access to other features such as tactical gameplay, follow tournament games of elite players and play against the computer.
You can also pay for one-time membership and get even more materials to improve your overall gameplay.
You can interact with better ad higher-ranked opponents along with it.
If solving chess puzzles is your thing, then chesstempo is the website for you. It has an extensive database of chess puzzles that range from easy to complicated.
You can practice time and again, and it would help you with your tactics in the real tournaments.
Furthermore, you can talk shop with other chess players from different parts of the world with its interactive community.
It has a free and paid membership with silver and gold levels, which offer differing levels of access.
This is a website that is pretty simple in design aesthetics but boasts an outstanding collection of games in its database.
You can have access to thousands of games for free.
The site is designed to improve the skill of all kinds of chess players, from novice players to titled players and even grandmasters.
They also boast of a community that you can interact with as it has a lot of members from various parts of the world.
What good is a list of the best chess websites in the world without mentioning the site of the International Chess Federation? FIDE.com gives you as much information as to how to get yourself rated and how to improve your rating.
It details how you can get IM norms and other titles.
The site is also filled with international chess news and upcoming tournament schedules that you can join.
You can even calculate how many rating points you win or lose.
For those chess players who want to be as technical as possible, you can access this site.
One of the famous websites which can stream tournaments with the help of several engines.
Best of all, it is free to use and has a vast community worldwide.
If you are the chess player, who wants to watch tournament games unfold between and among the best players in the world.
The website is straightforward to use and is free to use.
This platform is one of the more famous chess software available in the market today.
It has a lot of information about chess tournaments, lessons, and videos that help one to uncover his potential as a chess player.
Different programs are available upon demand. The interface is easy to understand and navigate.
It does have some books that you can buy and get delivered to your doorstep to provide you with another advantage over other chess players.
You may also want to check out the "best free online chess websites"
Wrapping Up
As we have answered the question initially, we would like to emphasize it right now. YES! You can learn chess by playing online!
Thousands of chess websites can help you out with your quest to become one of the best players in your school, community, or region.
You can get the best materials from various sources, analyze the best games from the best players in the world, and get updates as to who is playing who in the best tournaments around.
There isn't anything that can hold you back. Invest your free time in getting your chess skills better. Find a website that suits your needs.
If you have the resources, get a paid membership, if not, get to enjoy the best free resources available – they would still help you out tremendously.
You can be the best in no time at all. Have fun learning chess online!
Check out ChessDelights chess recommendations here.
Gary Flores
Hi there! I'm a dad with kids who loves to learn how to play chess by learning online - also, this is my way of refreshing my knowledge about this game of tactics & strategy. I created chessdelights.com to inspire people who are also learning, re-learning or teaching their kids the game of chess.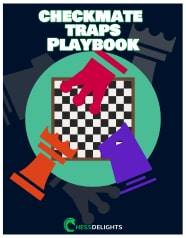 Pro Chess Players Study These Checkmate Traps!
Download your playbook to play traps like a pro! In this playbook, you will learn traps you can play with popular chess openings! King's Gambit ,Caro-Kann Defense, Italian Game, Ruy Lopez Opening and more...
Download The FREE Playbook