In my own experience, Play Magnus has helped me progress faster, especially if you are a chess enthusiast like me. Also, because I like to utilized the best chess learning app to improve my skills!
First, I'll tell you that Play Magnus is a chess learning program that systematically teaches beginners how to play chess games.
Whether you've never played a single game before, it can teach you how to play like Magnus Carlsen himself. 🙂
Furthermore, Play Magnus Chess concentrates on teaching you what to do. Whether you're a beginner or a pro, Play Magnus can teach you equally well. Regardless of age, gender, or geographical location, everyone may enjoy Play Magnus's many distinct play styles. Since it's available online and on iOS and Android devices, Play Magnus is accessible online!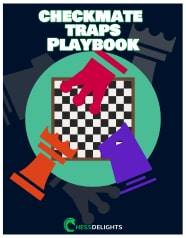 Download Your Free Checkmate Traps
Whether you're a beginner or an experienced player, this PDF will provide you with valuable insights and techniques to improve your gameplay.
What is Play Magnus chess app?
Play Magnus chess app is a program that allows you to play chess with the World's Best Chess Player, Magnus Carlsen, in a unique setting. It gives you immediate feedback on your game, allowing you to constantly improve your playing style.
There are chat boards where you can talk about chess with other players from all over the world, including Magnus!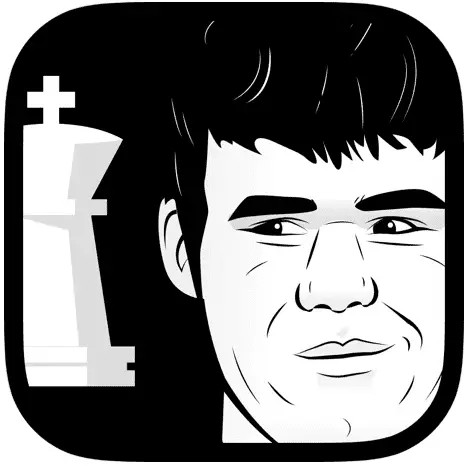 Play Magnus is a free chess program that provides its users with a variety of chess-related services, such as instructional and anecdotes from Magnus Carlsen's life, as well as an online multiplayer mode. The ability to talk with other human opponents while playing chess, access to the newest chess news and games, and the ability to analyze your chess games using a powerful chess engine.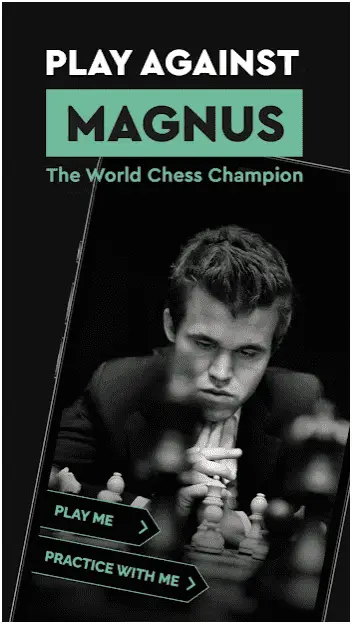 The program has been tuned to run swiftly, even on older mobile devices with smaller screens. You can load games at any point in their development, allowing you to study them later if necessary.
In addition to the possibility to create an avatar and construct a social network for chess fans, Play Magnus Chess provides a feature that allows you to track your progress and compare yourself to other players.
The software is compatible with iOS 8 and subsequent versions, and it performs well on devices with an A7 processor.
Play Magnus Chess is also compatible with Android devices and Kindle Fire tablets running OS 5.0 (Lollipop) or higher.
Play Magnus chess app is for players and coaches
Play Magnus Chess is primarily geared for chess players, both casual and competitively, and chess coaches looking to expand their services online.
For Parents, who have kids learning how to play the game (like me), this software can also be used as a teaching tool.
Magnus Carlsen, the Norwegian World Champion, has ensured that all of his followers receive the same level of tutoring that he did as a child.
Play Magnus Pros and Cons
Pros
The software is simple to use, so you can get started playing right away without having to go through lengthy instructions. It only takes a few mouse clicks!

Magnus provides real-time feedback on your game, allowing you to adjust your approach as needed. You don't even have to be online at the same time as the man, but if this is the case, you'll get messages at specific hours.

There are chatrooms where chess players from all around the world discuss various facets of the game. The primary language on these forums is English, but you can change the app's settings to utilize other languages.

Magnus Chess may be played on any iOS or Android device with at least an A7 processor. It's also compatible with Kindle Fire tablets running OS 5.0 (Lollipop) or later.
Cons
For new players who wish to play a few casual games versus actual opponents, the app's many features and possibilities can be daunting. This makes it difficult to focus on learning the fundamentals, which means they'll require a lot of time and patience to get to the point where they can compete at higher levels.
Play Magnus key features
1. Best Chess Coach in the World: Magnus Carlsen, the current World Chess Champion, is providing training through this app. You may use your mobile device to observe him or even play against him!
2. Virtual World: The game takes place in a virtual world where you can move pieces around on a real board. This makes you feel more immersed in the experience while also allowing you to learn more quickly because it's so much easier to see what's going on!
3. Game Modes: There are various ways you can play chess, depending on which mode you select. If you want to participate in casual games with real players, go for Play Magnus mode. If you wish to play alone for fun, choose Practice mode instead. Finally, if you think you're ready to challenge Magnus Carlsen himself, opt for Play the World mode instead and see how you get on!
4. Chatrooms: Interact with other players worldwide by joining them in chatrooms. There are numerous forums dedicated to different aspects of chess so that everyone can find something they want to talk about. This is a great way to learn new strategies and practice your technique!
5. Team Mode: Play Magnus Chess also has a team mode where you can play against another player while concurrently using two devices. This might be quite beneficial if you appreciate having an extra player on your side when facing tough opponents.
6. Leaderboard: You may utilize the app's Leaderboard feature to see how much you've improved by comparing your current rating to that of other players. The number of games you win versus Magnus Carlsen determines your rating, which will motivate you to work even harder than before!
7. Handicap Mode: In the handicap mode, one player has an advantage over the other. This can be black or white, but you must chose wisely because it is quite simple to tip the balance when playing for fun!
Play Magnus overall rating
Ease of use: 5/5
Clean interface makes it easy to navigate through menus / intuitive controls/works on phone and tablet formats.
Features: 5/5
Chess puzzles and learning material / online play with other players/chat function / analyze your chess games in real-time / share your best moments on Facebook and Twitter and by email.
Customer Service: 5/5
Social Media, Website, and Email support available.
Value for money: 5/5
Free download (you can unlock some features for a fee)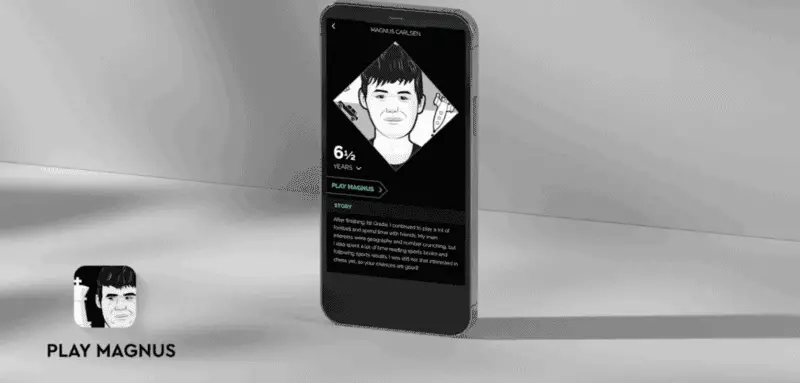 Play Magnus is a fantastic chess app for those wishing to enhance their skills. The app's design and layout are excellent, making it simple to use despite its extensive content. It's almost as if you're working with a coach who gives you advise when you need it and encourages you to achieve better.
Although most people would consider this a negative, Play Magnus' primary flaw is that it lacks a large number of opponents, but it is still a good pick in general.
I've also published a selection of chess apps that you can try, and you can also check out our ChessDelights Edition of the Chess Fundamentals in the form of digital interactive book.

Also, if you have time, take a look at ChessDelights' chess resources. Magnus, have fun learning and playing!